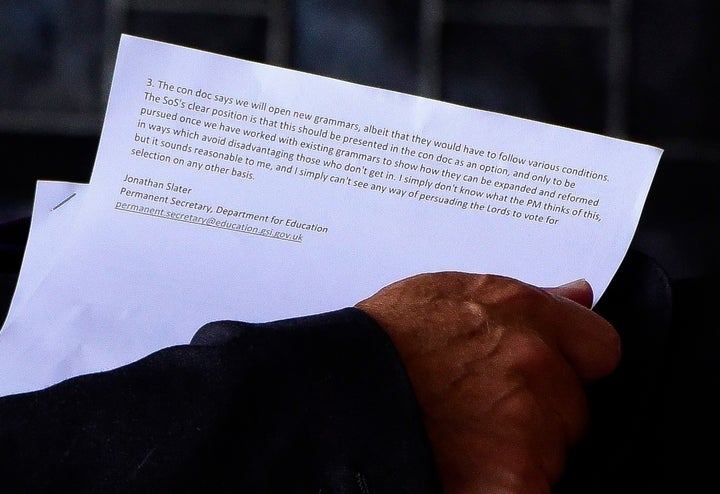 Radical plans to open new grammar schools have been leaked on the steps of Downing Street.
In a hugely embarrassing revelation, the confidential proposals to increase the number of selective schools were caught on camera by a photographer.
The memo, written by the most senior civil servant in the Department for Education, reveals that a new consultation document for Education Secretary Justine Greening will include the option of "new grammars".
But the memo, by Permanent Secretary Jonathan Slater, warns that the Lords will only vote for the controversial plan if existing grammars can show that they can expand first without harming the poorest.
"The con doc [consultation document] says we will open new grammars, albeit that they would have to follow various conditions.

"The SoS's [Secretary of State's] clear position is that this should be presented in the con doc as an option, and only to be pursued once we have worked with existing grammars to show how they can be expanded and reformed in ways which avoid disadvantaging those who don't get in.

"I simply don't know what the PM thinks of this, but it sounds reasonable to me, and I simply can't see any way of persuading the Lords to vote for selection on any other basis."
State grammars select pupils at the age of 11 but while they often produce excellent results, the question of what happens to those who fail to be selected has dogged British politics since comprehensives were introduced in the 1960s and 1970s.
England's first 'new' grammar for 50 years in Sevenoaks, Kent, was only approved last year as an 'annexe' to an existing school thanks to what teaching unions and Labour view as a loophole in the law.
The person carrying the document to Tuesday's meeting appeared to be Earl Howe, deputy Lords leader, but he has denied that it was him.
HuffPost now understands that the man in the photo is Slater himself.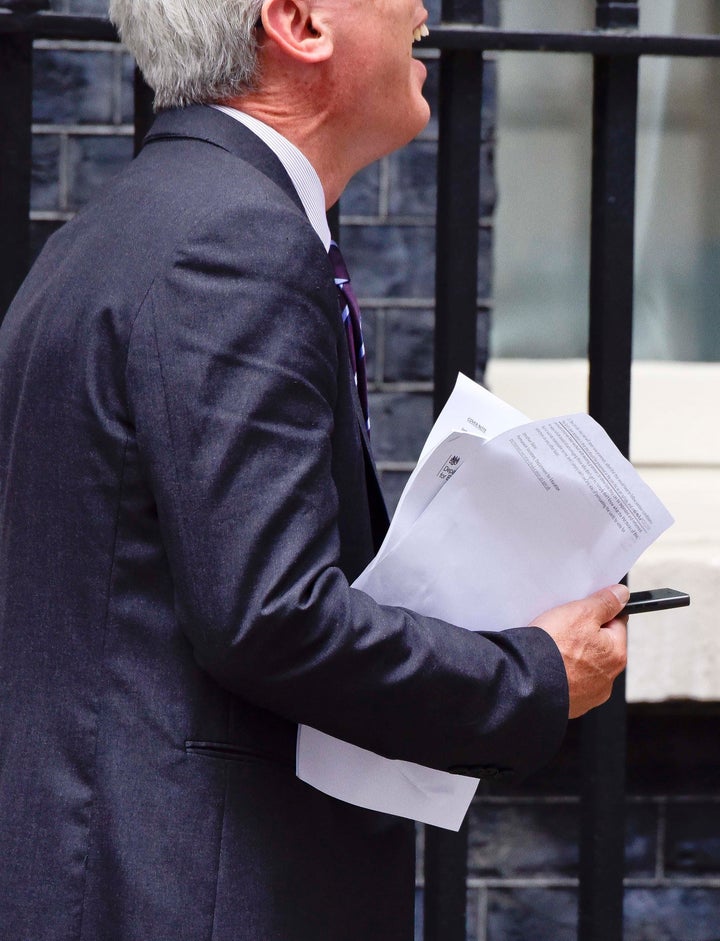 The blunder emerged when photographer Steve Back - who runs a firm called Political Pictures - spotted the document being carried into No.10.
A string of officials and ministers have been caught out by the high-resolution long-lenses of Back and others in recent years.
From memos about sensitive summits on Syria to anti-terror operations, many forget to cover their papers as the approach the famous black front door.
Within weeks of becoming Education Secretary, Greening refused to rule out new grammar schools, saying she was "open minded" - remarks that delighted Tory backbenchers who have long called for them.
David Cameron and Michael Gove refused to approve new selective schools, but May has come under pressure to use them as a way of expanding opportunity.
However, critics claim that the evidence on grammars has not changed and that to introduce a new generation of schools would undermine the PM's much-repeated pledge to lead a Government that helps the poorest.
Only this week, chief schools inspector Sir Michael Wilshaw said that it was "tosh and total nonsense" to claim bringing back grammars would help the most disadvantaged pupils.
"The notion that the poor stand to benefit from the return of grammar schools strikes me as quite palpable tosh and nonsense - and is very clearly refuted by the London experience," the Ofsted chief said.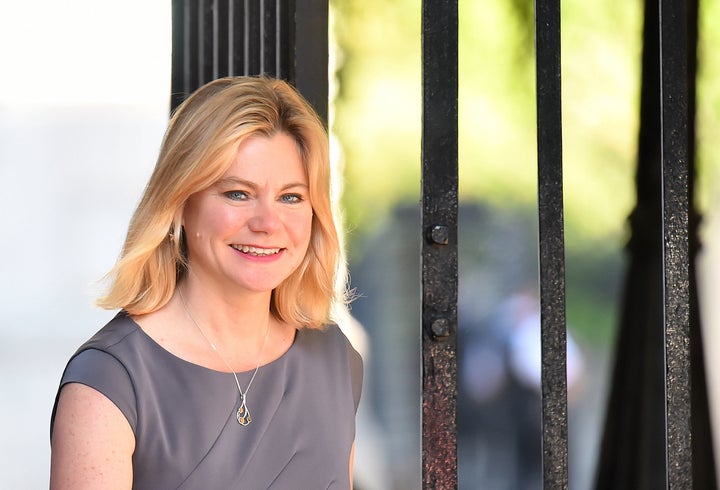 Last weekend, May refused to answer three times when asked if she would bring back selective education.
On the BBC's Andrew Marr Show she would not say if she planned to rip up Labour's 1998 law forbidding the creation of new grammars.
She said only that Greening was "looking at these issues".
A government spokesperson said: "The Prime Minister has been clear that we need to build a country that works for everyone, not just the privileged few.
"We are looking at a range of options to allow more children to access a school that lets them rise as far as their talents will take them.
"Policies on education will be set out in due course and it would be inappropriate to comment further on internal government documents."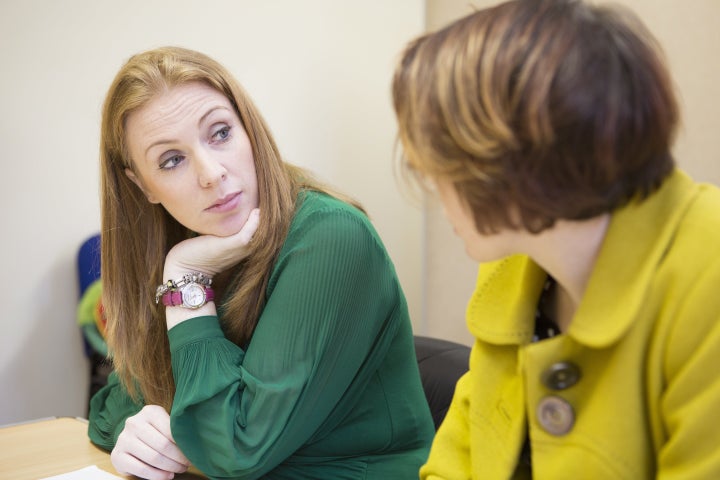 Angela Rayner MP, Shadow Secretary of State for Education, commenting on reports of Tory secret Grammar school plans, told HuffPost:
"The cat is out of the bag: behind closed doors the Tories are planning a return to the bad old days of grammars, ignoring all the evidence which has told us time and again that they do not aid social mobility.
"As Michael Wilshaw said yesterday, with every grammar school you open you create three more secondary moderns with it. It's a policy which reveals the truth of this Tory Government: caring only for the few at the expense of the majority.
"The Tories have overseen a school places crisis, the highest rate of teachers leaving the profession in a decade and over half a million pupils in super-sized classes. These issues should be her priority, not harking back to a golden-age that never existed. Labour is committed to an education system for everyone, not just a select few."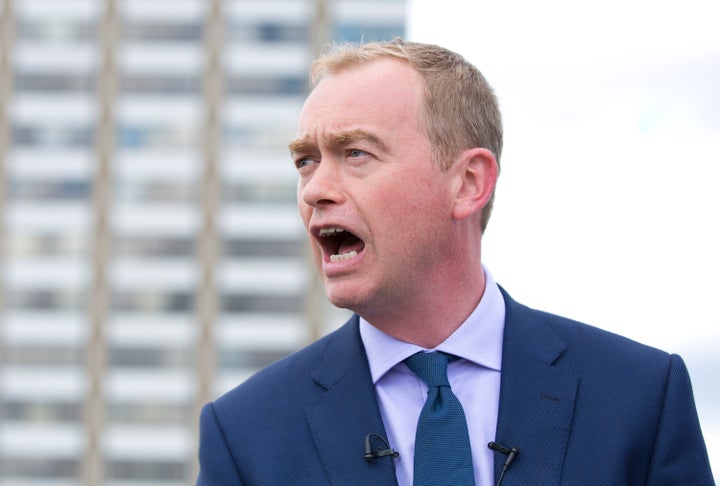 Liberal Democrat leader Tim Farron said "Grammar school expansion by the back door stinks.
"But as HuffPost reveals, they're not even trying to sneak it in through the back door, this was through the front door of No.10.
"Fortunately a quick witted photographer tells us what Theresa May refused to on the Andrew Marr show last weekend."
Kevin Courtney, General Secretary of the National Union of Teachers, the largest teachers' union, said: "Theresa May said on the steps of Downing Street that she wanted 'a country that works for everyone'.
"Yet now we hear of proposals to take education back to the 1950s, when children were segregated at age 11 and their life chances determined by the type of school they attended.
"Evidence shows that in areas which retain grammar schools, disadvantaged students – who are eligible for FSM or who live in poor neighbourhoods – are much less likely to be enrolled, even if they score highly on Key Stage 2 tests."
But Tory 1922 Committee chairman Graham Brady Graham Brady said: "Grammar schools are popular wherever they exist. There is a strong case for getting rid of the statutory prohibition on new grammar schools to allow parents and communities the type of education that they want."
Related