Nestlé's new KitKats will hit store shelves next week, boasting less sugar yet "extra milk and cocoa".
Current KitKat bars contain 22g of sugar. The new version, however, will contain 21.3g of sugar, according to The Telegraph. That's a difference of 0.7g.
The newly designed 'Extra Milk & Cocoa' packs are the first of many recipe reformulations across Nestlé products.
It comes after the Government put pressure on food manufacturers to make products healthier in a bid to tackle childhood obesity.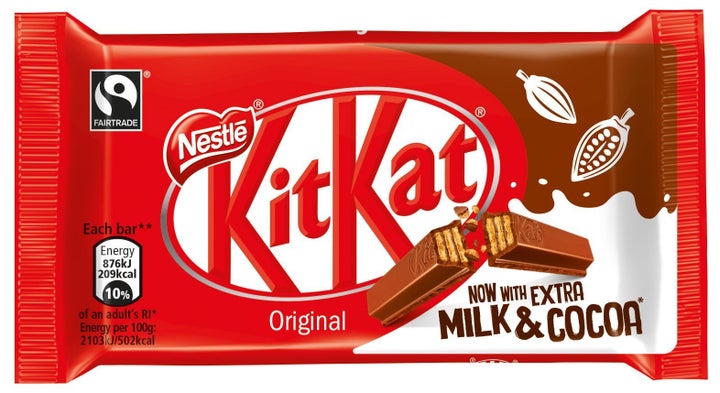 As part of the move, Nestlé said 7,500 tonnes of sugar will be removed across a number of well-known brands through a range of methods and initiatives.
Fiona Kendrick, Chairman and CEO of Nestlé UK and Ireland, said: "When we announced that we were removing some of the sugar from our confectionery, the first questions that consumers asked us were: 'are you going to make things smaller?' and 'will it taste the same?'
"I'm pleased to say that these products are the same size as the ones they are replacing and taste just as good."
She continued: "Milk and cocoa has formed the basis of the KitKat recipe ever since it was introduced in 1936 so, while people might have been expecting us to add something else, this is a great example of us using our strength in research and innovation to develop a great recipe that replaces sugar with a bit more of the existing, natural ingredients that people know and love."
The company has a wide range of chocolate products in its portfolio including: Aero, After Eight, Blue Riband, Caramac, Crunch, Dairy Box, Drifter, KitKat, Lion, Milkybar, Munchies, Quality Street, Rolo, Smarties, Toffee Crisp, Walnut Whip and Yorkie.
While the new recipe delivers a small sugar reduction in each product, when scaled up, Nestlé said it is a positive step in reducing the amount of sugar in the UK's diet overall.