The number of people diagnosed with gonorrhoea rose by 26% in a year, a new report by Public Health England (PHE) has found.
The number of new STI diagnoses as a whole rose by 5% between 2017 and 2018, though the number of consultations at sexual services, including online as well as clinics, increased by 7%.
The increase in STIs is likely to be due to people not using condoms correctly and consistently with new casual partners and an increase in testing improving detection of the most common STIs.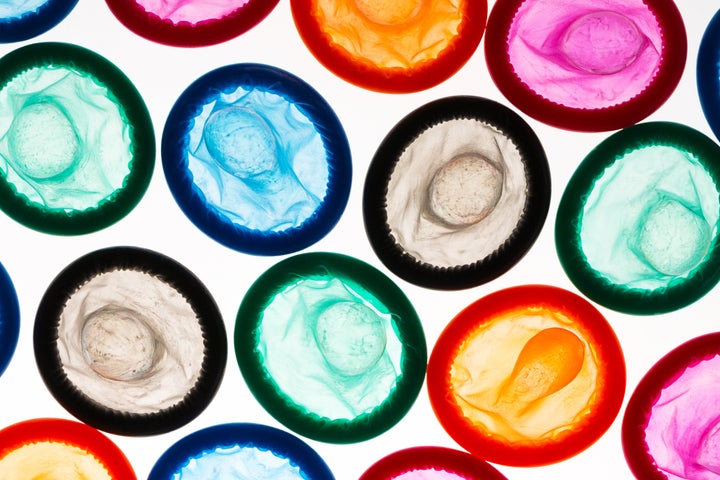 PHE called the rise in gonorrhoea concerning given the spread of antibiotic resistance in the disease. It said gay, bisexual and other men who have sex with men are at higher risk and over-represented, with almost half of cases diagnosed in this group.
Chlamydia remained the most commonly diagnosed STI, accounting for almost half of new STI diagnoses. Chlamydia most commonly affects 15 to 24 year olds, who account for 60% of new diagnoses – an increase of 2% since 2017.
Syphilis is also on the rise, with cases more than doubling in the past decade - from 2,847 in 2009 to 7,541 in 2018.
Debbie Laycock, Head of Policy and Public Affairs at Terrence Higgins Trust, said the figures come amid central government stripping £700m from public health budgets in the last five years.
She said: "This is clear evidence that removing access to testing is having a direct impact on the rates of chlamydia with cases now rising."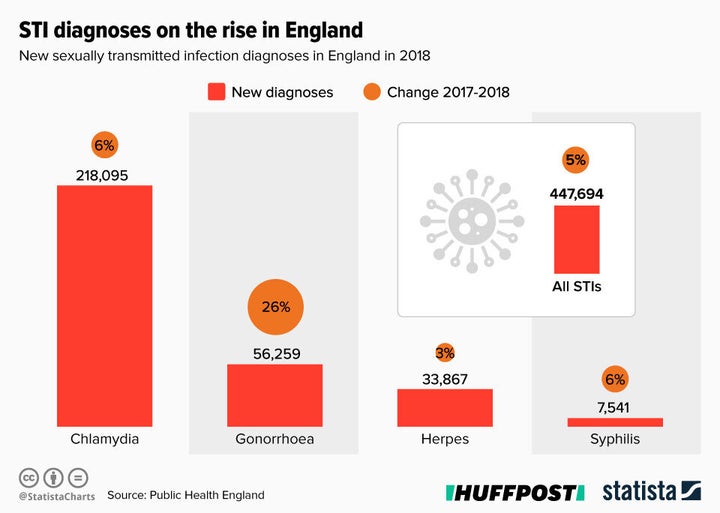 Of the data revealing that certain groups are disproportionately represented, Laycock added: "The impact of continued slashing of sexual health budgets was laid bare in a report by the Health Committee just two days ago. It revealed there is now a real risk to widening health inequalities already faced by certain groups. These groups – including BAME communities, young people, people living with HIV and gay and bisexual men – are once again disproportionally affected by new STI rates. Gay and bisexual men for example accounted for 75% of new syphilis cases.
"A range of sexual health services must be available, including different options for testing and support, but this must not come at the expense of vital face-to-face services.
"We welcome the long overdue decision to include BAME-specific data in today's report which has revealed large variation in STI diagnoses between ethnic groups - an important step in understanding the sexual health needs and experiences of different communities. However, this must be translated into targeted interventions to support people to access sexual health services."
Dr Olwen Williams, President of the British Association for Sexual Health and HIV (BASHH), called the rise in gonorrhoea and syphilis diagnoses an "urgent health priority", adding: "Recent years have unfortunately however seen severe and damaging cuts to sexual health service funding, jeopardising our ability to meet these challenges at a critical time. The workforce issues currently being experienced have left the sector at breaking point.
"A clear commitment is therefore needed to ensure that the STI prevention agenda is embedded across education, public health and the NHS is vital and we call upon Government to implement the recent Health and Social Care Select Committee recommendations as soon as possible."
Dr Gwenda Hughes, Head of STI Surveillance at PHE, said: "The rise in sexually transmitted infections is concerning. STIs can pose serious consequences to health – both your own and that of current and future sexual partners. No matter what age you are, or what type of relationship you are in, it's important to look after your sexual health. If you have sex with a new or casual partner, make sure you use condoms and get regularly tested."