The NHS is "struggling to keep up with the present" as it continues to use thousands of fax machines, Labour has warned.
Figures obtained by the party showed that the NHS in England still has at least 11,620 fax machines in operation, costing £137,000-a-year to maintain.
On average, NHS trusts were found to be spending more than £4,000-a-year on the machines as of April 2017, with one trust racking up an annual repair bill of £96,000.
Blaming austerity for the service's ageing equipment, Shadow Health Secretary Jonathan Ashworth called for more investment in technology and innovation.
The Labour MP said: "Not only does our NHS face a repair bill of £5bn, not only has it become reliant on old out of date equipment with even one hospital using an X Ray machine from 1984, it's also still reliant on thousands of fax machines, with a repair bill in the hundreds of thousands."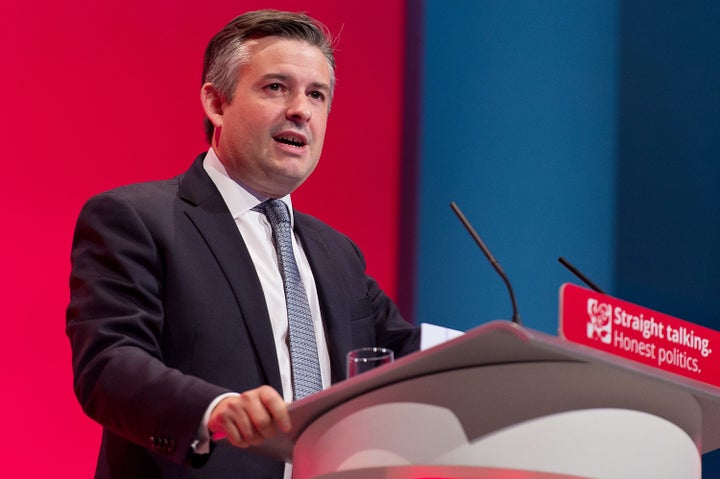 Freedom of Information requests revealed that the Newcastle upon Tyne Hospitals NHS Foundation Trust had the most fax machines – with 603 in use as of April 1, 2017 – closely followed by the Imperial College Healthcare NHS Trust, which had 550.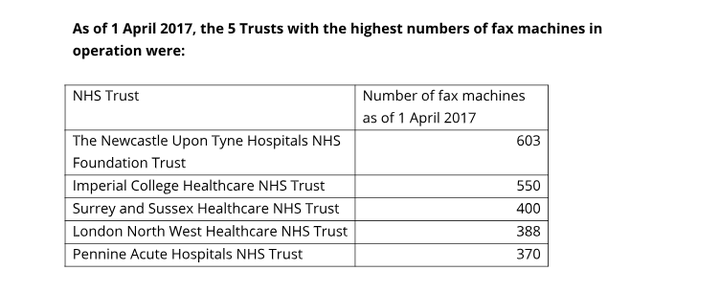 Meanwhile, five other trusts expanded their collections between 2010 and 2017, with the Oxford Health NHS Trust acquiring 149 additional fax machines over the seven-year-period, bringing its total to 223.
The number owned by the Essex Partnership University NHS Foundation Trust also jumped significantly from 30 to 129.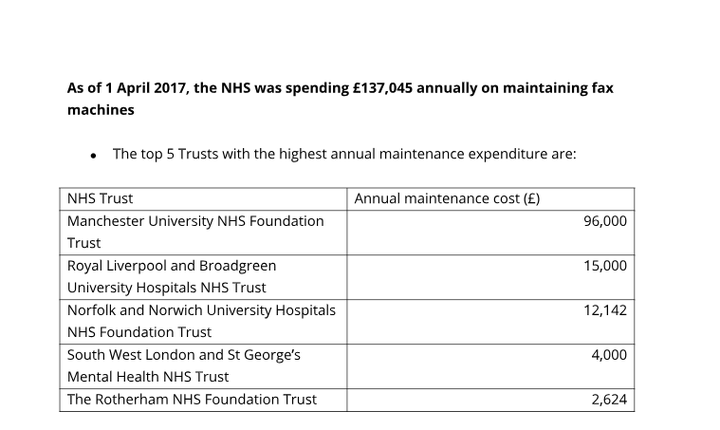 Responding to the figures, a spokesperson for the Department of Health said the government wanted patients to receive "world-class care in world-class facilities" and had recently announced £3.9bn of new capital investment in the NHS.
"The Prime Minister and Health and Social Care Secretary have committed to a long term plan with a sustainable multi-year settlement for the NHS to help it manage growing patient demand, which will be agreed with NHS leaders, clinicians, and health experts," the spokesperson added.