A new Netflix documentary examining the long-running legal saga surrounding Amanda Knox, the American student wrongly convicted of the murder of her British roommate Meredith Kercher in 2009, has apparently revealed a new villain.
The veteran reporter appears in the criminal justice thriller as a commentator on details of the case, in which he uncovered a series of scoops as a freelance reporter working for the Daily Mail.
Pisa admits to not always double-checking facts when he wrote about the murder of the 21-year-old British exchange student and boasts of publicising the "Foxy Knoxy" moniker for the Seattle native, then aged 20.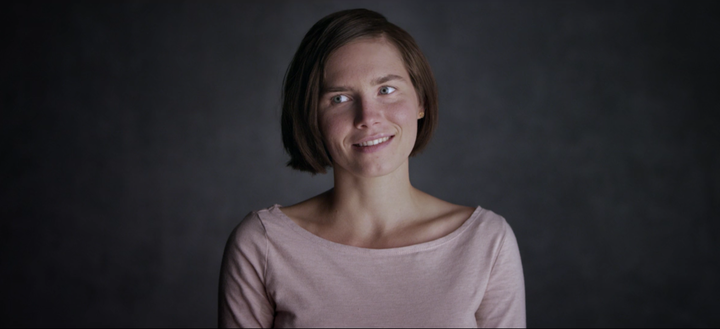 Directors Rod Blackhurst and Brian McGinn travelled to Italy in 2011 and began filming after Knox appealed her first conviction. By then, the case was already four years old.
Five years later, the documentary allows the case's key players — Knox, then-boyfriend Raffaele Sollecito, Italian prosecutor Giuliano Mignini, and Pisa — to offer their sides of the story.
The filmmakers said they went to great lengths to ensure that sensationalism didn't creep in: "We weren't interested in just contributing to the accumulation of coverage of the case. We wanted to try to do something that actually added to the discussion, or started new discussions," Blackhurst told The Huffington Post.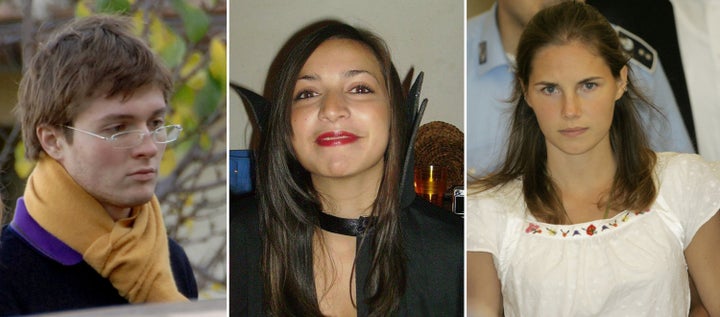 Pisa is introduced early on in the programme with his comments about what he thought made the murder story so special.
"A murder always gets people going; bit of intrigue, bit of mystery, a whodunit. And we have here this beautiful picturesque hilltop town in the middle of Italy.
"It was a particularly gruesome murder: throat slit, semi-naked, blood everywhere. I mean [chuckles], what more do you want in a story?"
"All that's missing is the Royal Family and the Pope!" Pisa says.
His comments were immediately seized upon as a "repulsive".
Pisa then compares getting a front page with the story to having sex.
He said: "To see your name on the front page with a great story that everyone's talking about… it's just like this fantastic buzz.
"It's like having sex or something."
Later in the story he describes his sourcing of information: "We are journalists reporting what we have been told. It's not as if I can say, 'right, hold on a minute. I just want to double check that myself in some other way.'"
Kercher was found dead on 2 November, 2007 in the apartment that she shared with Knox and two Italian lawyers-in-training.
She was found half-naked, beneath a duvet soaked in blood with her throat slashed. Investigators determined she had been sexually assaulted.
DNA evidence in Kercher's room led police to arrest a man from Ivory Coast,and local drifter Rudy Guede, who was convicted of the murder in a separate trial and is serving a 16-year sentence.
The court that convicted Guede ruled he did not act alone, citing the absence of defensive wounds on the victim and concluding that bruises on Kercher's arms indicating she was restrained while one or two others inflicted numerous stab wounds.
Pisa describes Knox, who is now 29 and works as an advocate for the wrongfully convicted, as "mad - an utter loon".
He wrote: "As one of the few journalists who ­covered the case from the very ­beginning in November 2007, I feature heavily in the ­documentary. And now I would like to tell my side of the story.
It concludes: "... if the court believes others were involved in the case, who were they? If it wasn't Knox and Sollecito, who was it?
"That's the question the Kercher family deserve the answer to.
"Sadly, the only thing I'm totally convinced of is they will never get it."
The documentary though does provide more insight on Knox herself, who surprised the directors with the way she was able to understand her experience, telling the programme:
"There are those who believe in my innocence and there are those who believe in my guilt. There's no in between. And if I'm guilty, it means that I'm the ultimate figure to fear because I'm not the obvious one.
"But on the other hand, if I'm innocent, it means that everyone is vulnerable. And that's everyone's nightmare. Either I'm a psychopath in sheep's clothing or I am you."
Pisa was contacted for comment and referred Huffpost UK to the Sun article quoted above.
MEREDITH KERCHER CASE TIMELINE
2007
November 2: Kercher, a 21-year-old exchange student from Coulsdon, Surrey, is discovered with her throat cut in her bedroom at her house in the Italian town of Perugia. Her body is partially clothed and under a duvet.
November 4: A post-mortem examination reveals evidence of sexual activity at some point before Kercher died.
November 6: Police arrest Kercher's American housemate Knox, then 20, Mr Sollecito, then 23, and Congolese Diya 'Patrick' Lumumba, who runs a local bar. Police claim Kercher was murdered because she refused to take part in violent sex. Knox is said to have broken down and confessed and implicated Lumumba. The three are held on suspicion of conspiracy to commit manslaughter and sexual violence.
November 11: Kercher's body is flown home. Knox's mother, Edda Mellas, says Knox did not hear Kercher's screams the night she died and was with Sollecito at his house.
November 19: A fourth suspect is named as Rudy Hermann Guede, 20, from the Ivory Coast. He is thought to have left Perugia for Milan after Ms Kercher died.
November 20: Guede is arrested in the German city of Mainz. Lumumba is released without charge.
November 22: Guede admits being in Ms Kercher's house on the night of the murder but says an Italian man he did not know committed the crime.
2008
September 9: Guede's lawyers say he will ask to be prosecuted separately from Knox and Sollecito in a fast-track trial after talk of a possible pact between the former lovers to frame him.
September 16: All three suspects appear before a judge in the first of a series of pre-trial hearings in Perugia. Judge Paolo Micheli grants Guede's request for a fast-track trial.
September 26: Knox and Sollecito come face to face in a closed courtroom for the first time since being detained after the murder.
October 28: After 11 hours of deliberation, Judge Micheli sentences Guede to 30 years for the murder of Kercher. He also orders Knox and Sollecito to stand trial for murder and sexual violence. Judge Micheli later rules that the pair remain in prison while they await trial.
2009
January 16: The trial of Knox and Sollecito begins.
February 6: Sollecito tells the court he is not violent and has nothing to do with the case.
June 6: Kercher's parents, John and Arline, give evidence. Mrs Kercher says she will never get over her daughter's murder.
June 12: Knox gives evidence in fluent Italian. She says she accused Lumumba "in confusion and under pressure" and that a police officer hit her during interrogation.
November 21: Prosecutors ask for life sentences for Knox and Sollecito.
December 4: Knox and Sollecito found guilty of murder. Knox is sentenced to 26 years and Sollecito to 25. Knox's family say they will appeal.
2010
November 24: Knox and Sollecito return to court in Perugia for their appeal.
December 11: Knox breaks down in tears as she makes an emotional courtroom appeal, saying she was the innocent victim of an "enormous mistake".
December 16: Italy's highest criminal court upholds Guede's conviction and prison sentence, which was slashed to 16 years in his first appeal.
2011
June 27: Guede gives evidence for the prosecution in the appeal and confirms the contents of a letter he wrote to his lawyers in 2010, which included a direct accusation against Knox and Sollecito.
July 25: Experts tell the appeal court that forensic scientists who helped convict Knox made a series of errors. Evidence was tainted by the use of a dirty glove and failure to wear protective caps, they claim.
September 7: Appeal court rejects prosecution request for new DNA tests.
October 3: Knox is freed from prison after being acquitted of killing Kercher. Sollecito is also cleared.
October 4: Kercher's brother Lyle says her family accept the court's decision but says questions remain unanswered about what really happened.
2012
February 16: Publisher HarperCollins announces it has signed a deal for a Knox memoir which was reportedly worth £2.5 million. The book, Waiting To Be Heard, is released in April 2013.
April 29: Kercher's father John appeals to Guede to finally ''come clean'' and reveal what really happened the night she was stabbed to death.
March 26: Italy's highest criminal court overturns the acquittals of Knox and Sollecito.
September 30: The third trial of Knox and Sollecito begins in Florence.
December 17: Knox declares her innocence in an email submitted to the appeal court in Florence by her lawyers before their closing arguments in which she says: ''I didn't kill Meredith.''
2014
January 30: The pair are found guilty of the murder of Kercher after judges in Florence overruled their previous acquittals. Knox is sentenced to 28-and-a-half years and Sollecito to 25 years.
2015
March 25: Italy's high court hears Knox and Sollecito's appeal of the Florence conviction.
March 27: After lengthy legal arguments Italy's supreme Court of Cassation overturns the conviction and declines to order another trial. This is the final ruling in the case, ending the legal battle waged by Knox and Sollecito.
"Amanda Knox" is streaming on Netflix on September 30.
Related