Nigel Farage has attempted to put a brave face on his Brexit Party's by-election defeat in Peterborough, urging Tory voters to back his outfit to ensure Britain leaves the EU.
The Brexit Party leader said the result, coming in 683 votes behind Labour, was still a "massive result", as the party has only existed for eight weeks and came a "very, very close second".
And he predicted a "more dramatic" performance if Brexit does not happen by the latest deadline of October 31.
Speaking on BBC Radio 4's Today programme, Farage said the UK was now looking at four party politics in many parliamentary seats, as voters back his outfit for a hard Brexit and the Liberal Democrats for Remain.
Labour's Lisa Forbes retained the seat in Peterborough, beating Mike Greene into second place by 10,484 votes to 9,801 - a majority of 683.
The Tories were languishing in third place on 7,243 while the Lib Dems improved to garner 4,159 votes and finish fourth.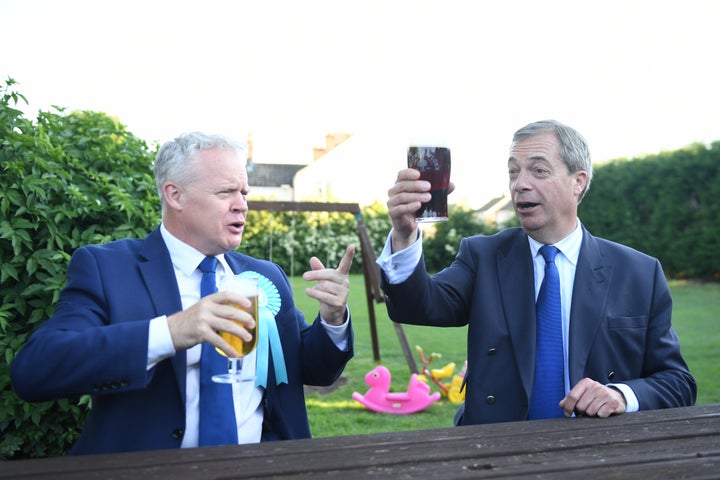 Farage urged Tory supporters to vote tactically in future to take on Labour in similar seats.
"The danger is that in seats like this the Conservatives split the Leave vote," he told Today
"Fascinatingly the Remain vote is split as well.
"We're kind of in a lot of constituencies now looking at four party politics, and perhaps in others five party politics.
"I think the future is very, very unpredictable, what I believe is that we've got a very strong, simple message that we believe in, those that support us do so with huge energy, and if people are marched to the top the hill and back down again in expecting they're going to leave on October 31 then our results will be even more dramatic."
Farage said his party would stand a better chance in a general election because Labour would not be able to pour resources into one seat.
"In a general election in this seat of Peterborough we would not have faced the might of the national Labour party machine," he said.
"And in the end by-elections are won and lost generally on data - parties build up data knowing who their voters or potential voters are over a long period of time.
"We came into Peterborough with zero data, up against the Labour party who have been working this seat mercilessly for months because they knew their former MP was going to be removed.
"Whichever way you cut it, we've come from nowhere, produced a massive result, we haven't quite got over the line, but we're pretty buoyed by this."