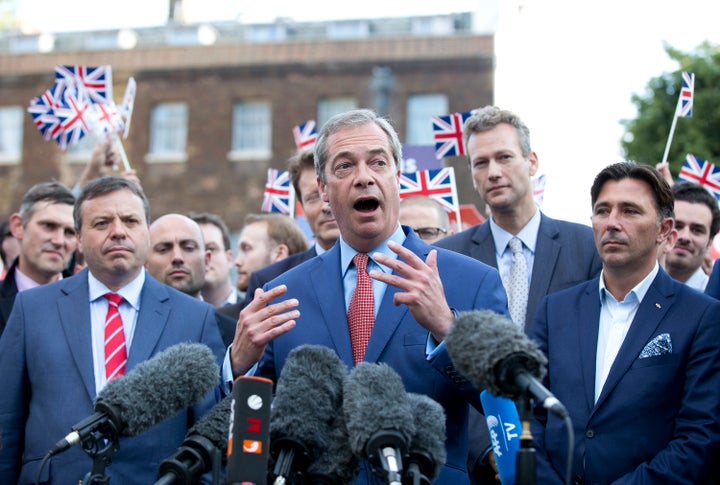 A proposed pro-Brexit march of 100,000 people on the Supreme Court which was reportedly to be led by Nigel Farage will not happen.
The demonstration in central-London that was earmarked for early December had been designed to put pressure on judges as they ruled on whether MPs should be given a vote on the triggering of Article 50 or not.
However The Huffington Post understands that not only will the protest not take place - it was never really going to happen.
On Friday, the International Business Times reported there were fears among the organisers that the march would be hijacked by groups such as the EDL and the BNP.
However a source close to Farage dismissed the idea the interim-Ukip leader would have been "chased away" by the far-right and said the logistics or organising such a large demonstration at short notice would have been the real problem.
The government is appealing an earlier High Court ruling which decided Theresa May did not have the right to start the Brexit process without parliament being given a say.
Some pro-Brexit campaigners fear pro-EU MPs may try to use their ability to vote on Article 50 to water-down or even block Brexit.
Earlier this month, BNP leader Adam Walker told HuffPost that he and many of the party's members would be making an appearance if it went ahead.
"The BNP has campaigned to leave the EU since 1982," he said. "We mobilised our core voters and others in the successful referendum, and we will step up our campaign to Leave the EU until the government delivers on the will of the people and triggers Article 50.
"Anybody who believes in democracy should be on that march regardless of
how they voted... This is a fight to uphold the very integrity of our democracy."
While a representative of the EDL said that many of its members would be "actively joining" all efforts to put pressure on Article 50 being triggered - although said the group had not formally decided to join the march.
Britain First, whose deputy leader was earlier this month convicted for racially aggravated harassment, promoted the march on their Facebook page. The group said it was "urging all patriots to attend" and branded the demo a "March for Brexit".