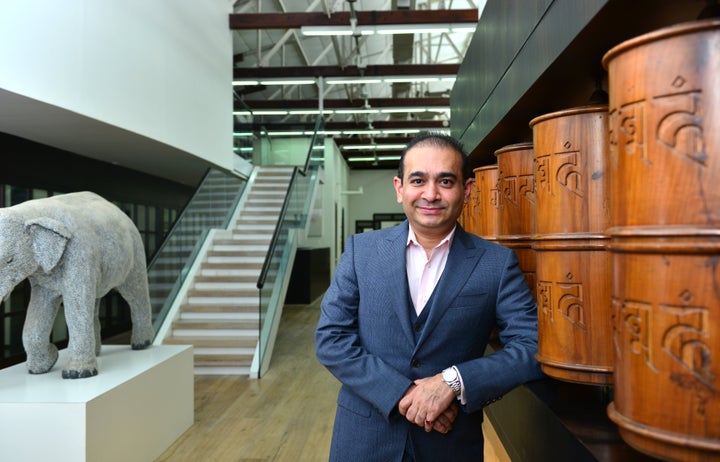 A fugitive billionaire jeweller wanted by the Indian authorities over an alleged $2bn bank fraud may be in hiding in Birmingham, Huffpost UK has learned.
Nirav Modi, 47, said to be worth £1.73bn, arrived in the UK in February claiming he was fleeing political persecution in his native India.
But India's Central Bureau of Investigation (CBI) says Modi was at the centre of a $1.8bn fraud involving India's second largest public lender, Punjab National Bank (PNB).
Authorities claim he diverted large sums of loaned money illegally to invest in his foreign-based companies.
Interpol issued a Red Corner Notice against Modi on Monday, asking its 192 member countries to arrest or detain him after which extradition or deportation proceedings can begin.
Modi's high-end eponymous brand has stores in several major world cities and boasts celebrity customers, including actresses Naomi Watts and Kate Winslet, and Bollywood megastar Priyanka Chopra.
CBI spokesman Abhishek Dayal: "Request letters asking for help in detaining Modi were written to six countries, namely USA, France, Singapore, Brussels, UAE and UK in May.
"Only UK replied to request letter stating Nirav Modi was last seen in the country on March 31 there."
Sources at the Indian Consulate in Birmingham said they believed Modi, 85th on India's rich list, had visited the city earlier this year to see friends and close relatives and may be hiding out in the region.
A consulate worker, who did not want to be named, said: "We know he has come to Birmingham on more than one occasion since entering the UK in February because he has close relatives in and around the city.
"The UK authorities have a record of Modi flying out from UK to Charles de Gaulle airport in Paris on March 31 but we understand he returned to the UK and may be in hiding in the Birmingham region.
"We know there are people in Birmingham who know where we can find him and urge them to call West Midlands Police if they have any information on his whereabouts."
A spokeswoman for West Midlands Police said the force was aware of the Red Corner Notice against Modi but added: "We are unable to comment further at this stage."
Nirav Modi was born into a diamond trading dynasty, based in the industry's capital of Antwerp in Belgium, and later established Firestar Diamond - his own diamond-making operation in India almost 20 years ago.
He started trading under his own name in 2010, specialising in diamonds.
The brand made its mark after one of his earliest pieces was featured on the front cover of a Christies catalogue and was sold by the auction house in Hong Kong for $3.8m.