We all know there's a North-South divide – let's face it, there always has been. You only need to brandish a bottle of Thatchers in Newcastle to make Geordies twitch.
It goes both ways. An ex-boyfriend from London asked if we "even had electricity" up North, and my nanna narrowly eyed up my Kentish husband when I first brought him home – or should I say, hyem.
I've (controversially) lived in London for three years now and, as a Geordie, it is terrifying to see the North-South divide thicken from the deemed "safe" side of the line as we watch coronavirus take hold.
Though London was one of the worst hit places at the peak of lockdown, with 213,000 cases a day, according to Public Health England. Now, recovery is in sight with as few as 24 daily cases.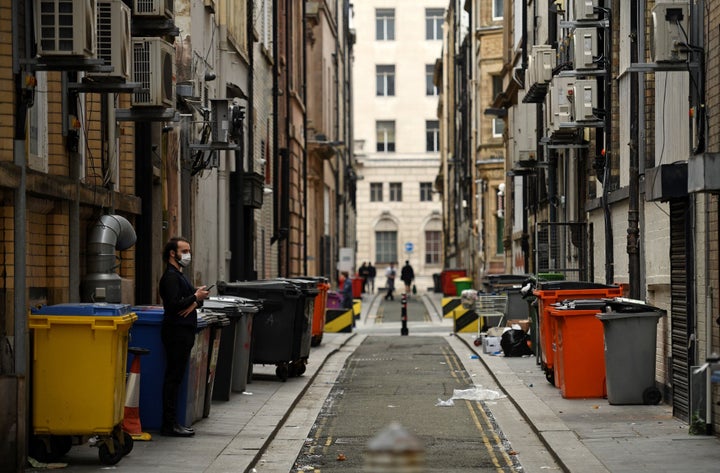 As for the North? The North East is the worst hit in terms of contagion and endured a staggering 4,000 daily cases in May (166 times worse than London) – with an "R" rate double that of the capital.
According to the latest government figures, the 10 worst-rated local authorities are in the North, and eight of the lowest-rated are southern. In the North West, the number of daily positive tests for coronavirus is at least twice as high than anywhere else in the UK.
Right now, two thirds of northern England's population are living with extra restrictions in attempts to curb growing numbers of infection. No local authorities south of Birmingham are facing these stricter rules.
By the end of September, per 100,000 people, southern England had 1.5 or less hospitalisations, compared to the North West's 5.5.
This stark reality of the North-South divide compounds frankly outdated stereotypes of northern and southern people. Bluntly, northerners are poorer and have to work harder for less, while the South is worshipped as the powerhouse for the economy.
"It's a classic case of income wars, which the North has been shouting about since Thatcher encouraged the de-industrial revolution in the '80s."
In the North West, more than 10% of workers are employed in retail, according to a Labour party analysis, and 12% of Yorkshire, North East and North West workers are manufacturers – as opposed to London's 2%. Two of the most vulnerable sectors, of which home working isn't possible, makes up a significant amount of the North's working population.
If the treasury decides to end the furlough scheme once and for all this month, their deemed "one-size-fits-all" approach will welcome regional inequality as redundancies are unleashed on vulnerable, struggling industries.
It's a classic case of income wars, which the North has been shouting about since Thatcher encouraged the de-industrial revolution in the '80s.
Scarce lower income jobs don't allow for home-working, therefore northerners are more exposed to disease and job losses; while professional occupations more traditionally based in the South (ie. media, finance, technology) have adapted to office-free life unsurprisingly easily.
The growing confusion in lockdown measures for Northern authorities doesn't help, which even Boris Johnson didn't understand. He simply didn't know if the rule of six, and no mixing of households applied to outdoor settings in the North East (...it does). He had to grovel on Twitter later that day.
He claimed he "misspoke" when it came to matters of legality – literally life and death – in his own country.
It's almost as embarrassing as when Michael Gove guffawed in Johnson's so-called victory speech that the Durham Miners' Gala was, for the first time in history, going to be hosted in a Tory constituency (...it's not). The working class people's gala is not held in now-blue North West Durham, but in Durham City, a Labour seat.
This constant belittling of the hard working-class that make up for the majority of the North of England proves that the Tory government has a clear London-centric approach. Not just in their campaigns by getting their GCSE-grade geography wrong, but in their sheer disregard for lives north of Westminster.
Remember in 2013 when one Tory peer said fracking was okay in the North because it was "desolate"? He apologised and said it again – a month later.
For decades, Northerners have had to put up or shut up, with extreme cuts to schools and the arts, spiralling homelessness, living on the breadline, declining life expectancy, pitiful public transport, unaffordable housing, and the highest public spending cuts since the coalition government. Now, they have to gamble with their lives.
You'd be forgiven for thinking we were living in the dark ages with the way the UK's highest-earners, sitting comfortably in Westminster while the world rages on outside, turn their noses up at the soot-covered fingers of the North.
The chain of events that have been implemented by our country's Prime Minister proves that England's North-South divide is thickening by the day. If this London-centric approach continues to be employed, we'll only see the cracks getting bigger, and wider. Hopefully, before more people tumble down them, the capital will see the promise in the north, the beauty and strength in its people.
First, they were sent to the pits, then to the dole office – now, Northerners are being sent to their deaths. All in the name of a hard day's work.
Emmie Harrison-West is a freelance journalist.
Got a unique opinion on a news story that will help cut through the noise? We want to hear from you. Find out what we're looking for here and pitch us on ukopinion@huffpost.com.