More than 175 NUS officers, student leaders and academics have signed an open letter slamming a report from MPs into anti-Semitism as an attempt to "delegitimise NUS, and discredit Malia Bouattia as its president".
The letter was in response to a cross-party investigation by the Home Affairs Select Committee (HASC) into anti-Semitism in the UK that criticised NUS President Malia Bouattia for offensive comments.
Most notably, the Home Affairs Select Committee denounced the 28-year-old for referring to Birmingham University as "something of a Zionist outpost in British higher education, saying the comment "smacks of outright racism".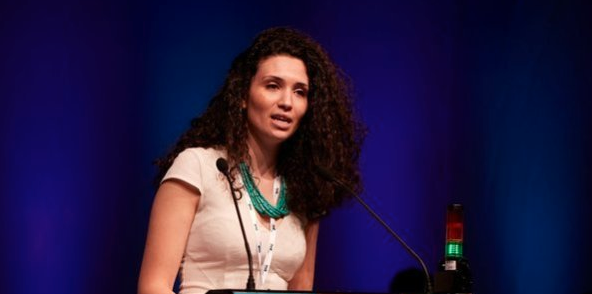 Bouattia was also criticised for saying during a 2014 conference speech on 'Gaza and the Palestine Revolution', that "With mainstream Zionist-led media outlets... resistance is resented as an act of terrorism".
Despite an outcry from Jewish students over her comments, the NUS President defended herself, criticising media outlets for calling her "a racist, an anti-Semite, an Islamic State sympathiser, and more."
The committee report said: "The current president of the National Union of Students, Malia Bouattia, does not appear to take sufficiently seriously the issue of anti-Semitism on campus, and has responded to Jewish students' concerns about her previous language with defensiveness and an apparent unwillingness to listen to their concerns.
"There is of course no reason why an individual who has campaigned for the rights of Palestinian people – a cause widely supported on university campuses – should not serve as president of the NUS.
"But Ms Bouattia's choice of language (and ongoing defence of that language) suggests a worrying disregard for her duty to represent all sections of the student population and promote balanced and respectful debate. Referring to Birmingham University as a 'Zionist outpost' (and similar comments) smacks of outright racism, which is unacceptable, and even more so from a public figure such as the president of the NUS."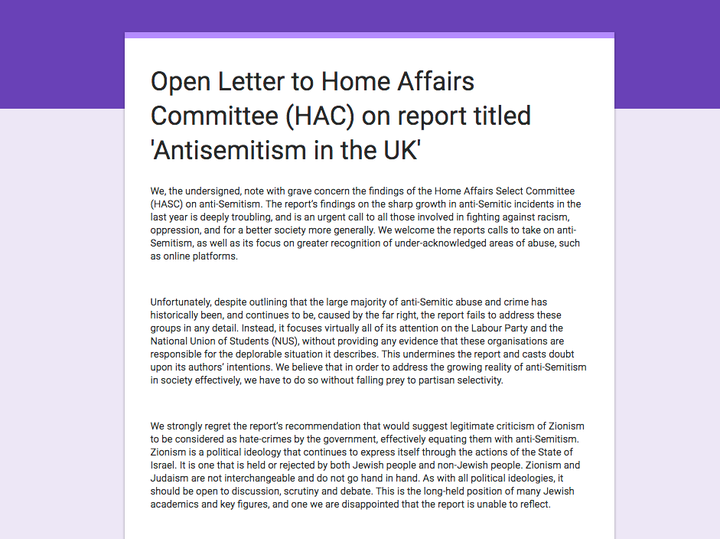 The report and its criticism of Bouattia sparked a backlash, with more than 175 students, NUS members and academics signing an open letter to the Home Affairs Select Committee.
Signatories include the President of Kings College London's Student Union Ben Hunt, NUS Vice-President Sorana Vieru and Vice-President of NUS Scotland, Conor Marshall.
The letter states: "Unfortunately, despite outlining that the large majority of anti-Semitic abuse and crime has historically been, and continues to be, caused by the far right, the report fails to address these groups in any detail.
"Instead, it focuses virtually all of its attention on the Labour Party and the National Union of Students (NUS), without providing any evidence that these organisations are responsible for the deplorable situation it describes.
"This undermines the report and casts doubt upon its authors' intentions. We believe that in order to address the growing reality of anti-Semitism in society effectively, we have to do so without falling prey to partisan selectivity.
Attacking the report for equating "legitimate criticism of Zionism" with hate crime, signatories argue that NUS President Bouattia has been "singled out" by the committee.
"Bouattia's repeated assurances, within the union and in the media, that she will address concerns and revise her language, are completely ignored by the HASC report, despite the fact that she has done just that and reiterated her commitments to do this in her submission for the HASC report," the letter reads.
The document also points out that the NUS is working to reduce anti-Semitism through schemes including its Anti-Racism and Anti-Fascism Campaign and a review into institutional racism, including anti-Semitism that Bouattia "demanded".
Signatories are now calling for the report to be reviewed. "We demand a revised report that is impartial and contains factual evidence. We demand that all false statements are retracted, especially in relation to the sections regarding campus anti-Semitism, along with an apology to those who have been vilified by the inaccuracies and partisan biases it contains," the open letter states.
"Our movement will remain principled in its work defending human rights, freedom of expression, and the fight against anti-Semitism and racism in all its forms."
Malia Bouattia has not signed the letter. Despite being signed by 50 NUS officers, representatives and members, the open document did not come from the organisation and the NUS has released its own response to the report.
A spokesperson said: "NUS takes all forms of racism, including antisemitism, extremely seriously. As such, we recognise the importance of the report and its deeply troubling findings regarding the sharp rise in antisemitism across society.
"It is concerning that the report identifies that 3/4 of politically motivated anti-Semitic incidences come from far-right groups, yet focuses almost exclusively on NUS in relation to antisemitism on campus. This fails to address the reality for students.
"We are only too aware of the reality, hence our continued work on Anti-racism and Anti-fascism, including more recent work with the Runnymede Trust on racism, and research into the experiences of Jewish Students. It is disappointing that the report is partial and inaccurate in relation to NUS work in tackling antisemitism, although we offered a detailed submission to the Inquiry.
"NUS has a long and proud history of fighting all forms of racism and fascism in the UK. NUS has always sought to build strong, positive relationships with the Union of Jewish Students and many other student-led groups to tackle racism and fascism and we will continue to do so."
The Home Affairs Select Committee has been approached for comment in response to the open letter.
Related