The new president of the National Union of Students has responded to claims she is anti-Semitic, saying she will continue to fight racism "in all its forms".
Malia Bouattia, the union's black students officer, unseated the sitting president in a dramatic victory at the NUS national conference in Brighton on Wednesday.
Bouattia had been criticised after footage emerged showing her condemning what she describes as "mainstream Zionist-led media outlets".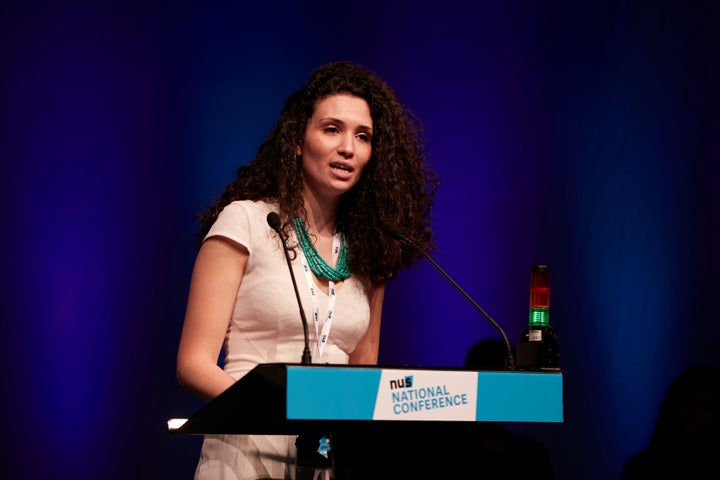 In the video filmed in September 2014, Bouattia said Muslims should support Palestinian "resistance" in all its forms, but that many refuse to do so due to an "internalised Islamophobia".
She said Muslims contradict themselves by condemning resistance groups as "terrorists", whilst also supporting their liberation.
She argued this was in agreement with "mainstream Zionist led media."
Watch the footage, below.
On Wednesday she used her election speech to address the claims and resulting media scrutiny.
Bouattia, who fled persecution in her native Algeria at the age of 7, told the conference on Wednesday that right-wing media had muddied her name.
The 28-year-old University of Birmingham alumni said: "Many of you will have seen my name dragged through the mud by right-wing media.
"That I'm a terrorist, that my politics are driven by hate.
"How wrong that is, I know too well the price of terrorism. I was pushed into exile by its doing.
"I know too well the damage done by racism and persecution, I faced it everyday."
"I know too well the damage done by racism and persecution, I faced it everyday."
The footage, obtained by The Tab, is all the more controversial following a debate about racism, and specifically anti-Semitism, within the NUS.
Referring to the debate around racism, Bouattia said: "I will continue to fight it in all its forms."
"I am deeply concerned that my faith and political views are being misconstrued and used as an opportunity to falsely accuse me of antisemitism," she wrote.
Both Labour and Conservative MPs were among public figures to respond to developments.
Sir Eric Pickles, the former cabinet minister and current special envoy for post-Holocaust issues, said some in the NUS "allow anti-Semitism to flourish".
Labour MP John Mann, chair of the All-Party Parliamentary Group Against Anti-Semitism, announced he is to lead a rally against racism in the NUS attended by former presidents of the union.
Former NUS president, Labour MP Wes Streeting, tweeted support of Bouattia's predecessor.
With her election, Bouattia becomes the first black Muslim woman to lead the NUS. She takes over the role from incumbent Megan Dunn later this year.
In a statement released on Wednesday night, Bouattia said: "In my role as NUS Black Students' Officer I have a long track record of opposing racism and discrimination in all its forms and actively campaigning against it."
She said she voted to commemorate Holocaust Memorial Day, and that as part of the NUS executive she has voted for measures to combat anti-Semitism.
Related