Vegans, lactose intolerant and oat milk fans across the UK rejoice – you'll soon be able to get your hands on a trio of ice cream flavours that are 100% plant-based.
Famous for its oat-based, dairy-free milk, Oatly has unveiled three tubs of the sweet treat – Chocolate Fudge, Hazelnut Swirl and Salted Caramel – so you can indulge at pudding time without consuming any milk-based produce.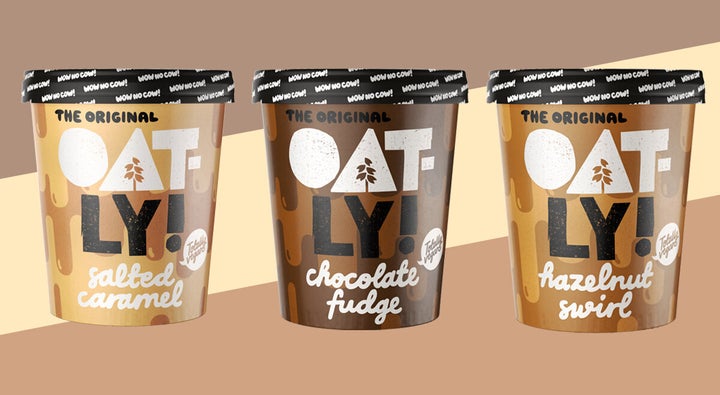 Available from 28 October in selected Tesco stores, a tub will set you back £4.50.
As dairy-free snacks and deserts up their game, we expect Oatly's trio will be a hit, especially at Christmas when you a ball of salty caramel, candied hazelnuts or fudge bites will go down nicely with your Christmas pudding.
The announcement follows the recent launch by Ben & Jerry's of a vegan version of its famous Cookie Dough Ice-Cream.
Not only will Oatly fans like the taste of these new deserts, but the packaging also earns brownie points – made with paper rather than plastic, which according to the brand, reduces the climate impact of the tubs by 79%.
People on Twitter were quick to share their excitement – one user called it the best day of her life while another said the announcement was a game changer.
Tbh, we feel the same. Get ready to stock up your freezers pronto.
We all work hard to earn our money – so it shouldn't feel like hard work to spend it well. At HuffPost Finds we'll help you find the best stuff that deserves your cash, from the ultimate lipstick to a durable iron to replace the one that broke (RIP). All our choices are completely independent but we may earn a small commission if you click a link and make a purchase.