BT must formally separate from its Openreach network division after failing to address competition concerns, the telecoms watchdog has announced.
Ofcom said it will launch a formal notification to the European Commission over plans to force BT to spin off its Openreach arm, which develops and maintains the UK's main telecoms network used by telephone and broadband providers such as Sky, TalkTalk, Vodafone and BT Consumer.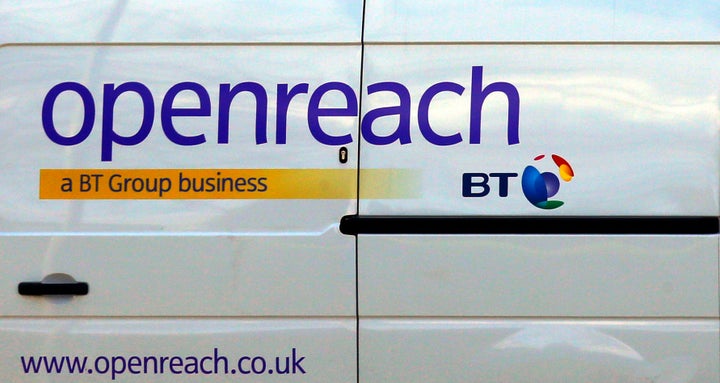 But the regulator said during this process it still remains "open" to further proposals from BT to meet its "strong competition concerns".
It said: "We are disappointed that BT has not yet come forward with proposals that meet our competition concerns.
"Some progress has been made, but this has not been enough, and action is required now to deliver better outcomes for phone and broadband users."
BT told the BBC it hoped to reach a voluntary settlement:
"We put forward proposals in July that we believe are fair and sustainable, and that meet Ofcom's objectives without disproportionate costs.
"We are implementing these proposals, and have just appointed Mike McTighe to be the first chairman of Openreach. We are in discussions with Ofcom on two outstanding issues, the reporting line of the Openreach chief executive and the form of legal incorporation.
"We will continue to work with Ofcom to reach a voluntary settlement that is good for customers, shareholders, employees, pensioners and investment in the UK's digital future."
But the BBC reported that Ofcom is concerned that it's unclear whether Clive Celley, Openreach's CEO, will continue to report to BT Group's CEO Gavin Patterson.
The report added: "Ofcom is also concerned that Openreach will not end up in control of its own assets and cash, and that it may not be able to confidentially consult with customers such as Sky and TalkTalk."
Experts said rivals such as Sky and TalkTalk would be disappointed that Ofcom isn't aiming for Openreach's full structural separation.
Richard Neudegg, head of regulation at uSwitch.com, said:
"Ofcom isn't changing its position at all. The regulator is still gunning for legal separation rather than full structural separation and is using a potential notification to Brussels in an attempt to ensure it can get this over the line.
"Those calling for structural separation – including Sky and TalkTalk – will be disappointed this option still isn't being considered more closely.
"But this is one step closer towards finding a version of Openreach that maximises investment in new digital infrastructure while still allowing effective competition. Many agree that is what's needed, but disagree on how to do it. Ofcom is clearly seeking to strike a balance."
Alex Neill, managing director of home and legal at Which?, said:
"Millions of people have suffered woeful levels of service from Openreach, so these reforms must lead to significant improvements for customers who have been let down for too long.
"Telecoms are now an essential part of our daily lives, so it's vital that Ofcom and Openreach implement these changes swiftly and ensure that consumers really do get faster, more reliable broadband."