Council office staff could be drafted in to carry out bin collections, 'meals on wheels' and other frontline services if the coronavirus infection rate dramatically worsens, insiders have warned.
Local authorities across the country are putting in place detailed contingency plans to help deal with the widespread impact of Covid-19, which has so far claimed 10 lives and infected 590 people in the UK.
The cross-party Local Government Association (LGA|), which represents councils across the country, said the measures include "looking at how [councils] could best use their staff and mobilise resources to continue supporting the most vulnerable and mitigate against the inevitable disruption to other important services, such as bin collections and street cleaning".
One council source told HuffPost UK they did not believe "anything can be ruled out" at this stage, and it is understood staff from other authorities could be drafted in to help in areas particularly badly hit.
"Councils are well used to sharing services and resources, so that could be an option if areas are worse-hit than others," they added.
"But if this coronavirus spreads in any type of worse-case scenario then that is unlikely to be enough to prevent service disruption."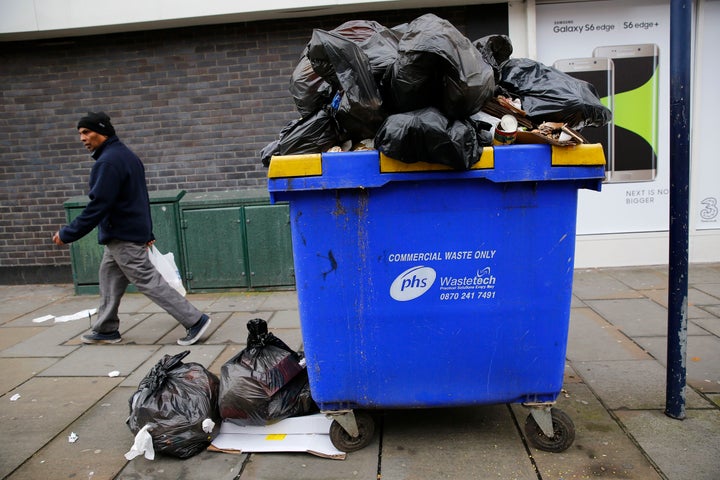 Sources said staff in both England and Wales have been briefed on the possibility of having to temporarily "switch jobs" should frontline services take a hit due to sickness levels or self-isolation, including social care for vulnerable people.
Such measures are more likely to be undertaken in larger urban areas and union chiefs have also been briefed on the plans.
Another insider said: "Obviously [bin collections] would be in extreme, exceptional circumstances. You're not going to get the receptionist driving a bin lorry, and employees' health and safety will be the most important thing.
″What's more likely to happen is people won't have their recycling collected for a few weeks. And in areas where there are already issues or bin strikes, that could be a real problem."
The LGA said council staff are working "day and night" to support national efforts to minimise the spread of infection.
A spokesperson said: "They are doing an amazing job in hugely challenging circumstances.
"They have plans in place for every possible scenario, for example if large numbers of key workers are off sick at one time or schools are closed, or if extraordinary containment or delay measures are recommended by the government.
"Councils are responsible for a wide range of services – including adult social care and children's services – and local community assets, such as libraries, leisure centres, call centres and community centres, which are critical local infrastructure. They have well-tested plans in place to manage and mobilise these resources across a range of scenarios, including flu outbreaks."
But a widespread outbreak of the virus would "inevitably have an impact on the wide range of services councils provide and communities rely on", the LGA added.
Thursday's rise in confirmed cases in the UK from 456 to 590 is the largest day-on-day increase since the outbreak began.
It is a jump of 134, which is 29% up on the equivalent figure for Wednesday.
It is also the first time the day-on-day increase has been in three figures.
One week ago, on March 5, the total number of cases stood at 115.