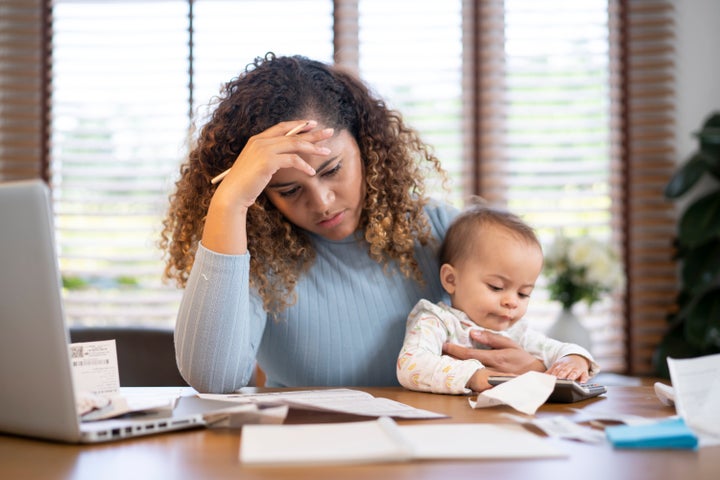 Over half of all mothers (52%) have debts outside their mortgage and student loan, with almost one in 10 mums owing more than £20,000, according to new figures shared exclusively with HuffPost UK.
Its annual survey found almost a quarter of respondents (23%) have been cutting back on food to save cash. And one in five have used a food bank in the last year – with 15% of those relying on this support weekly, if not more frequently.
Georgina, 38, has an 18-month-old son who suffers from severe reflux and respiratory issues. He was born prematurely and has been in and out of hospital since birth.
The mum-of-one works from home in admin/customer services and says she's "desperately trying to keep afloat" with all of the rising costs of living.
"I am living pay cheque to pay cheque and on credit cards, skipping meals and struggling to pay my bills. I can't access my child's benefit and have resorted to food banks lately to be able to put food on the table, even today I am using vouchers," she says.
Last year, Georgina was made temporarily homeless and she lives in fear that this will happen again.
"It was harrowing. I was in hospital with the baby who had to be on oxygen and nasal tube feeds," she says, adding that while she was going through this, she had to call different agencies each day to see if there was any accommodation available.
Georgina is particularly worried that her rent will rise in December, making it unaffordable to live in her home. She is desperately waiting for her son to turn two, so she can get support with childcare payments.
The average cost of putting a child in nursery part-time is over £7,000 – this increases to a little over £14,000 for placing a child under two in full-time care.
"I feel like I am juggling everything on my own and every day I am struggling to make ends meet," she says.
"I haven't even really recovered from the birth. I am struggling mentally and had to go to the GP, but I cannot afford to take time off work. I feel like I am in a vicious circle with loans and bills and repayments. I am not sure how I have managed so far and I am not sure how it will get better."
According to the survey, over half (57%) of mums say the cost of living is having an impact on their childcare decisions.
And 55% of those who pay for childcare say the cost has risen significantly in the last few months, with 66% of parents with school-aged children saying they can't afford the after school and holiday childcare they need.
Part of the problem is that while soaring inflation has pushed prices higher, wages haven't seen the same increases.
Only a fifth (22%) say their pay has risen in line with or more than inflation, 41% haven't had a pay rise, and 37% had a rise that was less than inflation.
As a result, 41% of mothers have increased their hours, and 42% have been forced to take on another job, more work or side hustles to top up their wages.
Christina, 46, is one of them. She says: "I didn't want to go back to work full time as the cost of childcare was too much in relation to working, so I ended up starting off slow, working as a finance manager for small start-ups."
The mum, who has a six-year-old son, says she took "a massive pay cut" and it took her six years of working before she was earning anywhere near what she was before having a child.
To try and top up her wages, she says she's had several side hustles on the go.
"Up until the first of September, I had seven clients, which was very hard, but it was the only way to be able to be a mother around my son and also to work," she admits.
Unsurprisingly, the stress of juggling finances and having to take on extra work is taking its toll on mums' mental health – almost half (48%) of respondents said theirs has deteriorated in the last year.
Over half (51%) attribute their mental health problems, at least in part, to money. Financial problems are causing strain in other areas of life, too – of those with partners, 41% say money issues have led to tension in their relationship.
Spokesperson Mandy Garner said: "The financial crisis is having a devastating impact on families; personal debt for mums is rising, and clearly its impact is being felt in all corners of their life from family life to relationships to work.
"When we've reached the point that holiday and after-school childcare is unaffordable for two-thirds of working mothers and almost half are working two jobs to make ends meet, we're in danger of pushing parents to the very brink.
"Despite talk of rising wages, many mums are not seeing an increase. Much more needs to be done to ensure that work provides a liveable wage and is flexible enough to meet the demands of today's workforce."