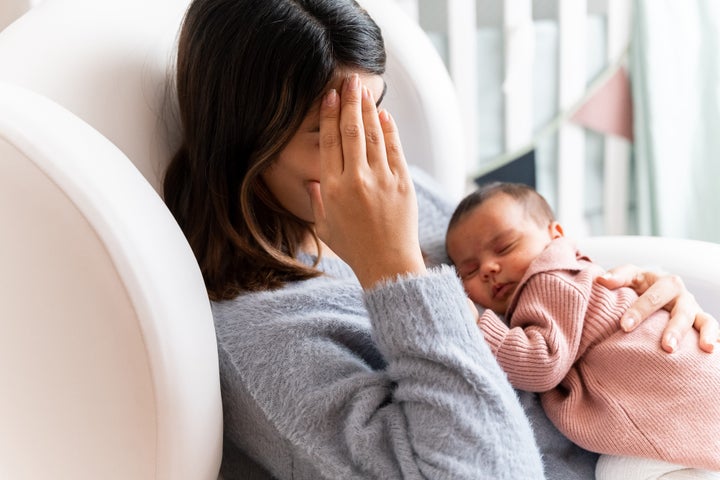 A staggering 95% of mums in the UK experience parenting guilt.
We'll just let that sink in for a second.
In fact, it's one of the most challenging parts of parenthood for this group, in addition to loss of identity and finding time for themselves.
The findings come from a new study of 2,000 mothers by the Peanut app and Tommee Tippee, which have joined forces to launch 'Just Winging It' – a support group for mums.
So what kind of things do mums feel guilty about? Here are just some of the responses from those involved in the study – so if you're feeling mum guilt (and let's face it, many are), please know that you're not alone.
Not being able to afford the luxuries for my children
"With the cost of living crisis many luxuries have had to be dropped leaving me guilty I'm not providing a good enough childhood. Seeing other parents spend lots of money on enrichment activities makes me question if I should be spending more money."
Feeling like I need time away from my son
"Finding time for myself is the hardest thing. Even when I do have spare time, I feel pressured to be productive and rush through my to-do list to make life easier for my future self. Spending time doing something for myself always comes with a lot of guilt. Feeling like I need time away from my son also comes with a lot of guilt."
For prioritising myself
"The most challenging part is figuring out who you are after having a child. I love being a mother but find it difficult to see myself as anything else nowadays. You become consumed by motherhood and lose your sense of self. It's hard to find time for yourself and your own hobbies without feeling guilty for prioritising yourself."
Taking a break
"Finding time for self care is difficult. When I have free time I often use it to catch up on other jobs and feel guilty if I take a break."
Having to spend more time with my baby than my toddler
"I don't make time for myself because my priority is raising my children. Also, I get no financial support from my ex-spouse so I feel the pressure to over-compensate with the children to give them a normal lifestyle. It's been hard as I also have a baby. So it's balancing the two and having mum guilt when I have to tend to the baby more than my toddler in certain circumstances."
Having to make all the decisions for my children
"Social isolation as a new mother is very challenging. Especially being a single, unemployed mother carrying the weight of everything on both shoulders alone. There's a lot of pressure alongside the severe fatigue/exhaustion. [I experience] Feelings of guilt sometimes with making all the decisions for the children. Feeling like not many in your support system can relate or understand. Financial strain – always single-handedly striving to provide for the children whilst you and your self-esteem take the back of the line. I sometimes feel like I have completely ceased to exist at all."
Wanting to work and parent, but not being able to
"Childcare is super expensive. We can afford it, but it creates such blockages in other areas of our life. There is also an ongoing tension between wanting to work, wanting to parent and not being able to do half and half because financially it doesn't work – such guilt attached to anything you choose."
Feeling so down when I had a beautiful baby
"Having struggled with depression and anxiety previously, I developed postpartum depression. At first, I couldn't bond with my baby. I was incredibly sleep-deprived. I found it hard to leave the house. I had no support with breastfeeding and was pushing through, trying to teach myself what to do, and didn't realise how incredibly draining it was. I thought I'd made a massive mistake. I also felt guilty for feeling so down when I had a beautiful baby, just like I'd wanted."
Finding some days hard
"It can be hard to make mistakes when you see seemingly perfect parents online. There is also guilt around finding some days hard. Other mums seem to always enjoy being a mum."