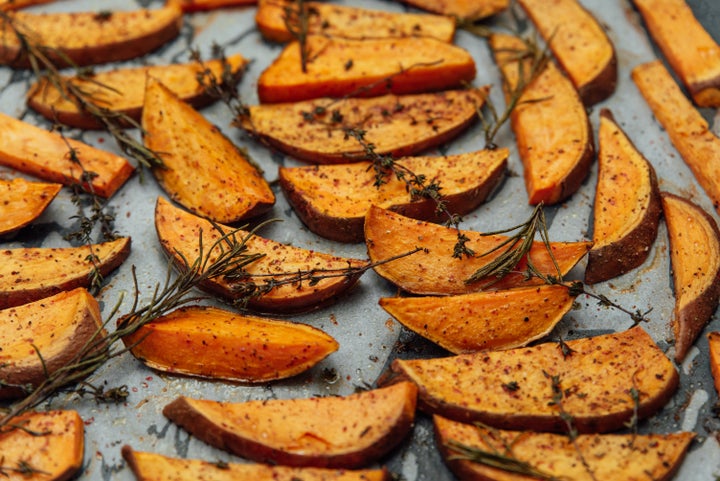 Let's face it; these cold, dark evenings don't exactly make it easy to find the energy to cook (or wash up, or even lay the table). In other words, 'tis the season for low-hassle comfort food.
One-tray dinners have become my go-to – I'm craving caramelised, soft root veggies and sticky red onions almost as much as I'm dreading the washing up. And recently, a recipe from TikToker fraser_reynolds has won my heart ― a simple-but-delicious sweet potato bake.
"This is the easiest recipe in the world," the creator begins the video ― and I agree. You'll need: peppers, sweet potatoes, a dash of brown sugar, red onions, chillis, chicken and some spices (I'll share how to sub out some of these if you don't have any).
How's it made?
To serve four, you can chuck 200g of cubed sweet potato, two medium bell peppers (or three small ones), two red onions, a handful of tomatoes, two chopped chillis, 50g chorizo, a spoonful of brown sugar, and eight chicken thighs into a tray.
Assemble them in the tray with the chicken (skin-side up) on top. Cover them in salt, pepper, oil, paprika, garlic powder, and oregano; mix well and cook the whole thing in a preheated oven. Mine cooks well in 45 minutes at 180°C.
The result is perfectly-browned, tender chicken; soft, gently-spiced veggies; and probably the best smell a low-hassle meal can produce.
What about substitutions?
The beauty of this recipe? You can sub everything. Red onions can be white onions. Chillis can be chilli flakes. Sweet potato can be butternut squash. Brown sugar can be maple syrup or honey. Chorizo can be lardons (or sun-dried tomatoes, if you're veggie).
I've also tried sausages instead of chicken – way cheaper and totally delicious. Halloumi works, too.
Probably the best addition I've tried is mango; an entire small mango disappears into zingy pockets of sunny, sticky sweetness when baked.
It all keeps as long as the most perishable content keeps, basically ― with cooked chicken, that's about three to four days, per Healthline. I'm cooking for one, so this batch lasts me three or four days in the fridge. It's also suitable for freezing.