Sophie Darlington has been sat in a hide for 26 hours, with a sleeping bag and a (now frozen) sandwich for company. Outside, just metres away, there are hundreds of thousands of sandhill cranes and camera in hand, she diligently tracks their every move. Sophie, a Bafta-winning cinematographer, is on one of the six trips she made to film parts of Our Planet, Sir David Attenborough's ambitious new Netflix series, and planning for this moment has been ongoing for years.
Our Planet is the work of Silverback Films, a production house run by Keith Scholey and Alastair Fothergill, who worked on Planet Earth, Blue Planet and Frozen Planet. The idea for Our Planet, which lays bare the impact human behaviours are having on the world around us, is perhaps the most ambitious, timely and urgent series of them all.
Speaking to HuffPost UK, Keith and Sophie reveal how the series was made, detail the trip that resulted in zero usable footage and explain why we have to act right now to ensure the animals, plant life and environments featured in Our Planet survive.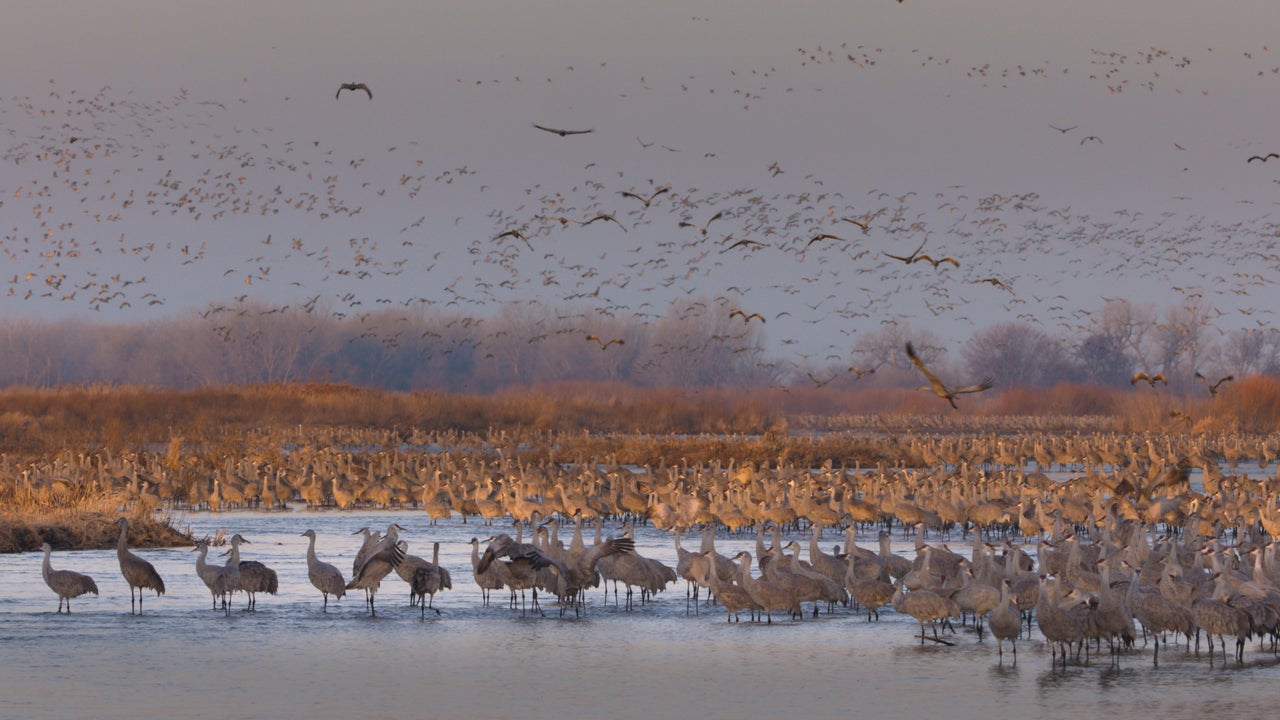 Series Producers Keith and Alastair first met with Netflix in 2014, but for a year prior to that, they'd been thinking about doing "another global natural history series, but this time it had to be relevant to our time and the story of what's happening to the natural world".
With the green light given (and the cash needed to produce something on this scale agreed to), the planning kicked up a gear and the Silverback team began thinking about what to include in the series. Numerous Our Planet scenes feature phenomena that has never been caught on camera before and in one of its most incredible and dramatic scenes, a glacier in Greenland calves in half.
"The starting point was that we wanted to illustrate, through natural phenomena, climate change and that the arctic is increasingly warming," Keith explains. "And the next thing was, 'Right we'll do a calving glacier'.
"People have often filmed glaciers with bits falling off, but in the moment you're referring to, when a huge skyscraper block breaks away and does that huge rotation, it's never really been filmed properly before."
To make it happen, the producers contacted a scientist who had studied one, specific glacier for about 20 years, quizzing him on everything from when it might happen, where they need to be and how long it will take.
"In our business, planning is everything," Keith says. "It's the research to find the person who knows what's going to happen when and then making sure we have everything available so the moment things do happen, you're ready for it.
"He reckoned, within a three-week period, we would get one go," he laughs.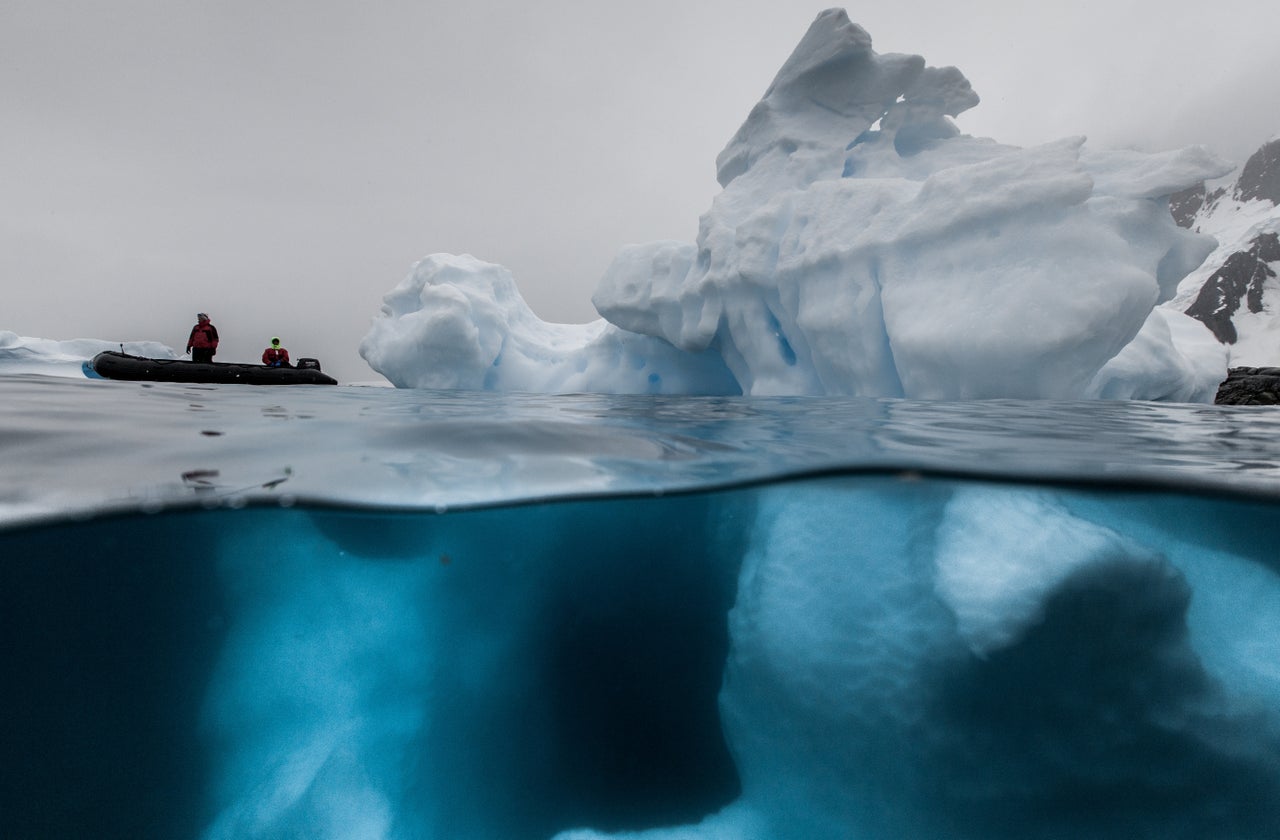 A team of six – Keith, a helicopter pilot, producer, two camera people and another director – were charged with glacier watch for the specified three weeks, sat on the shore opposite and keeping a close eye for any signs the momentous calving was about to take place, with the helicopter and all their equipment ready to go.
Of course, nature had one final trick up its sleeve. "Our one go happened on the last evening of the last day [of the three week trip], just as the light was going away" he laughs. "It was nail-biting.
"Most of the shots you see were shot in the helicopter, in a 20-minute period. After we sat around for three weeks."
The camera people involved are mostly freelancers and experts in their fields, who have worked on countless films in countries all over the world. Sophie first got involved with Our Planet at what she describes as "quite late on" – a "year or two before" her first filming trip, after the research team have spent months painstakingly planning "where the best behaviours are happening, who the best scientists are".
"We get sent out when they've done all the health and safety checks," she explains. "We go in and chat about what the producer would like for the sequence, often we go out with a researcher or maybe the assistant producer."
The sandhill crane scenes, which she describes as "properly one of the best things I've ever seen", were filmed on a 75-mile stretch of river in Nebraska, USA and feature in the Freshwater episode of Our Planet.
"They're about four foot-high, big, big birds and about 80% of the world's population of them come and land in a 75-mile stretch of river in Nebraska," she explains. "It's a vital stopping point, to refuel and get fit on their way up to breed in Alaska and Canada."
For three to four weeks, Sophie daily routine was exactly the same, and started in mid-afternoon when she entered "a blind, which is what America calls hides".
"You would go in with a sleeping bag and a sandwich and you would stay overnight there, because during the late evening, the birds would come in and roost on the sand rivers to stay safe," she explains. "You'd go to bed with this incredible noise going on outside, which would ebb away during the night.
"Then just before dawn, so early, early and it was very cold, you get up and very carefully set up the cameras.
"You have to be incredibly quiet because these cranes are shot in a lot of States other than Nebraska. They kind of arrive very, very nervous and so you cannot make any noise and they can't see you.
"You wake up and open up the hatches at the front of the blind and you look and see how many cranes there are and how close they are to you.
"Then you would sit and film."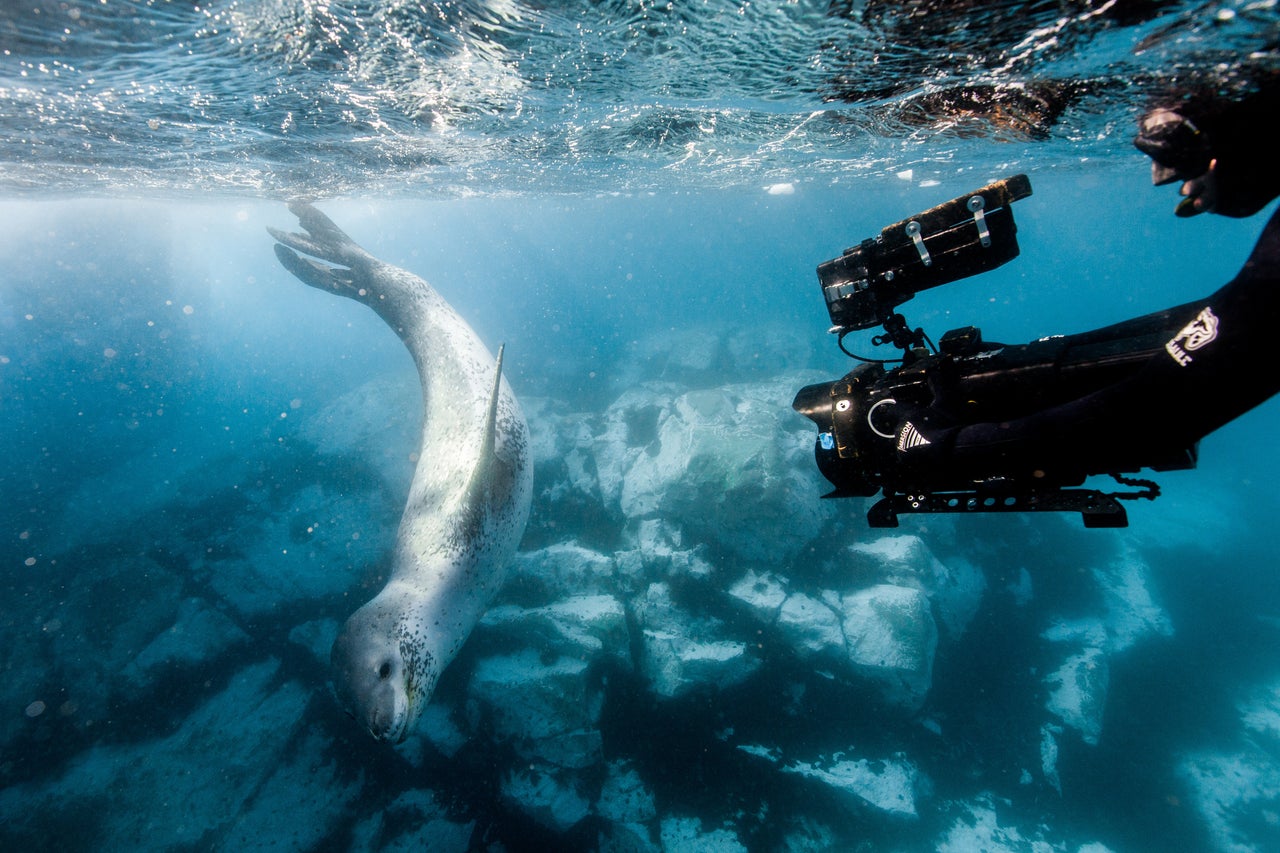 The cranes are supposed to leave mid-morning, but Sophie soon found this wasn't always the case. "One time I think I was in the hide for 27 hours with just a frozen Subway sandwich," she explains. "I was kind of held captive by the cranes.
"Then you come out and drive to wherever you're staying – so we were maybe half an hour away – and charge up your batteries download your footage, grab some food and turn around off you go again, day in day out.
"It's sort of relentless but you don't want to be doing anything else, that's why you're there. You don't have days off, you don't have downtime because nature doesn't take downtime."
Of Sophie's six trips for Our Planet filming, five resulted in footage being captured and you can see her scenes in the opener, One Planet, and the seventh, Fresh Water. But one expedition, to the shores of a Canadian river where polar bears have learnt to fish like their grizzly family members, was not so fruitful. Well, it wasn't fruitful at all.
"There was a massive low [area of low pressure] sat over the area we were meant to be filming in," she says. "You're meant to be heading up to film the polar bears, but we couldn't actually even get to our base camp because the weather was so thick."
"When we finally got off the ground it turned out there'd be so much rain because of climate change, that the bears had no fish."
"It's a really bleak feeling because you see firsthand how the climate… It's important that we take action now," she says, with the passion of someone pointing at a burning building and letting you know it's on fire. "I think it's really great they're showing things like that because it's not always a success."
Stories like this are reasonably commonplace among the Our Planet crew, and Sophie adds that for the Siberian tiger scenes in the Forests episode, three cameramen spent five days at a time in a hide, in sub-zero temperatures. "Only one of the three cameramen, in all the time they spent out there, saw a tiger… and that was for 20 seconds," she says. "They got 37 shots and by the way, it\s the best Siberian tiger footage that has ever been seen. That's the dedication we're talking about. The people I work with are extraordinary."
As her career has gone on, Sophie says the frequency at which she witnesses habitats and wildlife suffering because of climate change has "absolutely" grown more frequent.
"We're very much on the front line," she says. "The people you talk to and the people who live in the places we go to are the ones that tell you things [that have] gone for the last 10 years or 20 years. Things have gone."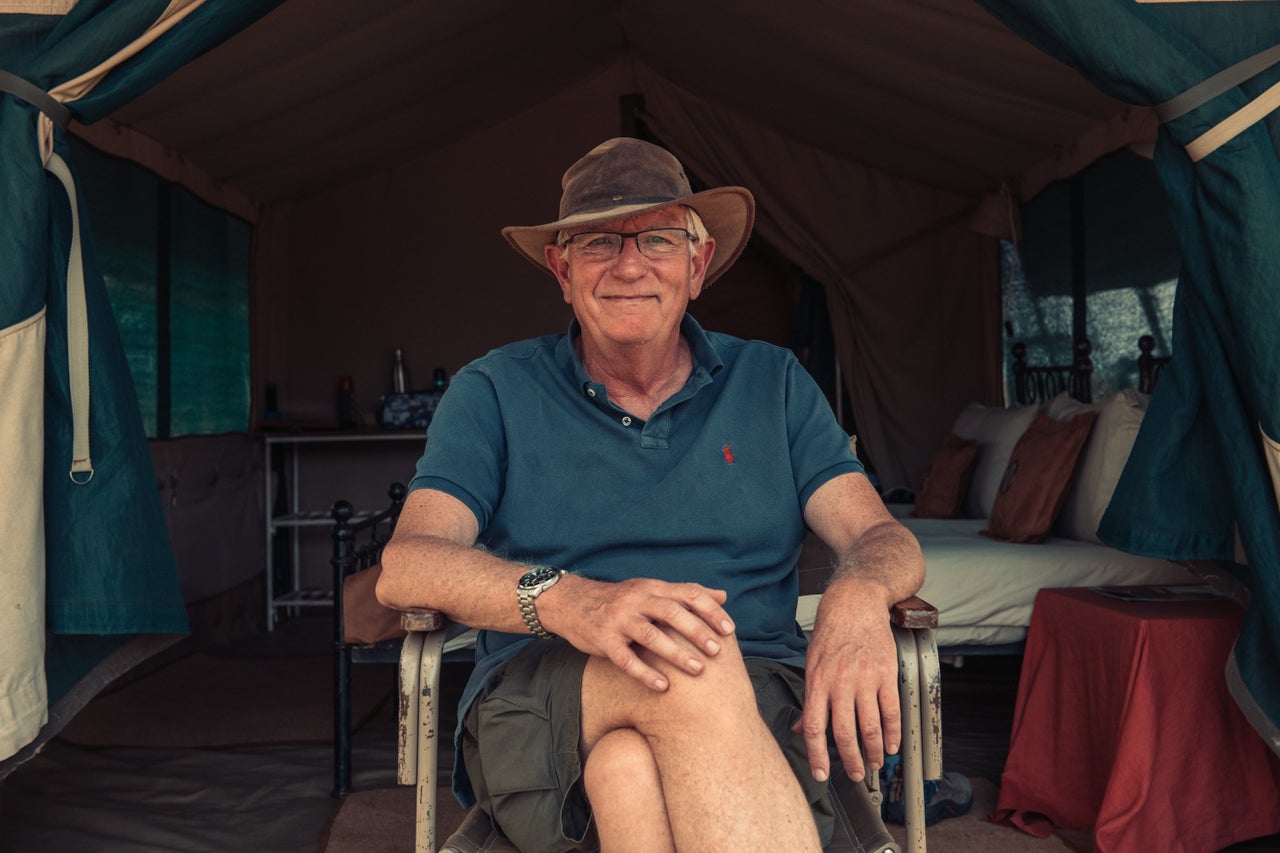 Keith echoes her thoughts. "I was a research student when I started and I worked quite a lot in Borneo. This was round about 1980, and at that point the jungle locations we would go to, we noticed there were a few little oil palm plantations starting.
"Now you go back and 70% of Borneo is deforested and oil palm is nearly everywhere. That has happened in my working career which is absolutely staggering.
"As humans we always think, 'Oh well that's a lifetime, that's a lot of time'. But in the natural world, that's a flash. That's a meteorite strike. The natural world works on hundreds of thousands of years or even millions, and so something happening in 30 is devastating. That's one of the major problems."
Our Planet does a staggeringly good job of making this clear, thanks to a trifecta of jaw-dropping elements, filming from Sophie and her colleagues, Sir David Attenborough's voiceovers and a score by Steven Price.
"He somehow scores the thing in four weeks and records it," Keith says. "In natural history, the score is often the emotional voice and Steve really, really is the emotional voice of this series.
"He does all the storytelling with the way he writes its music. It is emotional storytelling and what is great [is] his music and David's narration have gelled in a fantastic way.
"People often think David goes in and reads the words because it seems so natural. But you watch him in the recording booth delivering, he puts the emphasis to every right place.
"The narration is performance and if you listen to them carefully you can hear the performance in every single line and that's why his narration is the best in the world."
For camera people like Sophie, their first time seeing the visuals paired with the music and David's voice is incredibly exciting. "It's the way it all comes together," she says. "There's this thing suddenly you're part of, it's such a team effort."
The message of the films too, is that saving our planet is going to be a team effort.
"There's so much we can all do on a personal level and it's all there," she says, noting that the website Netflix and the World Wildlife Foundation (WWF) have created to accompany the series.
She adds: "Wouldn't the perfect takeaway be that we all need to take action for the planet? Small things, if everybody did something little, we've got time. It can be done, it's not impossible.
"We do need to act now, it's really important. It would make everything worthwhile.
"I'd love my son and if he has them, his kids to enjoy the stuff I've seen. We've been really lucky. I hope it inspires enough people."
Our Planet is available to watch now on Netflix.