When GiGi the great horned owl arrived at a Mississippi rescue centre, she was in a bad way.
The owl had suffered severe head trauma and was concussed, she also had a condition called aspergillosis, which affects the respiratory system, and was riddled with parasites.
GiGi was nursed back to health by staff at the shelter including the organisation's president, Douglas Pojeky.
When Pojeky went out of town for a while and returned to the rescue centre, he got a heartwarming welcome from the owl who hopped onto his chest and wrapped her wings around him.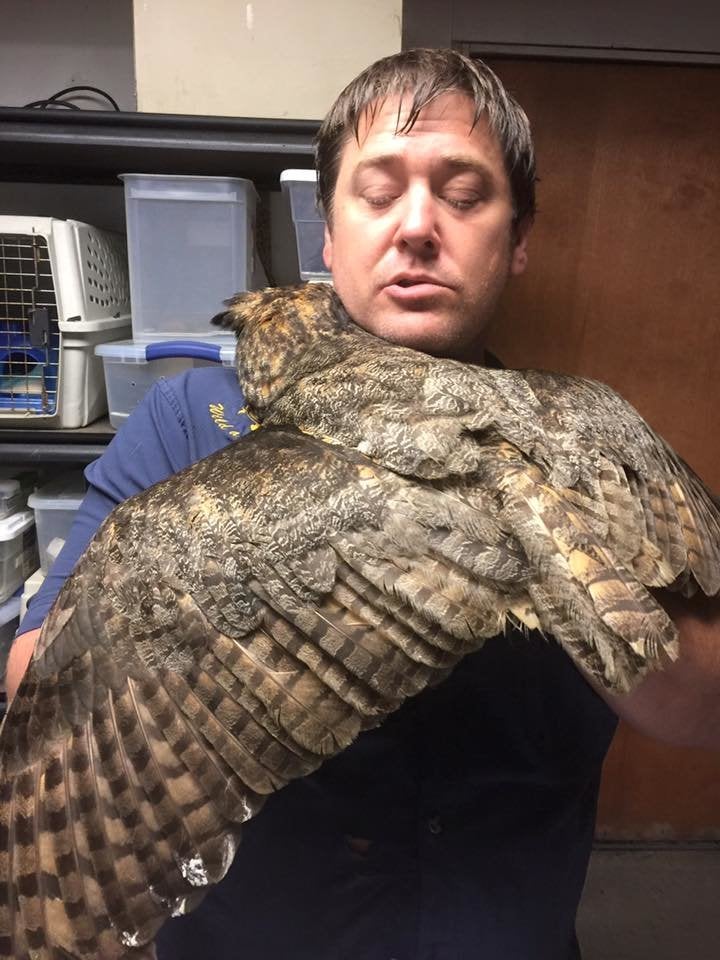 Missy Dubuisson, founder and director of the Wild at Heart rescue centre, told The Dodo that GiGi's condition was the most critical they had ever seen.
"The fact that this bird has lived is beyond comprehension," she said.
Pojeky, who is known as "the bird whisperer" of the shelter, helped nurse GiGi back to health.
But Pojeky didn't quite realise how much of an impression he'd made on the owl until he went away to Michigan to see his family.
On his return, he went to see GiGi to check up on her health. During her examination, she started bobbing her head and dancing on Pojeky's arm.
Then she walked onto his chest, wrapped her wings around him and rested her head on his shoulder in what staff at the shelter have dubbed an "owl hug".
Dubuisson said it brings tears to her eyes to watch Pojeky interacting with the birds.
"They absolutely know him and trust him," she said. "It's the trust that you see in her face."