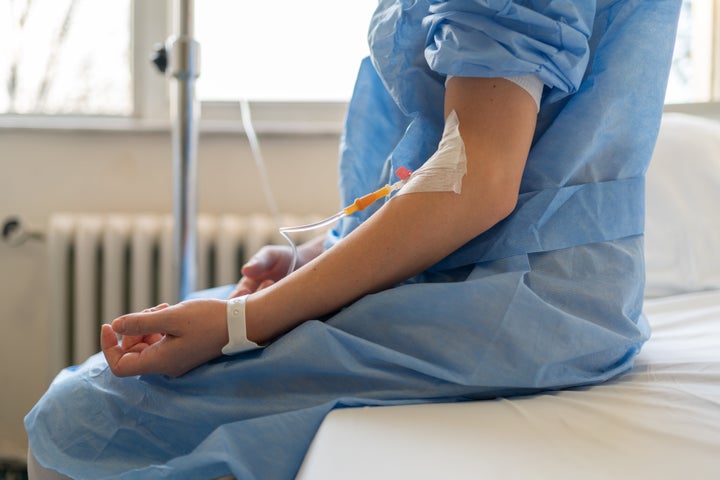 There's been a huge 86% increase in cases of pancreatic cancer in Northern Ireland, according to the first new audit in over 10 years looking into the disease.
Every year, 10,500 people are diagnosed with the disease in the UK, which affects the pancreas, an organ situated behind the stomach that helps you digest food and makes hormones, such as insulin.
How serious pancreatic cancer is depends on where it is in the pancreas, how big it is and if it has spread, coupled with your general health.
There were 283 confirmed cases in Northern Ireland in 2020, up from 152 in 2001.
In the latest audit, it was revealed that 94% of patients were symptomatic at diagnosis and were diagnosed through hospital emergency departments, with the majority of patients presenting with stage 4 disease.
Why is it on the rise?
"It's concerning [that] the most common route to diagnosis was via emergency admissions (43%) and the majority of patients presented with advanced (stage 4) cancer where the cancer has spread to a distant site," he said.
Prof Taylor said the findings underpin the importance of campaigning to raise awareness of early signs and symptoms to enable timely diagnosis and treatment.
According to Cancer Research UK, 37% of pancreatic cancer cases are preventable, but survival rates have not improved much in the last 50 years.
The NHS says you're more at risk if you're "over the age of 75, have certain medical conditions, like chronic pancreatitis, or have a history of pancreatic cancer in your family."
The rise in cases is also being seen outside of Northern Ireland, with Cancer Research UK reporting there could be around 16,000 new cases every year in the UK by 2038-2040, up from around 10,500 annual cases at present.
Earlier in the year, consultant gastroenterologist Umesh Basavaraju warned that younger people in their early 40s are ending up in hospital and being diagnosed with it.
"Patients have to be vigilant about the symptoms," Dr Basavaraju told The Press & Journal. "But it's very difficult to pick up pancreatic cancer at an early stage."
A study in the US also found cases are rising among women under the age of 55. The study found rates were 2.4% higher in this group than among men of the same age.
What are the symptoms of pancreatic cancer?
Professor Taylor said that 38% higher incidents occur within the most deprived communities, as he urged GPs and the public to be aware of the key signs of the disease dubbed "the silent killer".
indigestion,
tummy or back pain,
changes to your poo,
unexplained weight loss or loss of appetite,
jaundice (yellow skin or eyes, and itchy skin).
Patients usually report jaundice after overlooking subtler symptoms early on such as unexplained weight loss or unresolved upper abdominal and back pain.
Can I reduce my chances of getting pancreatic cancer?
Anyone can get pancreatic cancer and it's not always clear what causes it – so preventing it is not always possible.
These include: losing weight if you're overweight, cutting down on how much red and processed meat (such as ham, bacon and salami) that you consume, cutting down on alcohol (avoid drinking more than 14 units a week) and quitting smoking.