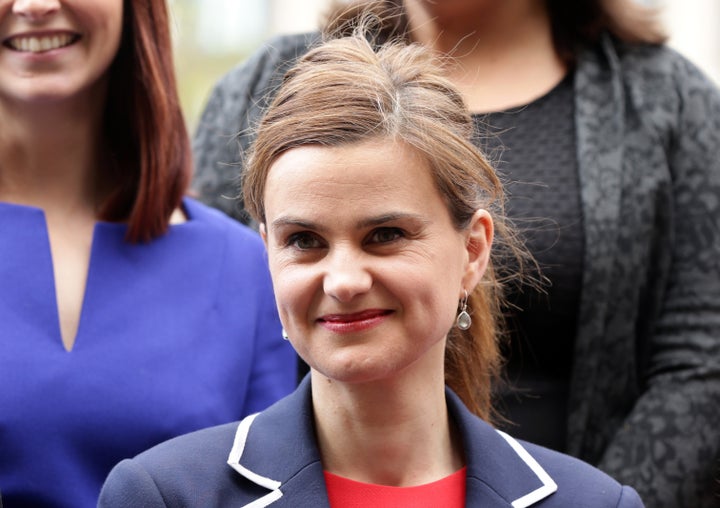 Parliament will be recalled on Monday to allow politicians to pay tribute to murdered Labour MP Jo Cox.
Jeremy Corbyn said the killing of Cox sprung from a "well of hatred" and was an "attack on democracy".
The Conservative Party, Liberal Democrats and Ukip will not contest the by-election in Batley and Spen resulting from Cox's death.
Labour will suspend its national EU referendum campaign until Monday.
David Cameron, speaking alongside the Labour leader in Birstall, where Cox was attacked, said people should remember that politics was about "public service"
"Where we see hatred, where we find division where we see intolerance, we must drive it out of politics and out of our public life and out of our communities" he said.
Commons Speaker John Bercow said "evil cannot be allowed to triumph over good".
"Today I think everybody is united in grief, in horror and in an overpowering respect for somebody who we came to know, whose talents we admired, whose passion we observed on a daily basis," he said.
"We just have to underline our determination as politicians across the spectrum that free speech and the right of people to go about their business and the pursuit of principle will continue and it will not be dulled or dimmed or cowed in any way by people who think that violence and the spirit of hatred can be allowed to triumph."
In his statement, Corbyn said: "She was taken from us in an act of hatred, in a vile act that has killed her. It's an attack on democracy what happened yesterday, it's the well of hatred that killed her.
"Jo was an exceptional, wonderful, very talented woman, taken from us in her early 40s when she had so much to give and so much of her life ahead of her.
"It's a tragedy beyond tragedy what happened yesterday. In her memory, we will not allow those people who spread hatred and poison to divide our society; we will strengthen our democracy, strengthen our free speech."
Cameron said: "Today our nation is rightly shocked and I think it is a moment to stand back and think of some of the things that are so important about our country: the fact that we should treasure and value our democracy, where Members of Parliament are out in the public, accountable to the public, available to the public, and that's how Jo died – she died doing her job.
"We should value and see as precious the democracy that we have on these islands, where 65 million of us live together and work together and get on together. We do have peace, we do have stability, we do have a measure of economic wellbeing better than other countries – obviously still to be spread far more widely – and it's all underpinned by tolerance.
"So where we see hatred, where we find division, where we see intolerance, we must drive it out of our politics and out of our public life and out of our communities.
"And if we truly want to honour Jo, then what we should do is recognise that her values – service, community, tolerance, the values she lived by and worked by – those are the values that we need to redouble in our national life in the months and in the years to come."
In an email to Lib Dem party members today, Tim Farron said for too long "we have allowed division and hatred to thrive".
"Vitriol has risen, and only yesterday we saw the shameful and sickening sight of England fans taunting child refugees, while public figures went out of their way to fan the flames of prejudice," he said.
"I am angry and upset at all those politicians, public figures and newspapers who wilfully stir up fear and hatred. Political debate has become a nasty place where personal attacks, blaming foreigners, migrants, the poor, the different, have become palatable."
In a statement issued this afternoon, The Conservative Party confirmed it would not contest Cox's seat.
Following the tragic killing of Labour MP Jo Cox, the Conservative Party has decided not to contest the forthcoming by-election as a mark of respect to a much-loved and respected politician.
Sal Brinton, President of the Lib Dems, said:
The Liberal Democrats will not contest the forthcoming Batley and Spen by-election as a mark of respect.

Tim Farron, myself and the whole Liberal Democrat Party pass our sincere condolences to Brendan, their family and the wider Labour movement. Hate and fear will never win.

An outstanding champion for the vulnerable and the dispossessed, who represented her community brilliantly, was taken from us all.
The decision not to fight the by-election is unusual. When Conservative MP Ian Gow was murdered in 1990, the other parties contested the by-election and the Lib Dems captured the seat.
Cox's seat, Batley and Spen, has been held by Labour since 1997.