Paul Nuttall has admitted his claim to have lost a "close personal friend" at Hillsborough was not true.
The Ukip leader made the claim on his official website. "I lost close personal friends at that match and understand as well as anyone how deep the scars of that tragedy go," he said in a now deleted post from 2012.
However appearing on Radio City Talk today, Nuttall admitted it was false when presented with a copy of his quote.
"I haven't lost anyone who was a close personal friends, there were people I knew through football and things like that," he admitted. "I'm sorry about that. I haven't put that out. That is wrong."
Nuttall, who is standing for election in the Stoke by-election, has dismissed claims he was not at Hillsborough on the day of the 1989 disaster in which 96 football fans died as a Labour "smear campaign".
He said today: "I was there on that day. I have got witnesses, people who will stand up in court and back me 100%. It's cruel and it's nasty, it's making out as if my family is lying as well. It's just not fair or right."
The "close personal friend" claim was made in two separate posts, one in January, 2012, and one in August 2011.
Paul Nuttall Hillsborough claim, August 17 2011: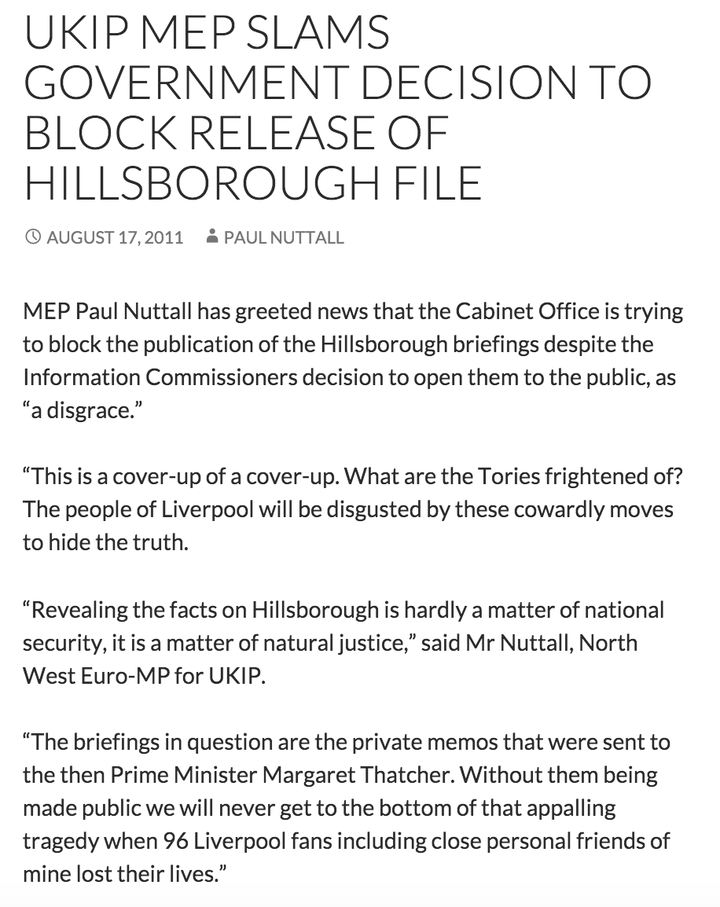 Labour MP Tom Blenkinsop said if the leader of Ukip was "prepared to lie about this, for a very prolonged period of time" then "what else would he lie to the British public about?".
Nuttall, who was 12 at the time of the tragedy and at school in Bootle, Merseyside.
However, questions over his account have been raised by a prominent Hillsborough campaigner.
Margaret Aspinall, whose son died during the disaster, was quoted in The Guardian on Friday as saying: "I haven't heard anything about him being at the match.
"Has he given a statement to the police, who have said they want to hear from everyone who was there? He can't say he hasn't heard that the police want to take statements from everyone who was in the Leppings Lane, as it's been all over local and national media."
In a statement to The Huffington Post UK, Ukip said the claims were part of a "smear campaign" sanctioned by senior Labour figures.
"Paul has been aware for some time of a smear campaign against him sanctioned by senior figures in the Labour Party and spoke about this in an interview with theSunday Express last week," the party said.
"One aspect of this is the claim that he was not at the Hillsborough disaster. This is totally false and highly defamatory.
"Paul was indeed at Hillsborough. He attended the match with his father and other family members.
"For political opponents to suggest otherwise and for left-wing media organisations to promote such claims constitutes a new low for the Labour Party and it's associates. (sic)
"Paul will not allow such disgusting attacks, which have already caused great distress to his family, to deflect him from his campaign to be elected MP for Stoke-on-Trent Central.
"[He] trusts that the people of Stoke and the British public in general will share in his disgust that the Labour Party should sink to such a level."
The by-election campaign in Stoke has been hit by controversy. Labour's candidate, Gareth Snell, has been forced to apologise for posting series of tweets aimed at women including one in which he described the hosts of ITV's Loose Women as "squabbling sour-faced ladies".