A passionate foodie has told of how her father's devotion to Sikhism inspired her to tackle loneliness and food waste with a community supper club.
In her spare time, 43-year-old Kiran Chahal runs People's Kitchen, a venture that facilitates the transformation of food waste into feasts. Through the initiative, people from all walks of life are invited to prepare delicious vegan meals and dine together.
"I fell in love with running People's Kitchen because of my father," Kiran, who took over the project five years ago, tells HuffPost UK. "In Sikhism, when you visit any temple (Gurdwara), you will find at the heart a Community Kitchen serving free vegetarian food for all. Everyone is welcome - whatever your religion, your race and your social or economic status.
"It's the simplest and yet most unifying of acts, and it's at the heart of People's Kitchen, strangers sharing a table as equals whilst being nourished and connecting with each other."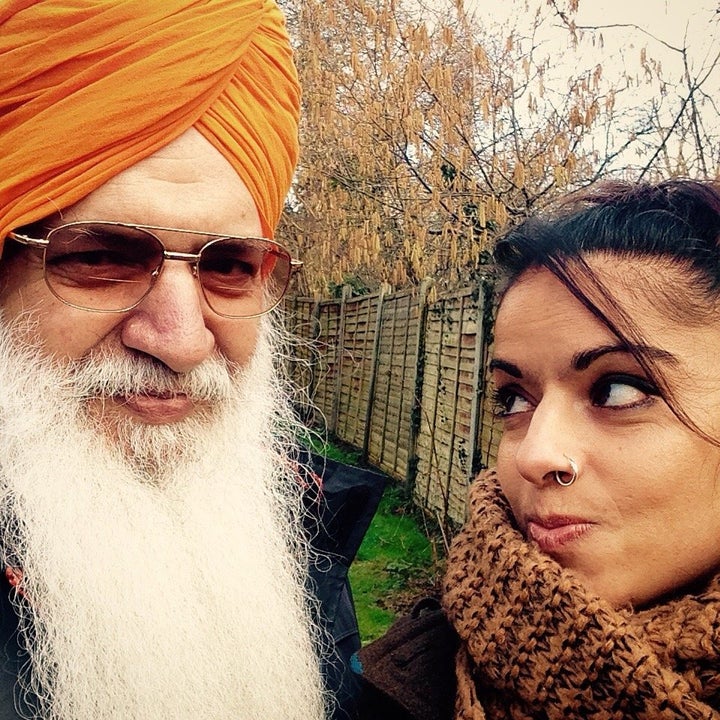 The community food club was founded by Steve Wilson seven years ago, however Kiran has been running it for the past five. The feasts are held once a fortnight at Weavers Adventure Playground in Bethnal Green and Myatt's Field's Kitchen in Brixton. By the end of 2018, it is hoped there will be two more kitchens opening in London. And Kiran's keen for other cities and towns to get involved too.
Before each feast, Kiran and a team of volunteers collect surplus food from two local shops and then from 2-6pm, people drop in and help improvise a buffet banquet from the ingredients collected and a store of dried and tinned goods. At 6pm, they eat.
"On average, we have 10-15 people cooking and about 35-50 people joining us for dinner," Kiran, who is also director of the Made Up Collective, explains.
"There are always two proficient chefs present to support whoever turns up, but the aim is to share skills and for volunteers to help take the lead in creating recipes, rather than simply being directed."
One of her favourite things to do is to ask passersby to stop and have dinner.
"One guy had only been in London for a week and suddenly he was having a community feast in a park with 50 others," she explains. "A few weeks ago someone told me it was the best meal they'd had in three months."
When dinnertime arrives, people are invited to sit down, eat and make a donation, if they can afford to. All proceeds from the dinner are channelled back into the Adventure Playground, where it's hosted. Any leftover food is taken home in Tupperware boxes, meaning nothing goes to waste.
Kiran said the amount of surplus food thrown away by supermarkets and shops due to imperfections is "truly shocking".
"We can pick up surplus food from one large greengrocers for one day and create 100 meals easily," she exclaims.
People's Kitchen not only plays its part in tackling food waste - a growing problem in the UK, we throw away £13 billion-worth of food every year - but it provides a means of tackling loneliness on a local level.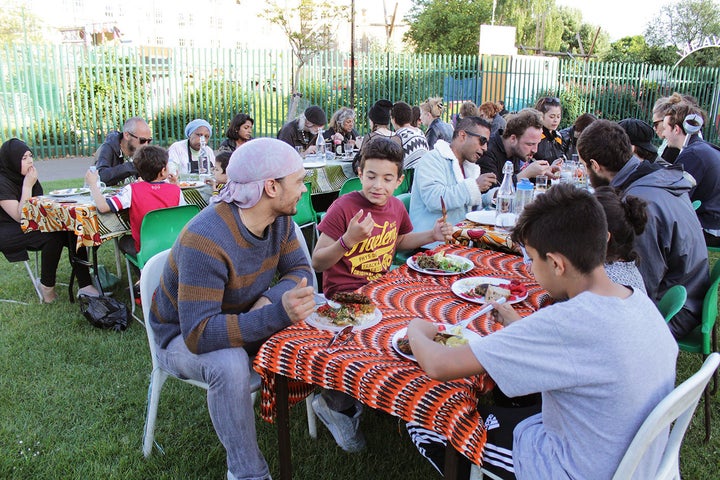 According to a report in 2017, almost seven million UK adults don't have any close friends. Almost half (45%) say they feel lonely at least some of the time and almost one fifth (18%) say they feel lonely often or all of the time.
"As a society we're becoming more and more isolated, living alone, eating dinner in front of screens, losing spaces that bring people together," says Kiran.
"Food poverty is increasing and daily life can seem a struggle for many, whatever your financial situation. As more and more public spaces depend on your finances, there's just nowhere for people to go on their own, relax, eat an abundance of great food and sit down with others from all walks of life.
"Some people come to chop and chat, others are great cooks, some like to wash dishes. Cooking and sharing dinner together breaks down barriers effortlessly."
Kiran believes developers and councils need to play a bigger part in championing community activities. "The sense of community is being eroded," she says. "Developments price out long-term residents, creating more transience; community spaces and music venues are closing down; and public spaces seem to cater more and more to one particular homogenised middle-class demographic.
"It's pretty impossible to celebrate communities when the spaces to commune are being lost all around us in the pursuit of commercial gain."
Her greatest wish for 2018 is that developers wise up to the benefits of community life and integrate it into their work. In the meantime, she's playing her part in making that happen by launching a project to transform land set for development into temporary community food hubs, social supermarkets and street feasts.
"As individuals, we're not powerless, everyone has skills they can share, everyone has a way to help if they wish - and on a purely simple level, helping others is really good for you," she says.
"There's most probably a community space right by where you live that you could support in some way, just pop in and ask them."
Everyone hates January. The post-Christmas comedown hits us hard, especially with 2017 being such a tough year. Kindness 31 is our antidote to that. Every day we'll share a good news story about someone (or a group of people) and their act of kindness or how they helped others. If you want to get involved, email ukblogteam@huffpost.com. Alternatively if you'd like to nominate someone to be featured, fill in this form.