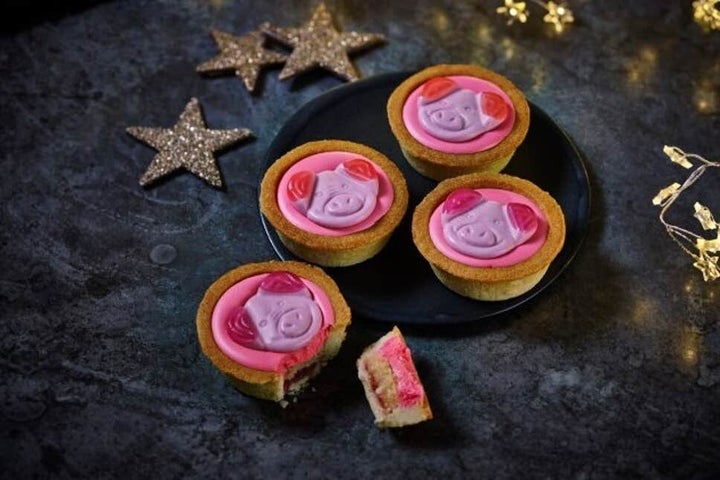 The supermarket announced the arrival of the "Percymas Pies" in early October – pastry with a layer of fruity filling, Percy Pig flavour sponge and pink fondant icing. And of course, hand finished with a Percy Pig sweet.
If anything, we're shocked it's taken them until 2020 to invent such a thing.
Curious about the festive pies, we enlisted the help of three, keen HuffPost UK staffers to test them out.
Four pies are delivered in an extremely festive box. Are they deliciously sweet – or a Christmas combo to be avoided?
'A reject pink milkshake pick'n'mix
5/10
Angela Hui, Life reporter
"I love that you get two for the price of one with this pie. A glorious Percy Pig perched on top smiling up at you saying, 'Please eat me, I'm a good piggy mince pie boy and you deserve a sweet pick-me-up treat after such a terrible, terrible year.' On first bite, I get a mouthful of excellent buttery shortcrust pastry, but it's let down by the overly sweet grape jelly and berry flavour sponge.
"I'd say these treats are more like a Bakewell tart than a festive pie and incredibly sweet, so sweet in fact, there's 23g of sugar per pie. Twenty three whole grams! I can feel my teeth rotting with each bite I take, yet weirdly I still want more (probably, it's the sugar talking). Pig, you taste like a reject pink milkshake bottle pick'n'mix sweet, but I'd still eat you."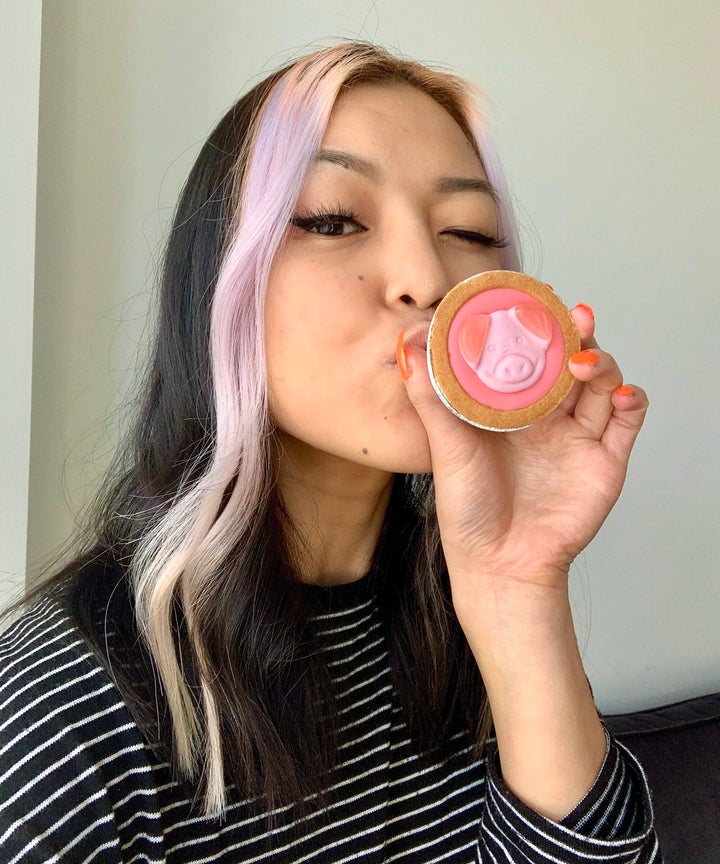 'It's like a Percy Pig has shacked up with a Fondant Fancy and Cherry Bakewell'
6/10
Natasha Hinde, Life reporter
"I'm expecting a mince pie with a Percy Pig on top and am not feeling great about the prospect (should've read the packaging properly first). When I bite into the incredibly pink pie, I realise there is no 'mince' in sight. It's like a Percy Pig has shacked up with a Fondant Fancy and Cherry Bakewell to make what is quite possibly the most sugary treat known to the planet. There's a sweet jammy centre (grape jelly and berry, apparently, but all I get is the berry) surrounded by sponge – so far, so birthday cake.
"Let's not beat around the bush here, I have a sweet tooth. But even this piggy pie is too sickly sweet for me. I eat it obligingly with a cuppa but I wouldn't say I enjoy it. My boyfriend on the other hand eats three (!!!) with no qualms whatsoever. Would I buy them again? No. But I could see them going down a storm with children over the festive period."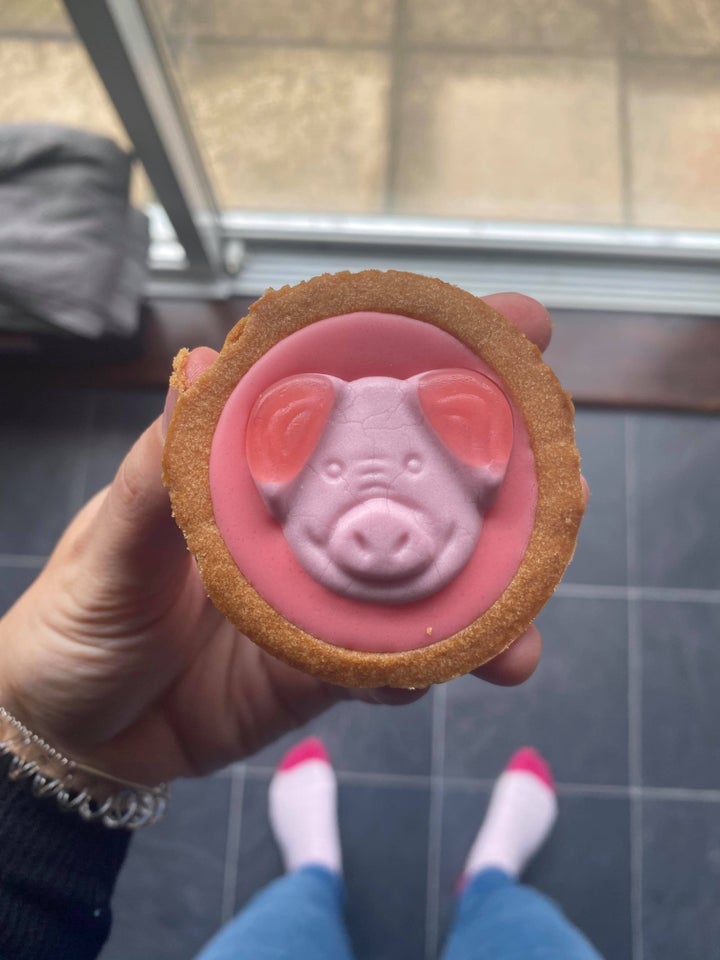 'Take off the sweet, and it'll go down a treat'
6/10
"I'm always up for trying unusual foodie flavour combinations, but even this is a strange one for me. The pies don't look the most appetising – bright pink fondant icing with a Percy Pig on top – but I love cherry Bakewells so I take my first bite.
"The pie is sugary and sweet, as the others say, yes, but it's also delicious. The one thing that puts me off is, ironically, the pie's USP, ie. Percy. The texture of the chewy sweet, alongside a pastry-filled pie, just doesn't do it for me. I eat the pie around the sweet, and give the rest to my partner (who loves it).
"I guess the point of Percymas Pies isn't to take the main event off the top to enjoy it, but if we're just focusing on the pie, it goes down a treat for me."