Liita Iyaloo Cairney is on a mission to change the face of periods, forever.
Cairney, 32, from Edinburgh has created a reusable menstrual device which is suitable for women all over the world, regardless of their economic background.
The product is made up of two parts: a shell which fits around the pubic bone of women and girls, and a reusable liner which sits inside the shell and can be washed or disposed of - depending on what you can afford.
The PHD student has also designed a website to educate young girls about their anatomy and reproductive cycle, but she's not stopping there.
"My dream is to actually have a walk-in shop where there is a wide range of menstrual products to suit whatever activity you are doing as a woman or a girl - whether you're going hiking, running or whatever," she told The Huffington Post UK.
"I think it's silly that that doesn't exist already."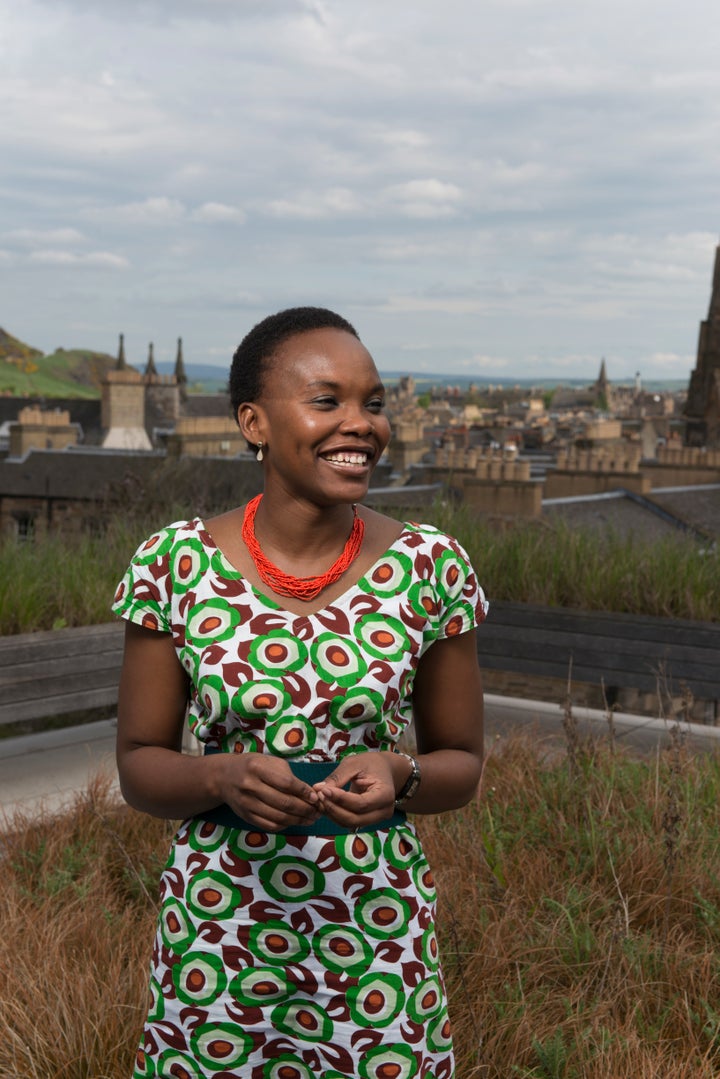 Cairney explained that her idea was inspired by a recent trip to a school in Namibia, her country of birth.
"In 2012 I went back to Namibia to collect data for my PHD and I was having a conversation with my aunt who's a teacher," she explained.
Cairney's aunt spoke of her female pupils, many of whom had little or no access to affordable menstrual hygiene products.
"She was telling me how she always knew if one of the girls was on their period, because they would take lots of rolled up toilet paper.
"One day she talked to them about it and realised that many of these girls came from families which couldn't really afford the products needed for their menstrual flow on a monthly basis.
"So they would often use make-shift solutions to manage their periods or they just didn't go to school at all."
It's a heartbreaking reality that these young women do not have access to the supplies needed for their periods. And it's something that Cairney wants to change.
"It's crazy that in a world where humanity has got so far with technological advancements, and the menstrual cycle is such a critical part of human life, that this is an issue we're still trying to tackle," she said.
After speaking with her aunt, Cairney came back to the UK and conducted some research into alternative menstrual hygiene products such as the menstrual cup, as she believed a similar product could help girls in Namibia.
"After using it for two months I realised that I just wasn't comfortable marketing it as a device to adolescent girls," she explained.
"Not only do girls have zero access to the products that they need, but they also don't understand their own anatomy. They are all quite reluctant to insert anything into their bodies.
"It got me thinking that actually I should build off what the menstrual cup is trying to do and design an externally-worn product that is aimed at young girls during the early stages of their menstrual cycle."
Cairney also asked her Facebook friends to see if there was a need for this kind of product in the UK.
"I wanted to understand whether the women I knew, who use sanitary pads and tampons, still feel limited in the products they use," she explained.
"One of the questions was: in which ways do you feel limited when you're on your period? And pretty much all of them responded that there was a constant fear of leaking when using pads, tampons or even the menstrual cup."
There was also the issue among women who wore sanitary towels that they never knew whether their pad had stayed in place - or if it had moved and all hell had broken loose.
"Women would be constantly going to the bathroom to check it was still in the right place," explained Cairney.
"It made me realise I wanted to design a product that wasn't reliant on underwear. I wanted to design something that engaged with the ergonomics of a woman's pubic area."
Cairney's innovative product consists of two parts. One of them is an anti-leak shell, which hugs the pubic area and the other is an absorbent liner made from bamboo which fits inside the shell.
"I had somebody do a cast of my pubic area," explained Cairney. "It's designed around the curve of the pubic bone and the thigh area."
The 32-year-old put a lot of effort into the product's design and looked at a wide range of potential materials including silicone. But she found it was too expensive and is still on the lookout for something better.
"For me, affordability is key," she explained. "I want it to be affordable for women and girls from low income backgrounds."
The bamboo liner, which sits inside the shell, is designed to be reusable for between six months and a year.
"If people can afford to, they can replace the liner more regularly," explained Cairney. "But it also allows them to wash the product and reuse it."
Over the next few months, Cairney will be ironing out her product's design in preparation for production.
The First Lady of Namibia has expressed her interest in purchasing the finished product and making it accessible to girls in the country.
Manjit Gill, CEO for Binti, a social enterprise helping girls and women find dignity while on their periods in India, called Cairney's menstruation invention "empowering".
Speaking to The Huffington Post UK, Gill said: "I believe every product and service designed with the intention to help women deal with menstruation in a hygienic and safe manner is empowering.
"Girls need to know why they bleed, where the blood comes from and how to take care of it."
To coincide with Global Menstrual Hygiene Day on 28 May, Cairney is launching a website to educate young women about their reproductive system.
The idea was spawned after Cairney held a small focus group with Namibian school girls and discovered that not only did they have no idea about periods, but they didn't really understand their bodies either.
"I was drawing the reproductive system on the board and explaining the flow of eggs," explained Cairney. "I spent an hour explaining how it all worked."
Her website, called 'First Period' and launched to coincide with Global Menstrual Hygiene Day, highlights the story of a 12-year-old Namibian girl called Koree, who teaches girls about their bodies and menstrual cycles and the part they play in being able to reproduce.
Cairney has commissioned an illustrator based in Edinburgh to help with the site and make it more interesting to young girls.
She said: "It's about giving girls the tools to help make their periods easier."