Following in the paw-prints of the cat cafe, London is set to get a bunny cafe next week, but a petition has been launched to stop it over fears the venture may be so stressful to the rabbits, it could kill them.
Bunny Blossom cafe is set to open in the capital from June 5 to July 11 and, according to its Facebook Page, will provide visitors with afternoon tea, along with the opportunity to "learn about rabbits and their behaviour".
"We are a small, privately run rabbit shelter organising a campaign to educate people about rabbit welfare and how to care for a pet rabbit.

"We would like to invite you to visit our pop up event to learn more about rabbits and their behavior while enjoying your afternoon tea."
Initial reports of the pop-up venture in north London's Islington suggested customers could handle the rabbits and even adopt them.
Bunny Blossom's Facebook page now clearly states, "you will not be able to pick up the rabbits, or take one home with you when leaving". It also informed those interested in the venture to notify the RSPCA directly if they had any concerns about the rabbits' welfare.
According to a petition on change.org against the cafe, Bunny Blossom amended its advertisements after people voiced concerns about the rabbits being handled.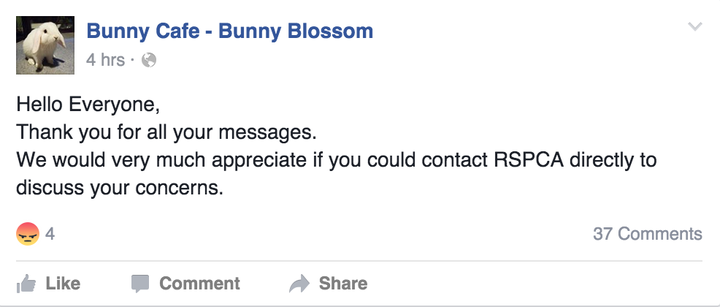 "Everyone knows pop up cafes/shops/restaurants/bars are very much en vogue right now, which is all well and good - except when animals are brought into it," the petition reads.
The petition notes that rabbits are sociable creatures, but were also very fragile.
"They can literally die of fright or stress, and being picked up more often than not can cause them a huge amount of distress - especially when it's by a stranger."
Before changing their advertisement to inform interested customers they could not handle the rabbits up, Bunny Blossom was inundated with negative comments.
The petition said the cafe had responded with "unsatisfactory, one-size-fits-all response that in no way deals with the issues at hand".
It calls for the Islington Council to intervene to stop the cafe from opening, saying "we need to stop treating animals like playthings and accessories".
To date the petition has gained more than 1,600 signatures.