Conservative MP Philip Davies, who has complained about "militant feminists" and said gay marriage is "nothing to do with equality", was told being a white man did not make him a minority.
The Tory MP was this week elected to sit on the House of Commons Women and Equalities Committee - the creation of which he recently described as "one of the most depressing things to happen" to parliament.
His decision to join the committee has not gone down that well with some of its existing members. Green Party co-leader and MP Caroline Lucas told him today on BBC Two's Daily Politics that he should give everyone a Christmas present and not take his seat.
But Davies said he was deadly serious. "I thought Caroline would be the one person who would want to protect people with minority opinions in parliament," he told her.
She hit back: "The day you're a minority Philip, a white Anglo Saxon man, I don't think so."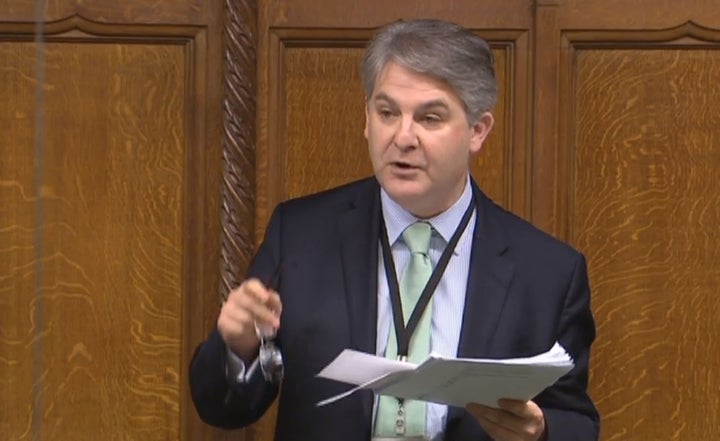 Davies said he wanted to sit on the committee to bring some "commons sense" to its proceedings "in the same way Ukip used to take their seats in the European Parliament".
The Shipley MP said he wanted the word "women" to be dropped from its name. "I don't really see why it can't be called the equalities committee," he said. "It seems to indicate there are no issues for men."
Lucas told him that could be appropriate once "women and men are equally represented in the different spheres of power in this country".
The committee was created in 2015 to examine the governments performance on on equalities (sex, age, race, religion or belief, sexual orientation, disability, gender identity, pregnancy and maternity, marriage or civil partnership status) issues.
In August, Davies spoke at an event hosted by the Justice for Men and Boys group in which he denied that there is "an issue between men and women".
He said: "I think the problem is being stirred up by those who could be described as militant feminists and the politically correct males who pander to this nonsense.
"This has led to an equality but-only-when-it-suits agenda that applies to women. The drive for women to have so-called equality on all the things that suit the politically correct agenda but not other things that don't is of increasing concern to me."
Davies is a fan of president-elect Donald Trump, having praised the Republican's opposition to "political correctness". He said of Hillary Clinton: "She has spent much of her campaign going on about the fact that she is a woman," he wrote in Heat Street. "If anything is going to turn me off even more than left-wing policies, it is that."
Popular in the Community