Sir Philip Green interrupted a Commons committee hearing on Tuesday to tell a Tory MP to stop looking at him funnily.
The former boss of BHS was called to give evidence to MPs today to explain the collapse of the department store which he sold last year for £1.
As he was grilled by members of the business, innovation and skills committee, Sir Philip stopped mid-sentence to glare at Tory MP Richard Fuller.
"Sir do you mind not looking at me like that all the time," he said. "It's really disturbing. Do you just want to stare at me? It's uncomfortable that's all."
A somewhat confused Fuller told the billionaire: "I don't wish to make you uncomfortable."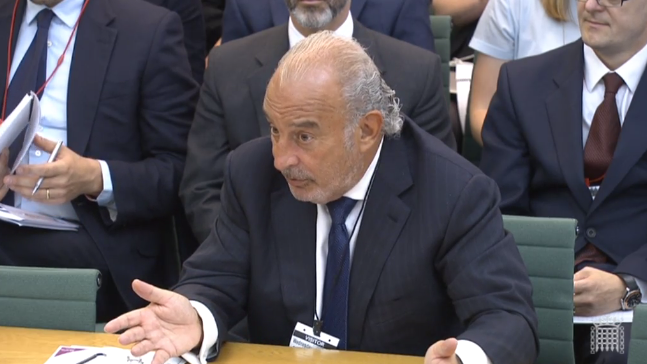 Sir Philip, who owns Topshop, had threatened to duck the Commons inquiry unless MP Frank Field, who heads it, resigned from the investigation.
He has come in for criticism for taking £400 million in dividends out of the firm during his 15-year ownership, mismanaging the pension scheme and selling it to former bankrupt Dominic Chappell for £1 in 2015.
MPs on the business and pensions committees are probing a host of individuals as they attempt to unravel BHS's collapse, which left 11,000 potential job losses and a £571 million pensions black hole.
Sir Philip told MPs today his mistake was having "too strong an emotional tie" to BHS.
"Nothing is more sad than how this has ended," he said. "I just want to apologise to al the bus people who are involved in this."
Last week, Chappell claimed Sir Philip effectively continued to run BHS after the sale and even blocked a rescue attempt from Sports Direct boss Mike Ashley.
He also accused the billionaire of tipping BHS into administration by calling in a £35 million loan owed to his Arcadia retail empire. Sir Philip denies the allegations.
Calls are also growing for Sir Philip to be stripped of his knighthood, with a group of Conservative MPs preparing to write to the honours committee should he refuse to pump hundreds of millions into BHS's pension fund.
The schemes of approximately 20,000 current and former BHS workers have fallen into the Pension Protection Fund after the retailer collapsed.