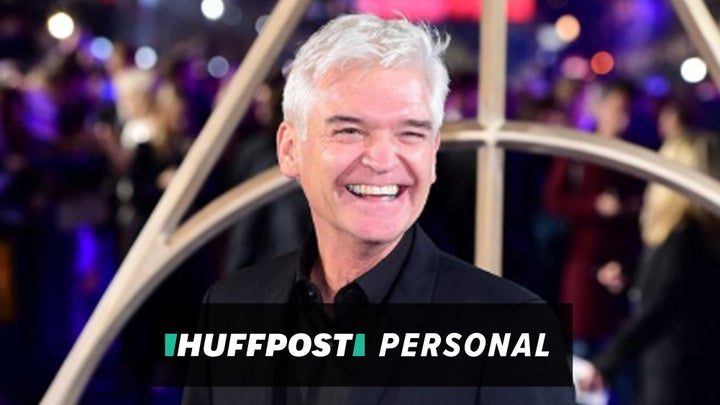 It was a specific moment in time that, like Phillip Schofield, I made the decision to come out as gay while I was married – but when you look back at the whole story of my life, I know I'd had feelings since I was back in school.
I'd never said anything, though. I'm 63, and in those days it was illegal to have a same sex relationship until you were 21. Add in the AIDS crisis, increased homophobia and fears about the so-called 'gay plague' and of course Section 28, and I just don't think I was brave enough to face up to it or talk to anyone about my feelings. I didn't even know anyone else who was gay.
As a teenager, my friends would all talk about girls, football, things I didn't relate to at all. I wanted to have a relationship and was attracted to girls, but when they started talking about the physical side, I remember thinking 'no, I'm not comfortable with that, it's not the kind of relationship I want'. It was simply not something I could relate to, or imagine happening.
But then I met my now ex-wife, Evelyn, and we fell in love. We had two children – one who we lost before they were born, and our son Lawrence about a year later. I always thought the feelings about men would just go away at each stage. When I get married I'lI feel completely settled and fulfilled. When I have a child. But as all that happened and there was nothing to 'come next', I realised I still felt all those feelings. So I spent the next couple of years knowing what my feelings were, and I would go to places where I thought I might see people like me, go to see films with gay storylines. I remember seeing Maurice and sitting there feeling so uncomfortable because it generated all sorts of feelings in me.
"Having that feeling of wrenching my wife's life, and my son's life too, apart, I just really wanted her to be happy."
It was at this point I thought: I've got to tell her. I didn't like being dishonest. I knew that it was going to be a game-changer, going to change the course of everyone's lives, and I didn't want to disrupt happiness when I wasn't 'sure'. It took me a long time, but now I was sure.
I remember hoping that she would meet someone. Having that feeling of wrenching her life, and my son's life too, apart, I just really wanted her to be happy. She's an incredibly generous person, someone everybody loves, and I didn't want to lose her from my life. I would have loved to have been able to have a relationship with her but that wasn't possible – of course I couldn't be that selfish, she needed to have her own life.
My son was very young, only three, but it was enough for him to know his parents were breaking up. Obviously he was upset, but it was a major priority for me and my ex-wife to be as normal as possible. Christmas, birthdays, we would always do as a family, and we stayed together for nine months and I was happy to stay there – I didn't have a partner or anything – I was happy to live there as long as she was comfortable.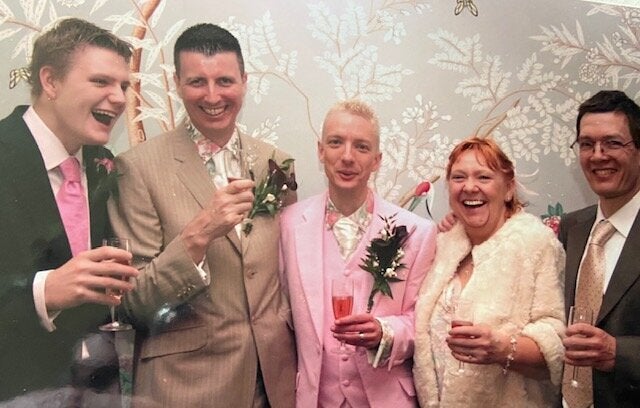 There were stressful times. We had to work at it, and I can't imagine the work she's had to do because it came as a shock and she had a lot to accept – Is he going crazy? Is he having a midlife crisis? Is he going to turn around and realise he made a mistake? – and comes to terms with. When she was ready to separate, we told my parents, I left everything behind and had to get two extra jobs to be able to afford the rent on my flat and pay all the bills. Yet it was always very amicable – Evelyn and I would meet around Lawrence and make it work. Then she met somebody else, and he came into our family, and we made it as easy as possible to bring Lawrence up together as a team – our partners even did some of the school runs with Lawrence. My partner Philip, a classical pianist, brought music into my son's life: he's now training to be a music therapist. We've now got to a point now where we go to galleries together, think about going on holiday together, and even celebrated our 25th wedding anniversary together alongside our partners.
It's as normal as it could possibly be, and I know I'm incredibly lucky to have that. I was never bullied at school because nobody 'knew' I was gay. I didn't have any of the stereotypically 'gay' characteristics that would make me a target for bullying, but I did know a lot of people who did, and got called f****ts, spat on, it was terrible. So I kept schtum, and still feel guilty about it now.
"Just knowing that someone like Phillip Schofield has got through will help others get through too."
That's why Phillip Schofield is so brave. Coming out in the way we have brings with it huge guilt, huge worry you're being selfish and choosing to ruin people's lives. To have a role model like Phillip Schofield – a huge figure in TV who has been on screens in for a long time and is seen as a 'nice bloke' – be prepared to share their story in such a personal way not only helps spread the message about acceptance of difference for the wider society, but will help anyone out there in his situation – in my situation – coming to terms with their sexuality. Just knowing that someone like him has got through will help them get through too.
Schofield will educate others too. Frankly, it's just important for people to know gay people don't have horns growing out of their head, and they're not so different in any way other than they have an attraction to people of the same sex. We still want the same as everyone else in every respect: a career, a home, a relationship.
Phillip will get flak from some, because you always do, from the types that say "why do you have to tell people?" But my hope is there'll be more people who learn to be more accepting of others like me, like Phillip, because of his bravery today.