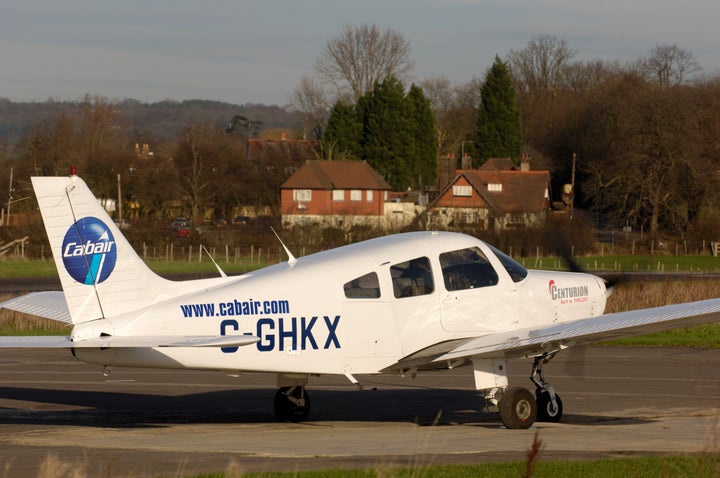 A pilot flew around northern England with his aviation instructor unknowingly dead beside him after the man suffered a fatal heart attack, which the pilot thought was him "just joking" around, according to a newly released safety report.
The pilot had just taken to the sky over Lancashire on June 29 when he said the 57-year-old senior flight instructor slumped over as if he were sleeping, according to the report by the Air Accidents Investigation Branch, which investigates civil aircraft accidents and incidents within the UK.
The pilot, not identified in the report, said he had asked the instructor to accompany him for a single circuit around the Blackpool Airport.
This request followed the pilot cancelling initial plans to fly out of the airport solo after deciding that the crosswind was "above his personal limit to fly on his own."
The instructor agreed, and the pair spoke normally as they taxied on the runway in the single-engine Piper PA-28-161.
Shortly after takeoff, however, the pilot said the instructor's head rolled back, and he appeared to be pretending to nap. The pilot said he thought nothing was seriously wrong and continued flying.
"The pilot knew the instructor well and thought he was just pretending to take a nap whilst the pilot flew the circuit, so he did not think anything was wrong at this stage," the report states.
The pair continued to fly, and eventually, the man's head slumped onto his shoulder, but "the pilot still thought the instructor was just joking with him and continued to fly the approach," the report states.
It wasn't until after he landed that the pilot became concerned as the instructor was still not responding.
He signalled an emergency crew to assist, but the man could not be revived. A later autopsy determined that the man, who had a history of high blood pressure and had been taking medication for his condition, had suffered a heart attack.
"People who had spoken to him on the morning of the incident said he was his normal cheerful self, and there were no indications that he was feeling unwell," the report states. It noted three people who flew with him before the incident "said he seemed well and nothing abnormal had occurred."
A review of past aviation incident reports, dating back to 2005, found three confirmed incidents on board commercial aircraft in the UK where a pilot suffered a heart attack in flight "but on each occasion, the other pilot had been able to land the aircraft safely."
In the Lancashire incident, the Air Accidents Investigation Branch credited the pilot for safely landing the plane, noting that "had this occurred on another flight, the outcome could have been different."
Related