Human beings must not lose our connection with nature, and should wake up to the fact that our actions can have negative consequences on the natural world, Sir David Attenborough warned in an interview with the Duke of Cambridge in Davos on Tuesday.
The legendary 92-year-old presenter, whose highly successful career spans six decades, told Prince William that in the 1950s, when he first started making nature documentaries and the world felt "unexplored", the idea that humans could cause a species to go extinct was a "foreign" concept, but that now it would be "hard to understate" the urgency of environmental challenges such as climate change.
Plastic, Sir David said, is an example of a human invention that has had an unforeseen negative impact. "We already know that the plastic problem is wreaking appalling damage upon marine life – the extent to which we don't really know," he added.
The impact of plastic was explored in Sir David's famed Blue Planet series, which featured distressing scenes, including albatross regurgitating plastic from the ocean and feeding it to their young.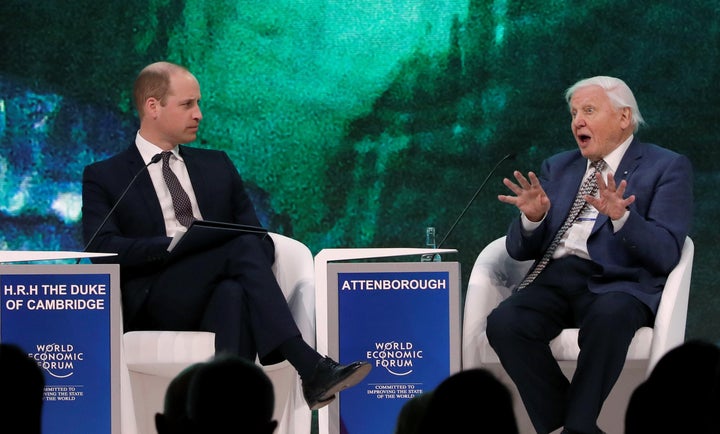 "A healthy natural world is absolutely essential for human society. We have to recognise that every breath of air that we take and every mouthful of food that we take comes from the natural world," he said, "and if we damage the natural world, we damage ourselves."
More than ever humans understand the natural world – thanks to TV documentaries taking us "to the bottom of the sea and high in the sky, to the Arctic and to the top of the Himalayas" – but at the same time most of us are more disconnected from nature than ever before, with most of us living in cities, he warned.
"caring for the world brings a joy and enlightenment which is irreplaceable.""
Asked if he had a message for the business leaders at Davos, the broadcast veteran said: "Care for the natural world – treat it with a degree of respect and reverence, the future of the natural world is on our hands. We have never been so powerful. We can wreck it with ease."
It is reported to have taken over four years to make across 50 countries. "I started when it was just me, and the cameraman. You don't make natural history films like that anymore – I think something like 300 cameraman have worked on the series as a whole," he told the Duke of Cambridge.
He urged people not to lose sight of the beauty of the natural world: "If you lose that first wonder [that you have as a child about the world] you've lost one of the greatest sources of delight and beauty in the whole of the universe," he said. "And so caring for that brings a joy and enlightenment which is irreplaceable."