Article originally published 29/07/2016: due to a technical issue this article may have resurfaced for some readers, and the original publish date may not have been visible.
Police are investigating a complaint of "disproportionate" use of force after officers placed a bag described as a 'spit guard' on the head of a young man as he was restrained at a London train station.
British Transport Police arrested a man on Friday, July 22, after intervening in an argument with a woman, it said.
A video of the incident has been shared widely on Twitter and Facebook, showing the man being held to the ground and surrounded by at least five officers, as an agitated woman claiming to be his girlfriend says that he was "having an argument with his girlfriend".
"He's a young black boy. He's having an argument with his fucking girlfriend. That is is it. I am his girlfriend. If you have an argument with your girlfriend is that what happens?," she says to the camera.
Warning: Some viewers may find the following footage distressing:
The Twitter user who posted the video suggest the police were using a "muzzle-like bag". British Transport Police explained a spit guard had been placed on the man's head after he threatened to spit at officers.
A Facebook user, Ayda Mosharraf, says she captured the video and reported on the site how the treatment was "choking to see" and questioned "such heavy police force".
She later adds to the post quoting who she says was the man and the woman involved, suggesting they had a "little argument" and there was no "shouting and screaming".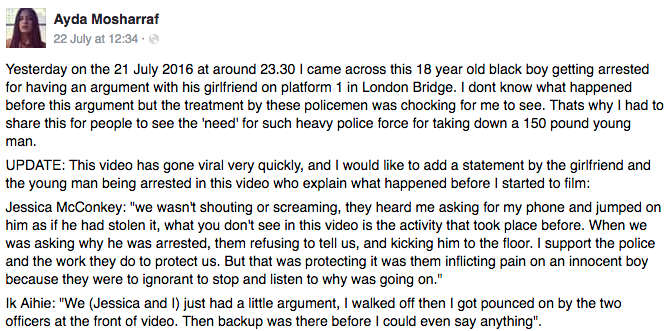 British Transport Police said the man had become "aggressive towards the officers", and accepted a caution after he was arrested.
It went on that it has since received a complaint from a member of the public over the use of force, and an internal investigation is taking place over whether it was proportionate.
"We are aware of a video on Facebook of British Transport Police (BTP) officers detaining a man at London Bridge station.

"The incident occurred on Friday, 22 July shortly after 11.30pm when officers intervened in an argument between a man and a woman. The man then became aggressive towards the officers, at which point he was arrested.

"Whilst being held, he made a threat that he would spit at officers who then placed a spit guard on him. The man has since accepted a caution for an offence under Section 5 of the Public Order Act.

"BTP has since received a complaint from a member of the public in relation to the use of force. This complaint is being investigated by our Professional Standards Department to determine whether the use of force was proportionate and in line with BTP training guidelines."