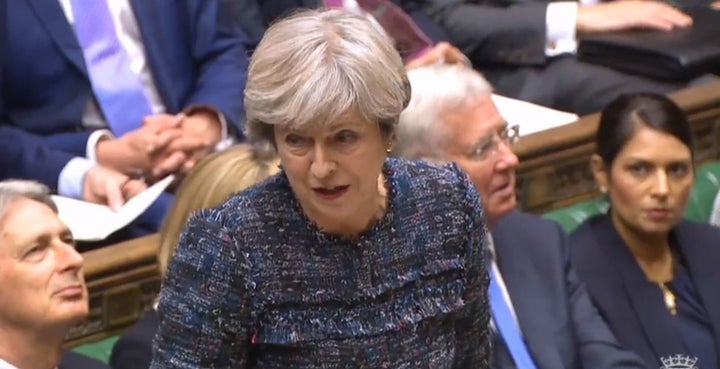 Theresa May has been accused by the Police Federation of telling a "downright lie" in the House of Commons after she said police officers have received a 32% real terms pay increase.
And Jeremy Corbyn said May's claim revealed "just how divorced the prime minister and her government are from reality".
Yesterday the government announced it would be scrapping the 1% cap on public sector pay that has been in place since 2010.
The Cabinet also agreed a 1.7% pay hike for prison officers and improvements totalling 2% in police pay for 2017/18.
Speaking during prime minister's questions today, May said:
"A calculation suggests a new police officer in 2010, thanks to progression pay and annual basic salary increases, an increase the personal allowance which is a tax cut for people, has actually seen an increase in their pay of £9,000 since 2010 - a real terms increase of 32%."
But Calum Macleod, the vice chair of the Police Federation, which represents 120,000 rank and file officers, told HuffPost UK the prime minister was wrong.
"The government stating that police officers have had a 32% pay rise since 2010 is a joke – and is in fact a downright lie," he said.
"It shows they have lost touch with reality, if they ever had it, and are clueless as to the demands and dangers officers have to face on a daily basis to keep communities safe. Officers are struggling to keep their heads above water and all we are asking for is fair recognition.
"When comparing total pay in 2015/2016 to what it was in 2009/2010 it has increased in nominal terms by +2%, but decreased by -16% in real terms. This cannot be right.
"We expect police officers to run in to the face of danger every day to protect the public however the Government refuses to give them the money they deserve.
"This has to be addressed and the government has to be held to account. How can they abide by their independent pay bodies which recommended an 11% pay rise for MPs but fail to abide by ours, which recommended a 2% consolidated). This smacks of double standards."
A No.10 spokesman said of May's comment during PMQs: "This is an example of a typical police officer. It's an illustrative example.
"There are some people at the top of their band, it would be a minority, and for those who have hit the top of their pay band, progression pay, [the 32% figure] wouldn't necessarily apply."
Asked why police were getting extra pay this year if they had already got a 32% rise, the spokesman replied: "The PM has said on any number of occasions how much she values the contribution of public sector workers. She thinks they do an extraordinary job and they do do an extraordinary job in what are often testing times."
Put to the spokesman that the PM refused to guarantee jobs wouldn't be lost to pay for the wage hikes, he said: "Affordability was a factor which the pay review bodies took into account when they were making their recommendations. The Home Office pointed out that police forces have reserves currently of £1.8bn, which is an increase from £1.4bn."
Corbyn said: "For Theresa May to claim police officers have enjoyed bumper pay rises under the Tories shows just how divorced the prime minister and her government are from reality and from the lives of our hard-working public service workers.
"In the last few days the government's position on the public sector pay cap has changed so many times it is hard to keep up and impossible to trust a word the Conservatives say on the issue.
"Labour totally rejects the Tories' attempt to divide and rule public sector workers and a Labour government would end the pay cap for all workers and give them all the pay rises they desperately need and deserve."
HuffPost UK revealed yesterday that May had decided to ditch the pay cap after coming under pressure from the Democratic Unionist Party (DUP).
May lost her Commons majority in the general election and is being propped up in power by a deal with the Northern Ireland party's crucial 10 MPs.
And DUP MPs signalled to ministers that they were going to back a Labour motion on Wednesday, which urged May to "end the public sector pay cap in the NHS".
Unions made clear in their initial responses that the Government move fell well short of their aspirations.
TUC general secretary Frances O'Grady branded the increases for police and prison officers "pathetic", on a day when the latest inflation figures showed prices rising by 2.9% annually.