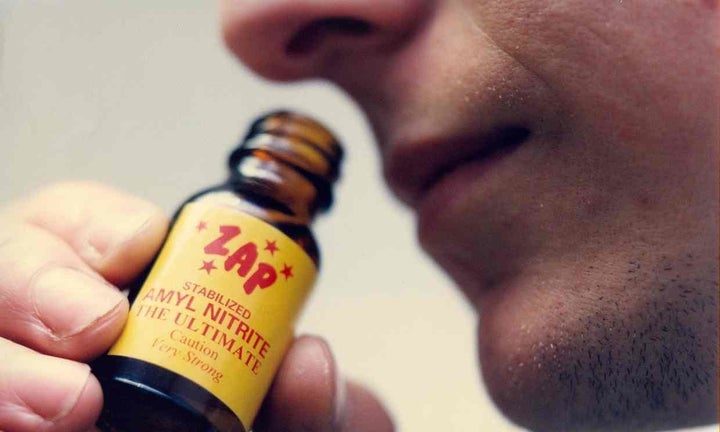 Poppers will not be banned following a decision by the government to accept expert advice and U-turn on the plan.
The drug had been expected to be made illegal under the provisions of the Psychoactive Substances Act which targeted so-called 'legal highs'.
Critics of the move to ban alkyl nitrites, or poppers, argued the substance was not proven to be dangerous enough to warrant a ban and that it would discriminate against gay men.
The drug is popular as a muscle relaxant, often to facilitate sex.
Last week the Advisory Council on the Misuse of Drugs (ACMD) has told the Home Office poppers should not be covered by the Act as they do not work by "stimulating or depressing the central nervous system".
Today the government accepted the conclusion. In a letter to Professor Les Iversen, the chair of the ACMD, Home Office minister Kate Bradley said: "Having given due consideration, the government agrees with your advice and interpretation of the definition.
"We will ask law enforcement agencies to be guided by our agreement with your advice."
Conservative MP Mike Freer, who has campaigned against the ban, told The Huffington Post UK: "I am delighted that following strong representations from myself and other colleagues, the Home Office sought advice from ACMD and have now taken poppers out of the Psychoactive Substances Act. It should never have been in the Act and at last sense has prevailed."
During a Commons debate on the ban in January, Conservative MP Crispin Blunt attacked the "manifestly stupid" plans.
And he decided to admit to using the drug. "I use poppers, I out myself as a popper user, and would be directly affected by this legislation. I'm astonished to find it's proposing to be banned, and frankly so would I think many other gay men," he said.
When the new law was debated in parliament, Lib Dem health spokesman Norman Lamb said to ban poppers would be "an act of total madness" that made "absolutely no sense at all".
Niamh Eastwood, Executive Director of Release, the UK centre of expertise on drugs and drug laws, told HuffPost UK the ACMD conclusion was "no surprise".
"This legislation is badly drafted, most likely unenforceable and may result in greater harms as has happened in Ireland and Poland where similar law has been enacted," she said.
The Act defines a "psychoactive substance": as one that "affects the person's mental functioning or emotional state" by "stimulating or depressing the central nervous system".
Eastwood said: 'How do you prove emotional functioning in a test tube? It takes a human being to comment on emotional aspects."
Popular in the Community