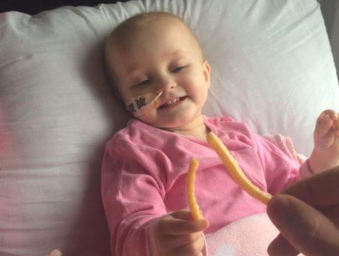 The girl whose name was runner-up to 'Boaty McBoatface' in the poll to name Britain's new polar research ship has died.
Toddler Poppy-Mai Barnard passed away on Tuesday after being 'married' to her father who wanted to fulfil his promise of giving her a white wedding following a diagnosis of cancer.
Her heartbroken dad said his 17-month-old girl had "grown her angel wings" this afternoon.
In an emotional message posted on Facebook today, Andy Barnard told how his "beautiful princess" died in his arms, and thanked the thousands of people who had followed his child's journey.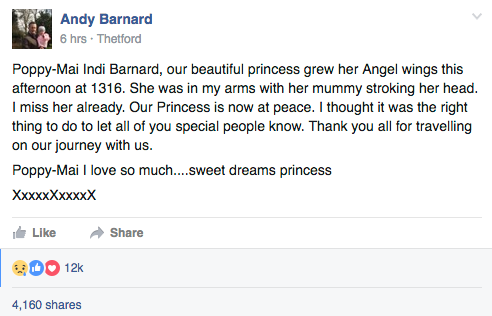 "Poppy-Mai Indi Barnard, our beautiful princess grew her Angel wings this afternoon at 1316," he wrote.
"She was in my arms with her mummy stroking her head. I miss her already. Our Princess is now at peace.
"I thought it was the right thing to do to let all of you special people know. Thank you all for travelling on our journey with us.
"Poppy-Mai I love so much....sweet dreams princess."
The little girl's struggle with a brain tumour, diagnosed in February, moved thousands to nominate her to be the new name of a British polar research vessel.
'RRS Poppy-Mai' won over 34,000 votes in the competition that ultimately saw almost four times as many voters back joke name 'Boaty McBoatface'.
After news of her tragic death was announced by her father, tributes poured in for the little girl.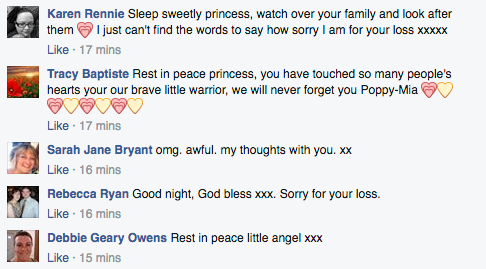 Donations to the deceased girl's family's JustGiving page surged after news of her passing.
They are hoping to raise £100,000 to pay for a campsite retreat for families with sick children.
Related