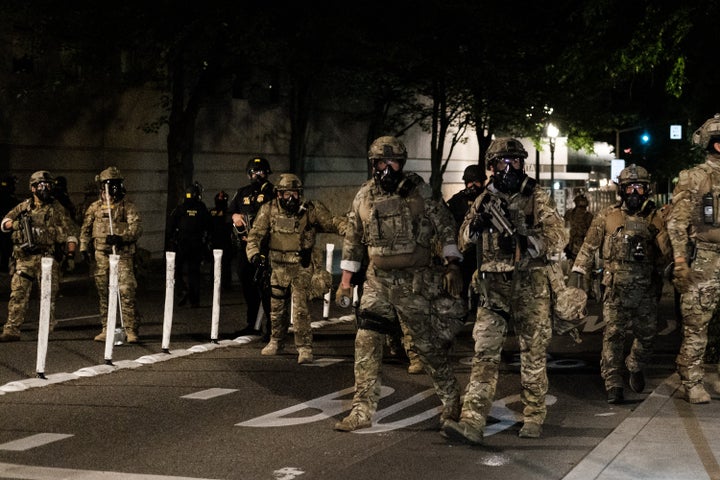 Leaders in Oregon have demanded an investigation into "paramilitary assaults" against protesters in Portland by federal police, who have reportedly snatched demonstrators from the streets and detained them in unmarked vans.
The mayor of Portland has demanded US president Donald Trump remove federal law enforcement from the city, and the state's US senators have also urged a probe into the actions of Department of Homeland Security (DHS) forces.
Protesters are continuing to gather in their thousands in the city, maintaining a presence almost two months after the police killing of George Floyd, a Black man from Minneapolis.
HuffPost US reported that the furious reaction from leaders followed reports earlier this week that troops in military fatigues with "police" patches and no other obvious identification grabbed and detained anti-racism protesters in Portland.
The squads — which were dispatched by DHS — have been manhandling protesters since at least Tuesday, Oregon Public Broadcasting reported. As yet it has not been made clear why Portland has been specifically targeted by the DHS crackdown.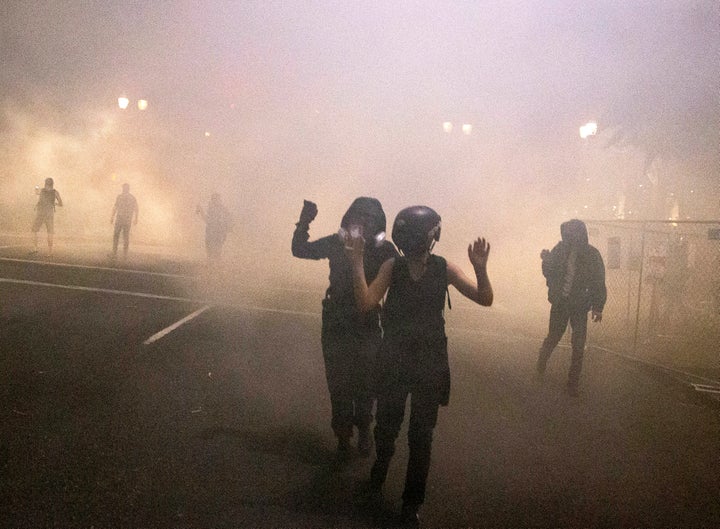 Officers have reportedly been using the technique of grabbing protesters from the streets of the city since at least Tuesday.
Two protesters, Mark Pettibone and Conner O'Shea, told Oregon Public Broadcasting they were chased by an unmarked minivan early Wednesday morning as they were heading home after peacefully demonstrating. Pettibone did not escape.
"I am basically tossed into the van," he told OPB. "And I had my beanie pulled over my face so I couldn't see, and they held my hands over my head."
He said the officers did not identify themselves or state the reason he was being detained, and only read him his rights after placing him in a cell. Asked if he would waive those rights to answer a few questions, Pettibone declined and requested a lawyer. He said he was released after about 90 minutes.
Officers with the US Marshals Service and Customs and Border Protection have descended on Portland, stating that they are on the scene in order to protecting government-owned property throughout the course of the protests.
In a statement released Thursday, acting Secretary of Homeland Security Chad Wolf characterised the demonstrations as a "siege" against the city of Portland by a "violent mob," and accused "anarchists" of painting graffiti on buildings.
"Each night, lawless anarchists destroy and desecrate property, including the federal courthouse, and attack the brave law enforcement officers protecting it," Wolf said. "A federal courthouse is a symbol of justice ― to attack it is to attack America."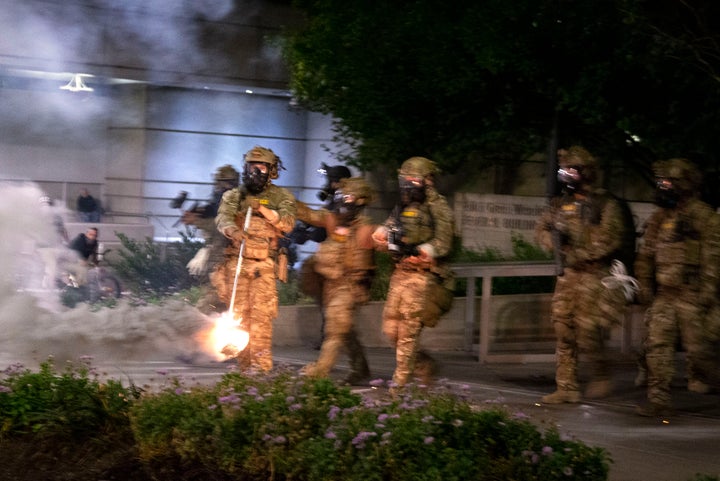 In fact, the demonstrations have been largely peaceful, with standoffs between protesters and Portland police dressed in heavy riot gear recently becoming more tense.
Last weekend, one of the federal officers shot a protester in the head in front of the federal courthouse, severely injuring him in an incident caught on video.
Local and state officials have railed against the officers' presence, calling it a political stunt staged by the president.
Oregon senator Ron Wyden blasted the "paramilitary assaults" by an "occupying army."
It's "painfully clear this administration is focused purely on escalating violence without answering my repeated requests for why this expeditionary force is in Portland and under what constitutional authority," he said in a statement from members of Oregon's congressional delegation demanding an investigation. "The Office of Inspector General must investigate Trump's assault on Americans' constitutional rights now."
Fellow Democratic senator Jeff Merkley accused Homeland Security and the Justice Department of engaging in "acts that are horrific and outrageous in our constitutional democratic republic."
Oregon's Democratic representatives Earl Blumenauer and Suzanne Bonamici have also supported the joint statement.
Meanwhile, Portland's mayor Ted Wheeler told reporters: "Keep your troops in your own buildings, or have them leave our city."