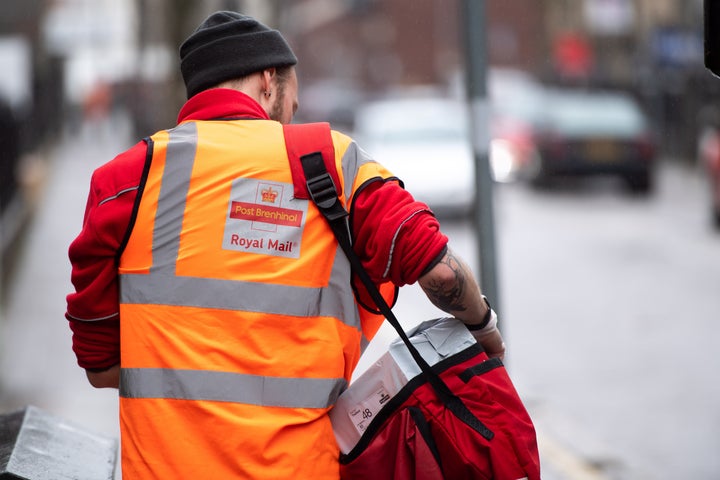 Coronavirus has changed everything. Make sense of it all with the Waugh Zone, our evening politics briefing. Sign up now.
Postal workers have urged the Royal Mail to suspend junk mail and replace its daily deliveries with a three-times-a-week service in a bid to protect staff from the impact of coronavirus.
The Communication Workers Union (CWU) also called for the closure of any sorting office that lacked protective equipment like gloves or failed to put in place measures to keep staff two metres apart.
As part of a new "emergency network", the union wants all "unaddressed advertising mail" to be suspended immediately and for staff to work alternate days in order to make it easier to observe social distancing.
Postal workers have offered to act as a fifth emergency service to not just deliver mail but also food parcels and medical prescriptions to the vulnerable.
CWU general secretary Dave Ward told HuffPost UK: "Extraordinary times call for extraordinary measures. The loyalty and commitment shown by postal workers across the UK in recent weeks has been unbelievable as has the support from the public.
"It's now time to repay that loyalty by adjusting the service to keep our members safe and the service running for the public. It's not right that our members continue to deliver advertising mail during this period. They are a vital public service and the workload should reflect that. We are ready to serve local communities, check on the elderly and keep the country going."
In a new letter to Royal Mail management, the union said the "fast moving coronavirus crisis" had prompted it to call on the company to act to protect staff and prioritise key services for the public.
"As a strictly one-off resolution to the current crisis, Daily deliveries should be reduced to three times a week with only parcels/packets and first class mail being delivered on alternate days," it states.
The union said that if protective equipment such as gloves and hand sanitiser was not in place in its workplaces "that office should cease its operations until the equipment has been provided to all employees"
And "if social distancing measures are not in place, in line with the government advice (two metres apart), then the office should be closed until this is rectified".
The letter adds: "All unaddressed advertising mail should be immediately suspended.
"The government contracts enabling public testing and the delivery of government information to the public must be prioritised.
"In conjunction with the government we should look to maximise the opportunity for Royal Mail's unrivalled infrastructure to be utilised in helping the country deal with the coronavirus crisis.
"This could include checking on the elderly and vulnerable to flag up any concerns, collecting and delivering food parcels and likewise with medical prescriptions and equipment."
Royal Mail has already changed its rules to ensure only one person is in its delivery vans at one time, and hand-held devices for customer signatures are not used.
A Royal Mail spokesperson said: "The Universal Postal Service provides a lifeline to businesses and communities everywhere during the coronavirus crisis.
"The delivery of parcels and letters is a key way of keeping the country together and helping many people who may not have the option to leave their homes. Throughout this crisis, every decision we make puts the health of our people and customers first.
"We are already delivering vital government mail in relation to coronavirus, including testing kits. And we are delivering many prescriptions and hospital appointments. This is a key priority for us. More than ever, people are relying on us. We stand ready to help our government and our customers at this difficult time."
It adds that standard ways of working are being revised to ensure the 2m distancing rule is respected.
The company insists that it is following Public Health England advice and has good supplies of soap and paper towels for hand washing for staff. Disposable latex gloves will also be available on request.