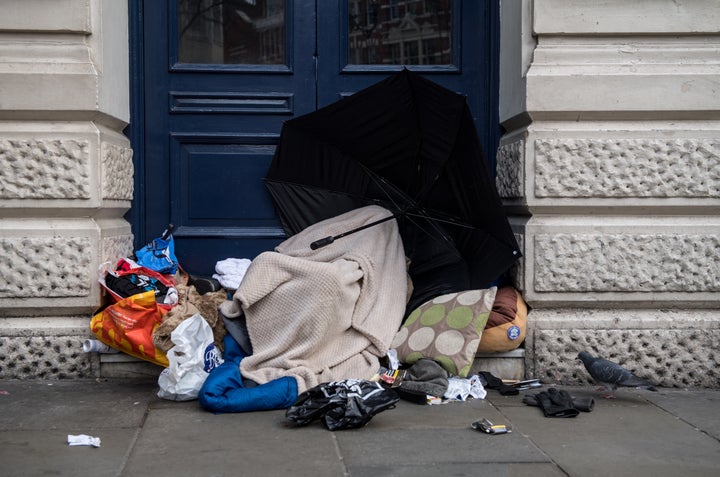 Last year, at the winter shelter where I volunteer, a guest said to me that London should have free public showers. Once spoken, it was overwhelmingly obvious, too simple with too far-reaching an impact for London not to have them already.
But then Network Rail have only just made some of their station toilets at Charing Cross, Victoria, London Bridge and Cannon Street stations free, taking one block off the toppling tower of daily challenge of living on the streets.
Another step is the plan to install water fountains. We're moving in the right direction then, albeit slowly. Network Rail made over £20m from toilets in the years between 2013/14 and 2016/17 - our human needs make for big business. A five-year funding settlement means that its chief executive, Mark Carne is able to stop all toilet charges from next year, in nationwide relief. He reasoned that he wanted to treat passengers with "dignity and respect". It's a long time coming, but perhaps the public's wellbeing is being put above profit. Showers must surely follow.
If toilets are a primary human need, showers are a close secondary one. Each time I finish my shower, I feel like I've donned a superhero cape and that's only with one day of dirt washed off me. Artist and photographer, Ray-of-Light (and ray of light, he is) whom I met at the winter shelter, told me, "It's very frustrating to find myself in one of the richest cities in the world [where] public baths and public toilets are being turned into pubs so the council can earn more money".
Rachel Cullen, community manager at homeless organisation, the Simon Community, said not everyone has access to a day centre, especially those with no recourse to public funding. "Being dirty and smelly has a huge effect on how people respond to you in public," she said. "Those who manage to keep on top of their personal hygiene can walk into galleries, museums, libraries and walk into restaurants and pubs to use toilets, sit down and shelter from the cold".
Homeless support worker at the Ealing Soup Kitchen, Andrew Mcleay gave shuddering flesh to the words I was told in the church that night. "As a homeless person myself, I know how bad it can be. When drop-in [centres] and soup kitchens give out clothes, those new clothes become instantly dirty and virtually unusable without showers. It increases the risk of mental health problems like depression, anxiety and phobias and can lead to an inability to adapt back into a regular lifestyle."
He said he has personally seen some homeless die as a result of preventable disease, caused at least in part to poor hygiene. "Having poor hygiene makes them feel less human, less worthwhile and also unmotivated to get themselves out of their situations. It drastically lowers their self-esteem, and causes them to make decisions they might not normally make, such as abusing things like drugs or alcohol."
Since the Ealing Soup Kitchen installed a shower over a year ago, numbers have tripled in size. What about other major cities? There have been free public showers in Paris for 18 years, Toulouse has one euro showers run by the city hall and Madrid has a block of showers charging 50 cents for 20 minute washes. Next year, Brooklyn will have a mobile showering facility funded by Borough President Eric Adams' budget ($308k) and the New York City Council ($77k). Let's finish back in London. According to the Mayor's website, every year £8.45m of Greater London Authority funding is spent on services for those who sleep rough. If showers were to be included in their plans, progress would soar. That budget aside, they could be funded by the amount the NHS would save by not having to treat preventable illness.
Whether at stations, as mobile services, as freestanding shower blocks, I'll need to double the word count to cover the possibilities… as long as minds and hearts are open to them. On the tube recently, I heard the announcement: "There are beggars operating on this train. Please do not encourage them by giving money".
How about - as Network Rail's Mark Carne says – giving all people "dignity and respect"? To give us all a chance at feeling good and leading safe lives.