You're reading Here, Try This – our month-long plan encouraging you to try something new every day.
Adrienne Herbert came up with the idea back in January 2017, when she was in a desperate need of a fresh start. In her new book, Power Hour: How to Focus on Your Goals and Create a Life You Love, she writes how the previous year had been tough for her – her son Jude was five, and she'd been trying with her husband to get pregnant again, with little luck.
After three years of trying, Herbert and her husband decided to try IVF. Despite falling pregnant, she miscarried after four weeks. Herbert wanted to do something for herself, so decided to train for a marathon. It was no easy feat, and being a working mum meant she struggled to fit training time in each day.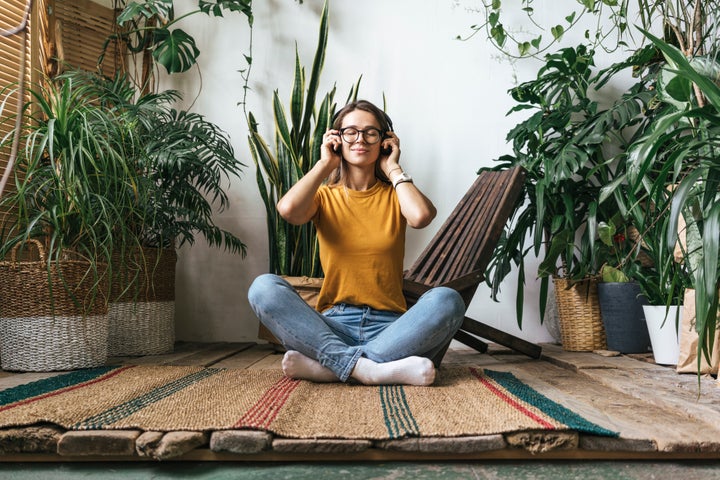 Her solution? Her son woke at 6.30am, so she decided to get up even earlier, at 5.30am. "At that moment, I had no idea that winding the clock back an hour would change just about everything," she writes. "I've [since] used that extra hour to read more, listen to podcasts, stretch, meditate, journal and even write this book".
So what actually is this Power Hour and how can you add it into your day? Speaking to HuffPost, Herbert says the hour is about reclaiming the most valuable thing we have – time! "The message is simple, start each day with one hour that is dedicated to creating a life that you love," she says.
"What is the one thing you really want to work on? One area of your life that you'd like to improve? One project that you need more time to dedicate to? It could be a fitness goal, a career ambition, or a passion project, whatever it is you want to achieve, use your Power Hour to make it happen."
Even if you're not a morning person, give it a go. And if it still doesn't stick after a few days, don't jettison the idea completely. Perhaps your power hour is meant to be a little later in the day. Ultimately, it's about what works for you.
But here are Herbert's three suggestions of how you can start your day with a Power Hour:
1. Start your day with movement. "It doesn't have to be a tough workout or a 10K run, but moving your body first thing in the morning can deliver a long list of benefits," she says. "From boosting your mood and overall feeling of wellbeing, to regulating your appetite and improving the quality of your sleep."
2. Eliminate tech, social media and any other distractions. "It's harder than ever to cultivate solitude and an environment that will enhance our ability to focus and be truly present, so avoid the temptation to reach for your phone before you've even got out of bed. Enjoy the first hour of your day alone."
3. Reframe any negative feelings when it comes to early mornings. "The Power Hour is not a punishment, it's your choice to get up earlier and it's up to you how you spend the extra time."
This new year, we focus on fun, not denial (because we've all had enough of that). Follow our month-long plan, with a new Here, Try This idea each day, spanning easy ways to engage your body and mind, inspiration for your food and home, and tips for boosting how you feel – inside and out.