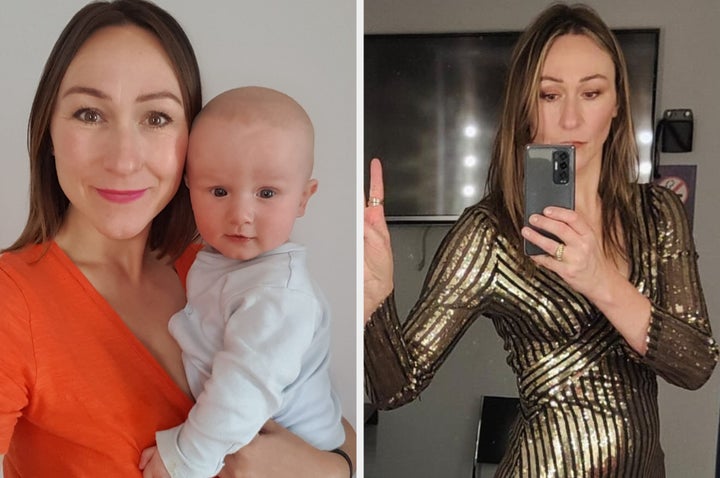 When Lucy Baker was five months pregnant with her third child, a mum on the school playground exclaimed rather bluntly: "But you're going to be 47 when the baby starts school!"
It wasn't the first negative comment she'd faced since revealing she was pregnant at 42 – other "judgy, thoughtless comments" she'd been on the receiving end of included, "Why are you having another baby?" and "Was it a mistake?"
But the comment on the school playground really stuck with her.
At the time, she says she was "aghast", but she later turned her negative experience into a positive, launching her blog the Geriatric Mum, which celebrates older mums.
"It's been a real driver for me in some ways because I thought: you know what, I'll bloody show you," Baker, who lives in Lincolnshire and has three children aged 13, 10 and four, tells HuffPost UK.
Fast forward five years and Baker's youngest child is set to start school in September.
To honour the occasion and "show the world how great being an older mummy can be," the confidence coach plans to wear a gold, sparkly dress to drop him off on his first day.
The idea came about while she was doing a panel talk in London and was wearing the gold dress in question. "I talked about the Geriatric Mum story and the fact my son starts school in September," she recalls.
"I said to the audience: 'Actually I should do something big on the day, should I wear this gold dress?' And the whole place cheered, so I thought: Well, I've committed to it now."
Baker plans to wear the dress as a way of sticking two fingers up to society's ageist views – which especially impact women.
"I want to do it as a celebration of geriatric mums – and for me and my little boy," she says.
There is a deeper message she wants to convey by getting parents, particularly mothers – both on the playground, and reading this article – considering their actions towards others.
"As a geriatric mum, I'm trying to spread the message of: please don't judge other women for their life circumstances, their choices, their situations because it's really boring and actually hurts – these words stick," she says, referring back to the comments she received during her pregnancy.
"I get messages on Instagram and women are feeling judged because of their age. It's still happening and those labels are 100% out there."
She adds: "I was really judged and nobody knows what I was feeling behind the scenes or what I'd been through to have my third child. Nobody knows what anyone else is going through.
"The journey to pregnancy is so unknown, but people are still judging other people for the age they have their children.
"I just want people to hold back on that judgement and pause for a minute and think: I don't know that person's story, so why am I judging them?"
But above all, she wants people to know she's "loving being an older mum" – and endeavours to give other women who are striving to become mothers in their 40s hope.
"I'm in a great place in my life, I'm confident, I'm happy," she says. "Motherhood is tricky whatever age – it's really difficult, it can be very hard work, it changes your life. But I'm loving it – and I want the message to be: it can be glorious no matter how old you are."