Pret's festive menu has arrived, meaning you can officially start getting excited about Christmas (if you haven't already).
This year's menu features the restaurant's first ever festive vegan baguette, filled with grilled carrots, parsnip puree, crispy onions, chutney, toasted pistachios and watercress.
Needless to say, the news has excited vegan fans.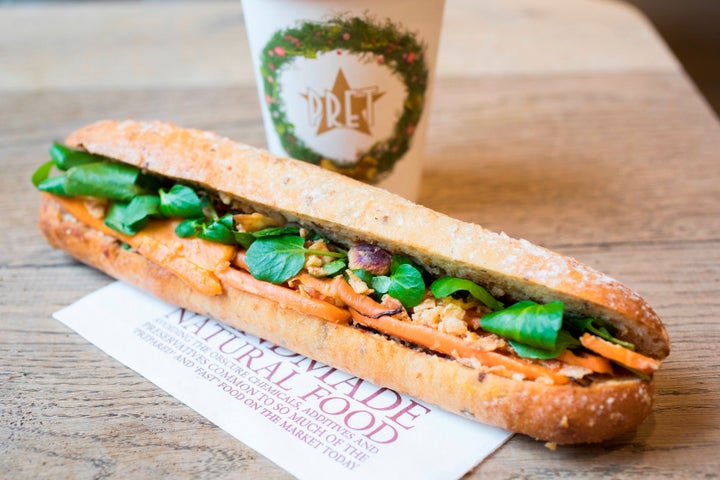 To mark the launch of its new menu, Pret stores across the UK gave away 5,000 Christmas sandwiches throughout the morning on 8 November, The Birmingham Mail reported.
Here are just some of the responses to the store's first ever festive vegan sandwich so far.
So far, so good. Here's the menu in full.
Christmas Sandwiches & Meals
Pret's Christmas Lunch Sandwich, £3.60
Thick slices of Lincolnshire free-range turkey breast on malted bread with a dollop of slightly tart cranberry and port sauce. The sandwich also comes with Pret's crumbly stuffing - made with minced pork, streaky bacon and apricots - which is then topped with crispy onions and fresh baby spinach.
Pret's Veggie Christmas Lunch Sandwich, £3.25
Combines roasted chunks of butternut squash, nutty Christmas pesto and spicy rocket. The sandwich is served with a spoonful of yoghurt and mayo dressing and a sprinkling of crispy onions on malted bread.
Ham Hock, Stuffing And Apple Baguette, £3.99
A new addition for this year, the baguette comes filled with shredded ham hock, mustard mayo, crispy onions, watercress and a generous dollop of apple sauce. It's also served with crumbly stuffing.
Very Merry Christmas Lunch Baguette, £3.75
Pret's first vegan Christmas sandwich is a stone baked baguette layered with grilled carrots, parsnip puree and crispy onions. It is finished with Pret's festive chutney, a handful of toasted pistachios and peppery watercress.
Brie And Cranberry Baguette, £3.45
Three slices of French Brie on Pret's stone baked baguette, served with spiced cranberry and port sauce, toasted pistachios and a handful of wild rocket.
French Brie & Cranberry Toastie, £4.25
A classic Christmas combination of French Brie with tangy cranberry and port sauce, finished with sliced red onion and fresh spinach before being toasted.
Ham Hock & Chutney Toastie, £4.25
Hand-pulled ham hock, mature cheddar cheese and a handful of fresh spinach leaves sandwiched between two slices of seeded bread. Comes finished with a generous dollop of spiced festive chutney.
Ham Hock & Sprout Macaroni Cheese, £5.50
Not so much a sandwich but still an important new addition for this year. Pret's festive take on macaroni cheese sees hand-pulled ham hock and shredded sprouts mixed with tubetti rigati pasta and mature cheddar béchamel sauce.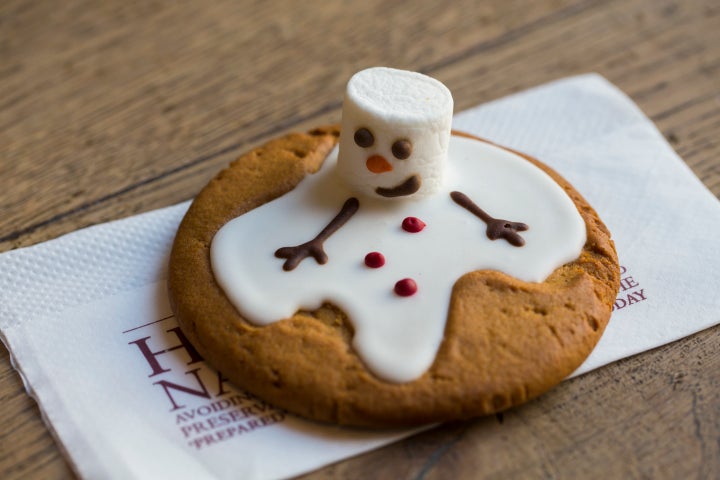 Chocolate Praline Cookie, £1.25
A biscuit with a centre of melted chocolate and hazelnut, encased in a chewy cookie with crunchy hazelnut pieces.
Melvin, The Melting Gingerbread Snowman, £1.25
A melted snowman gingerbread biscuit which comes complete with a fluffy marshmallow head.
Muffettone, £1.85
A cross between an authentic Italian panettone and a muffin. Cranberries, currants, orange zest and almonds have all been baked into a soft and fluffy muffin dough.
Christmas Tiffin, £1.55
An indulgent mix of crunchy gingerbread biscuit and cranberries bound with chocolate and a hint of orange. Comes layered with white chocolate, dried cranberries and chopped pistachio.
Mince Pie, £1.30
Handmade in Yorkshire by specialist bakers, Pret's mince pies are made in small batches to a traditional recipe.
Clementine, £0.60
Forget the cake and opt for healthy seasonal winter fruit.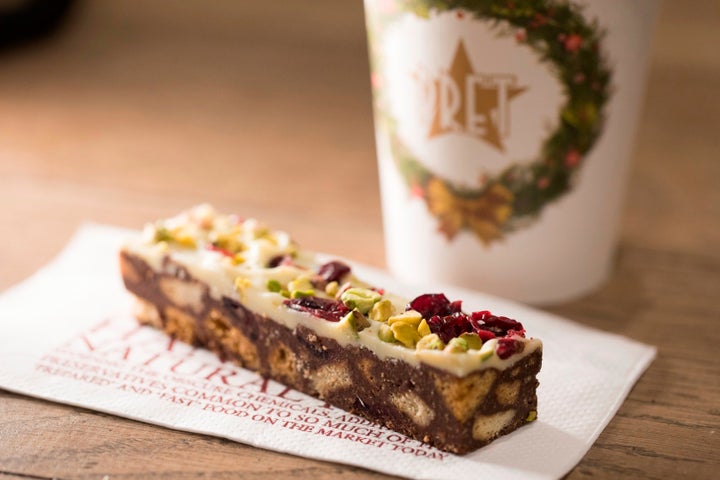 Mint Hot Chocolate, £2.75
Organic hot chocolate with a shot of mint and an optional topping of whipped cream.
Clementine Juice, £2.15
Exactly what it says on the tin.