This is the moment a woman jumped over a fire pit to say yes to her boyfriend, after he spent months perfecting his proposal – starting his planning just weeks after they met.
It was love at first sight for Dayalan Srikantha, 28, and Dhamayanthy Parameswaran, 23, when they met in October last year in a bar in Shoreditch, east London.
When she was fascinated by his obsession with Spartan racing - a kind of obstacle course racing, which includes physical challenges like scaling 6ft walls, getting over fire pits and rope climbs - he knew he wanted to spend the rest of his life with her.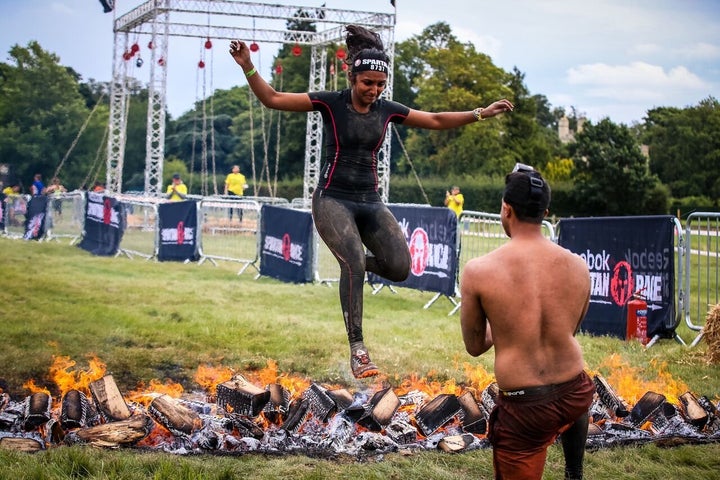 The paralegal lawyer from Harrow, north London, started arranging his proposal in January, a few weeks after they began dating.
And for the past nine months, he has been secretly arranging the special moment with race organisers, friends and family.
Remembering their first meeting, in a pub beer garden, chemical engineer Dhamayanthy, known as Dhammy, from Walthamstow,east London, said: "I noticed Dayalan because he was wearing a red bow tie and I started trying to make eye contact."
Dayalan added: "I got a bit of a vibe. I said to my mate, 'I think that girl is checking me out'.
"He said, 'She's probably looking behind you.' But a stranger overheard our conversation and told me Dhammy had been looking at me intensely."
After a few minutes, Dayalan plucked up the courage to introduce himself.
And the couple's chemistry was instant, as they swapped stories about their lives - even promising to do an obstacle course race together.
"I knew there and then that very first night that I was going to propose," Dayalan said.
"When I started talking about the Spartan race, she was really enthusiastic and we agreed we would do one together.
"I knew that would be the perfect moment to pop the question."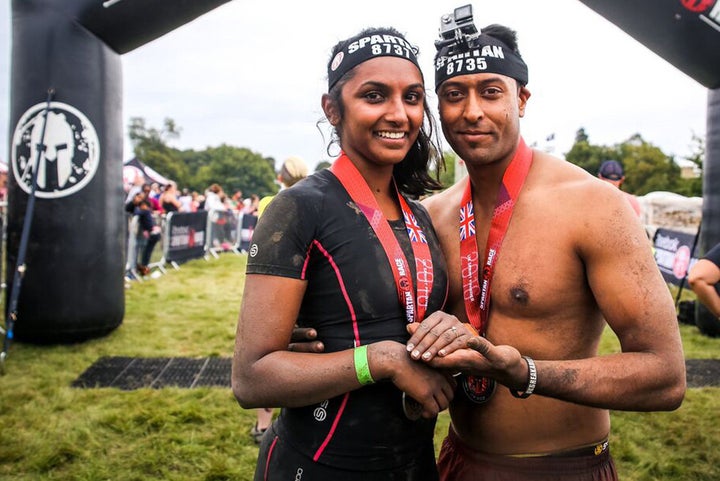 Dayalan first took up running back in 2013, after some colleagues suggested doing the Royal Parks Half Marathon together.
Once he started training, however, he craved more of a challenge, and soon discovered obstacle course and Spartan racing.
By the time he met Dhammy, his hobby had really taken hold and he'd even become a season pass holder, after competing in Spartan races across the UK.
Within three months of their first encounter, Dayalan had contacted Spartan race organisers, asking if they would host his proposal at the Elton Hall race in Peterborough, Cambridgeshire.
He also sourced a photographer, music and a ring, as well as organising a post race engagement party.
The hardest task, though, was making sure Dhammy didn't find out.
"He's been strangely involved with his phone and I was wondering what was going on. I just thought he'd lost interest," she said.
"He planned everything right under my nose. I don't understand how he pulled it off."
Dayalan, who is a part-time personal trainer, also helped Dhammy to train, to make sure she was ready for their first race together on September 3.
On the day, they ran the seven kilometres side by side, until they reached the final hot coals obstacle and Dayalan ran ahead.
He collected the ring and gave the photographer a cue before running back to the coals and dropping to one knee, just in time for Dhammy's approach.
"He knelt down and my running rate slowed," she recalled, "My heart was racing - not from the running, but from the proposal.
"I couldn't make the jump. Everything around me was a blur, because it was so much to digest, but it was amazing."
They then turned and shouted "Aroo" - a traditional Spartan race chant - to the crowd, including friends and family, who had gathered at the finish line.
And, after posting the video of their proposal on the internet, it went viral.
Dayalan added: "The entire race was like one long proposal.
"I was helping her through obstacles she was really struggling with, and I was so proud of her.
"I was able to say a lot of emotional stuff throughout the race. It was really special."
After wiping the mud from their faces, the newly-engaged couple had a party at the historic Elton Hall.
They plan to marry in Sri Lanka in 2018, where both their families are originally from.
With obstacle course racing playing such a big part in their relationship, they are trying to find some way to make it part of their big day.
Dayalan said: "I'll make sure there's a bit of it in there somewhere. I have got my heart set on a location which is up in the mountains so there is a bit of climbing to do at least.
"It has to be included somehow."