Ministers are drawing up "intrusive" plans for the state to share personal data that could make the aborted identity cards scheme "blush".
The Big Brother Watch campaign group warns the Government is using a promise of high-speed broadband for all as cover to create "large databases" accessed by public authorities such as councils and government agencies.
Compulsory ID cards were first floated by the Labour government in the aftermath of 9/11, but ditched amid concern from civil liberty groups.
In the Queen's Speech published today, the Government outlines how it plans to bring forward a Digital Economy Bill to make the UK a digital "world leader".
A briefing note suggests the ambit of the legislation will include "new powers for public authorities to share information to combat the public sector fraud which cost the country billions".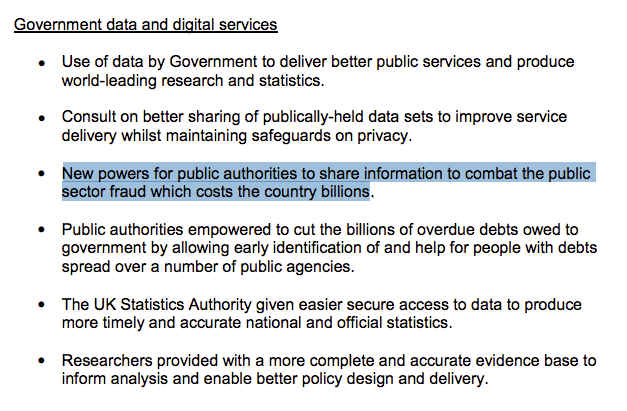 The Government dismissed the comparison, adding it was "not in the business of building new large databases".
It comes as there is increasing unease among Tory MPs over legislation handing sweeping surveillance powers to the authorities under the Investigatory Powers Bill, which is already making its way through Parliament and featured in the monarch's address.
Big Brother Watch's chief executive, Renate Samson, warned the Digital Economy Bill is "buried deep in the Queen's Speech".
In a blog, tech writer Jerry Fishenden noted how without a definition proposals to "data share" will "expand the pool of people and organisations able to access citizens' personal data".
Samson said: "If Government is planning to gain greater access to our private information; store it, share it and potentially create large databases of it, we will face a data sharing scheme which would make the intrusive and scrapped ID Card scheme blush."
A Cabinet Office spokesperson said: "This story is totally inaccurate. We reject ID cards and are not in the business of building new large databases.
"Instead we carried out a year-long open policy-making process and a public consultation on plans to better use, and better protect, data with the potential to improve public services. This relates to data which is already held, where there is a valid benefit to doing so.
"Central to these proposals are safeguards to make sure that data is handled in line with our responsibilities as a government and will not involve amending or weakening the Data Protection Act."
Related