If there's a single motif that symbolises lockdown, it's rainbows.
Secondary Science teacher Ruth Landrigan, 39, lives in Somerset. And even though it's the Easter holidays, it doesn't mean she's slacking off from home learning.
Only, this time, her students are her children Iris, seven, and Max, four – who love all things rainbow.
"I've been trying to do stuff with the kids rather than watching TV all day and eating endless packets of crisps," Landrigan tells HuffPost UK. "Some of the arts and crafts ideas we're doing are things I've done before, some are from YouTube videos, and I've got some of from 'lockdown parent groups' where people are sharing their ideas."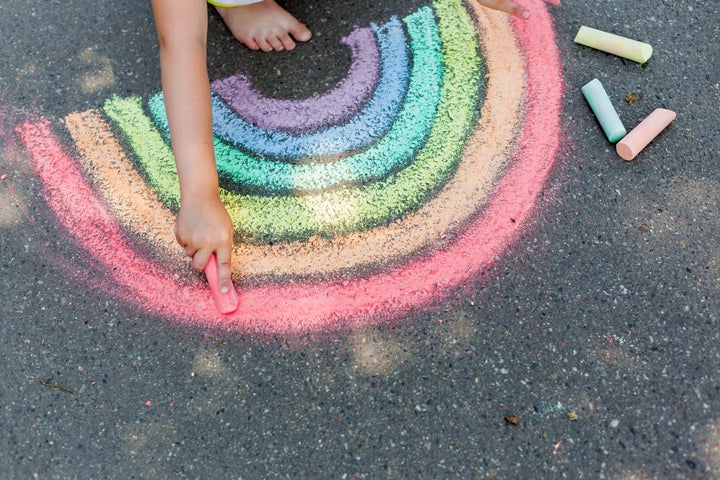 Landrigan, who's used to working six days a week in her job at an independent boarding school, says she's even adapted experiments she would usually do with teenagers, for her own kids – one of which involves using a hot glue gun. "When we got married five years ago we put a glue gun on the list!" she says. "We've never used it – until now."
She also says she's realised that her children's ages dictate how much 'learning' they can, or want, to do in a single day. "Max can focus more in the morning and wanes in the afternoon," says Landrigan. "I've mainly been doing things with Iris – she'll focus for half an hour and that's enough for her. It's like half a science, lesson, only I take out the theory and go straight to the experiment."
It's really helping the days pass, she says. "It's good for me because I feel like we've actually achieved something rather than just cleaning up after them. The kids love it as well, but sometimes they'll say they don't want to do it. And that's okay."
Here are eight unique, rainbow-inspired ideas the Landrigan family have tried, for you to do at home.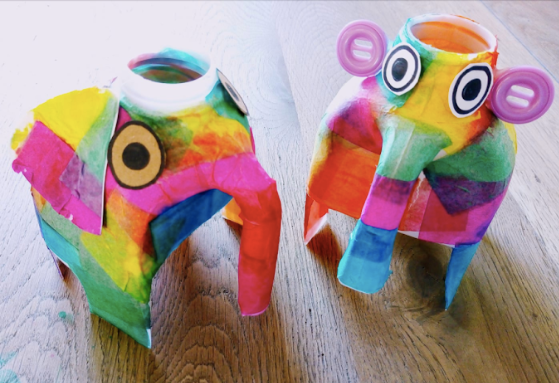 "Introducing Jack (left) and Esther (right) – the elephants made out of plastic milk bottles and tissue paper," Ruth says. "Iris loved making Esther. Max got bored halfway through making Jack, so I enjoyed finishing making him with Iris."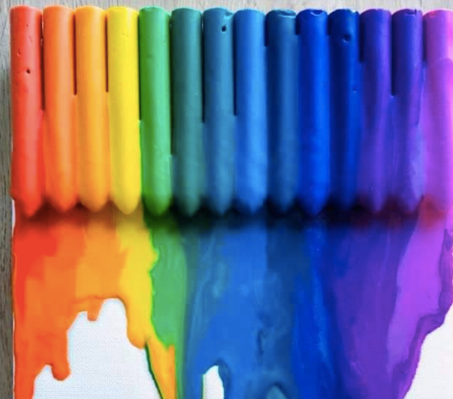 "A rainbow made by Iris using crayons, a hot glue gun, a canvas and a heat gun (hot glue gun and heat gun used under direct supervision of Mummy!)," Ruth says. "Iris particularly loves rainbows as her name comes from the Greek goddess of the rainbow. You could easily use a hairdryer instead of a heat gun."
Broken crayon shapes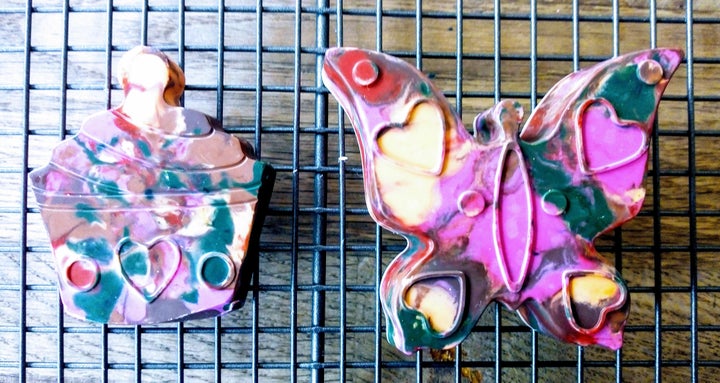 "Another fun idea from Iris," Ruth says. "Get broken crayons, put them in silicon jelly moulds, stand in a saucepan of simmering water until the crayons melt, then remove from the water and leave to cool on a wire rack before removing from the mould. Not sure what the kids will do with these now, but they enjoyed making them."
Cleaning copper coins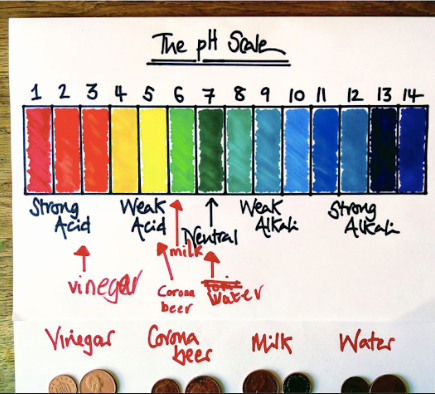 "Iris devised her own little science experiment, to see which liquid cleans old copper coins the best," Ruth says. "We used the same volumes of vinegar, beer, milk and water in four identically-shaped cups, put a tarnished 1p and a tarnished 2p in each cup, and then left them for three hours. We then looked up the pH of each liquid on the internet to see which was the strongest acid. After three hours we rinsed them and compared the coins to see which one was cleanest."
Robot making/picture painting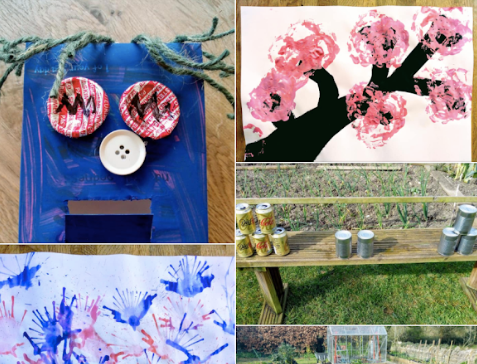 "Think Max has finally adjusted to staying at home!" Ruth says. "He has done some lovely robot making and picture painting – the blossom painting idea came from my sister, Nico – and it's possibly the most recognisable-as-something painting he's ever produced! He spent time in the garden playing his new, knock-down-the-tins-with-a-jet-of-water game, too."
Flower bouquet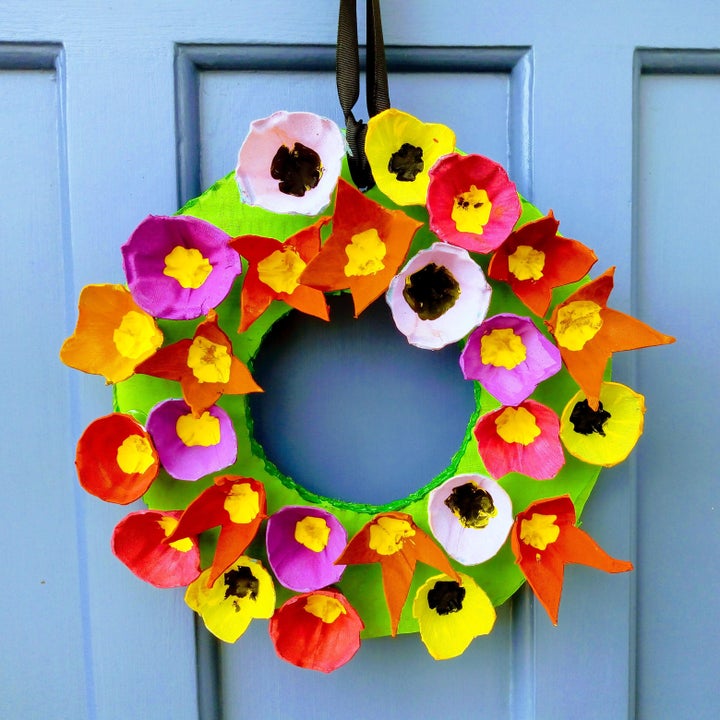 "We made flower bouquet wreaths over a few days," Ruth says. "We got empty egg box cartons, cut out the individual egg compartments, painted them and dried them and painted them again - with a blob of black paint in the middle, like the centre of a flower. We put them all on a wreath and hung it on the door. It's simple, yet it really makes an impact. Three friends have since got in touch to say they've tried making their own. I was so pleased."
Fortune tellers
"Iris and I made fortune tellers after dinner. An oldie, but a goodie. Iris's one was designed (by Iris) to give you the answer to a question that you ask before you start. Mine was designed to give the player two options – A or B – one of which is a 'nice' statement, and one of which is a 'naughty' instruction. Iris got lucky and got all 'nice' statements until her sixth go! She now has to empty the dishwasher the next time it's clean."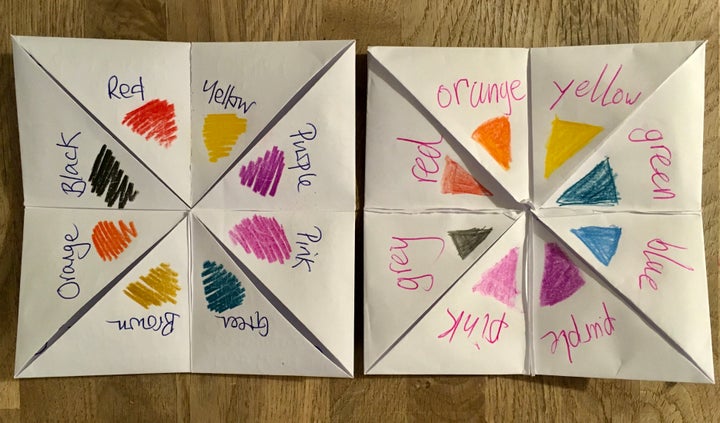 Happiness trees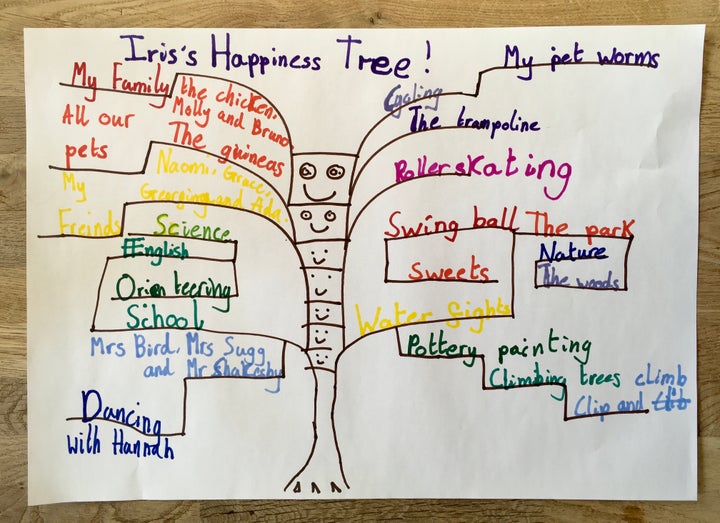 "We each made happiness trees!"