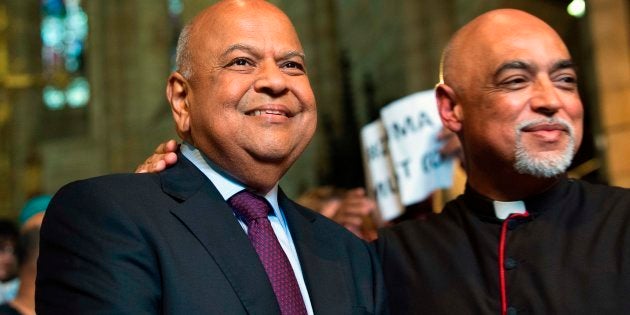 A packed St George's Cathedral played host to the Cape Town memorial of the late Ahmed Kathrada yesterday. I arrived an hour-and-a-half before the service was due to begin, but already the church was filled to the rafters. Glancing around, it was clear that the crowd was gathered for more than a chance to pay their respects to the fallen struggle hero. They were there to hear former finance minister Pravin Gordhan -- the keynote speaker for the event -- for themselves. In the days following his axing from President Jacob Zuma's cabinet, Gordhan has been vocal about his belief that Zuma must be removed from office for the benefit of the country. This was a sentiment shared by Kathrada in 2015, when he called for Zuma to 'submit to the will of the people and resign'.
It is a call that has been echoed by South Africans like those gathered on the steps of the cathedral with banners and posters proclaiming "Zuma must fall!" and "Stop Zuma!". There was singing. There was dancing. And there were the uncomfortable glances shared between those who didn't know the words to the protest songs being sung. The mood was far from sombre and as the crowds shuffled in, trying to squeeze each other in, those who could not fit inside the church lined the pavements outside. The air was charged -- people were there to see what Gordhan would say next. The explosion of applause and singing when he walked into the cathedral made this clear enough.
St George's Cathedral has always been a stronghold of resistance in Cape Town, so to host the memorial of an anti-apartheid activist there was fitting to say the least. It does not matter that Kathrada was a Muslim man; he was celebrated by religious leaders from the Jewish, Christian and Muslim faiths. It does not matter that Kathrada was a stalwart of the party that those gathered are calling for decisive action from; he was eulogised by men and women from all spheres of civil society. It did not matter that he was no longer with us, his activism in life was a rallying cry even in his death. The funerals of political leaders have a legacy of being political events in South Africa -- often serving as catalysts for renewed energy in resistance movements. Gatherings in celebration of Kathrada's life in the last week have been no different. "The cathedral almost chose itself as the venue for this celebration," said Dean of St George's cathedral, Michael Weeder. "Because of its history and rich association with Archbishop Emeritus Desmond Tutu."
The Archbishop shared a very close relationship with Kathrada. "It is really here that a thousand freedom marches were lead from and I think it is important that we continue to insert ourselves within a very heroic, brave and ordinary struggle for freedom," Weeder explained to me, candid about the cathedral's role as a home for resistance. With the order of service leaflets being handed out baring Uncle Kathy's face above the word "Organise!" it is clear that the cathedral sees itself as integral to today's resistance movement as any that have gone before it. By opening its doors to political protest, Weeder believes that the cathedral becomes part of building a future of active citizens. "This moment spurs us on and takes on to a higher ground of where we ought to be when we are cognisant of who is excluded, who is not at the feast of the braves and that is very important. We are very proud of that past but the past has got no value if it is not also in value in the present".
As groups of South Africans take to the streets in protest of Zuma and the recent cabinet reshuffle, the present looks precarious. Anti-ANC sentiment was strong in the cathedral as ANC representative Nokuthula Nqaba was booed off stage. Any mention of Zuma, Saxonwold or the Gupta family got the crowd going and at times I was unsure whether people had really gathered in remembrance or whether it was in a display of resistance. It seemed that Uncle Kathy's final wishes for Zuma to resign and his request for Zuma not to be present at his funeral has somehow turned him into the face of the new wave of resistance -- a resistance that is coming up against the ANC in a way that it has not seen before.
Through it all, Gordhan maintained a steely expression -- not giving even a hint of what he may really be feeling. He expressed his disagreement with the president's decisions and reiterated the calls for him to step down. But even so, he was clear on his position on the ANC -- as the party that moulded him and taught him the values that have shaped his leadership; and of which he is still a member.
And still, it seems that seeing him was enough for the frustrated crowd that gathered yesterday, who left the cathedral in a march down Adderly Street that ended at the station in time for those marching to catch their trains home. Or head over to Bree Street for First Thursdays. Perhaps it was Uncle Kathy's decisiveness that became our battlecry, but it seems that it is Comrade PG (as he was affectionately referred to by the SACP's Jeremy Cronin) who will become the face of the revolution that South Africans need.
Related