The main bulk of coronavirus infections in England are occurring in educational venues, data published by Public Health England has suggested, as Matt Hancock defended the government's 10pm curfew.
The most recent data shows 782 acute respiratory infection (ARRI) incidents – instances of at least two confirmed cases linked to a particular setting or situations where outbreaks are suspected – in the past week.
Almost 300 of these were in educational settings, while 204 were identified as being in workplaces. A total of 143 were identified in care homes.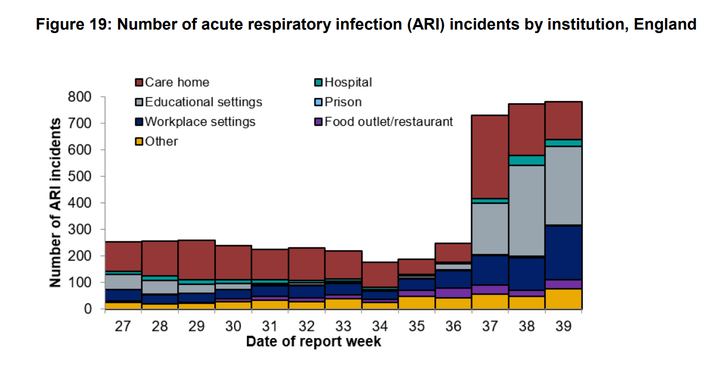 The majority of incidents in educational settings were identified in primary and secondary schools, though a graph shared by PHE shows the number of incidents in university settings has risen steadily as students returned to study.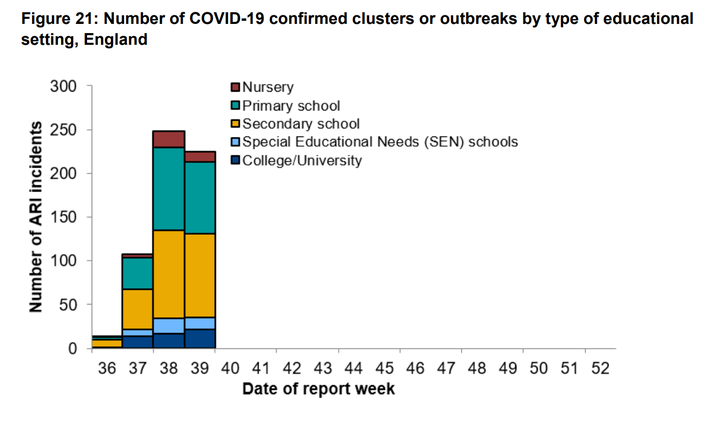 Meanwhile, 33 ARI incidents – 4.3% – were found to be linked to food outlets or restaurants, up from 3% in the previous week's surveillance report.
These figures don't account for every infection – only places where "outbreaks" were declared, meaning two or more people were infected in the same place at the same time.
For example, as FullFact explains, if someone contracted coronavirus in a restaurant and then spread it in a school, it could have been counted as a school outbreak – the restaurant transmission wouldn't be recorded.
The figures from PHE's weekly report, released on Friday, shows that shopping and eating out were the two activities that people who had been contacted Test and Trace told the service they had been doing prior to their positive test result – when they may have been infectious.
Shopping accounted for 13.3% of all reports, while eating out accounted for 13% – followed by attending a childcare/educational setting or visiting friends or family.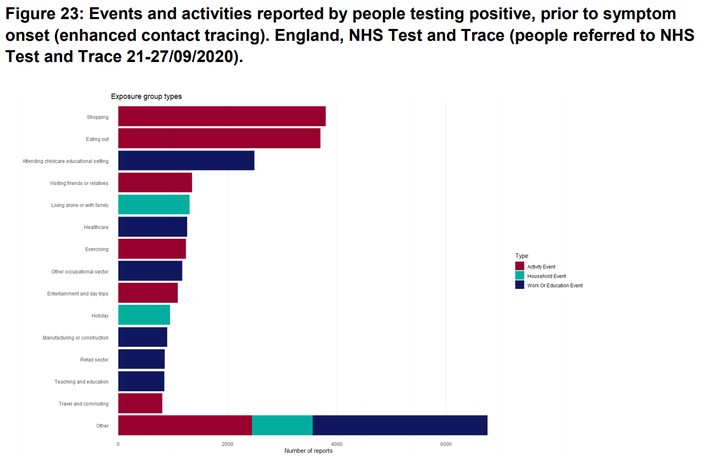 Backbenchers argued the rule was unnecessarily damaging the ability of the industry to survive.
Greg Clark, a former cabinet minister, said it was "strange" to think "concentrating trade in a smaller number of hours and making everyone leave a pub or a restaurant at the same time rather than spacing them out over the course of the evening should suppress rather than spread the virus".
Shipley MP Philip Davies accused Hancock of presiding over a "nanny state", while fellow backbencher Des Swayne suggested allowing each individual landlord to decide on their own curfew.
Lib Dem MP Daisy Cooper said the government was "making thousands upon thousands of hospitality jobs unviable, undermining public health and killing our high streets".
But Hancock said the curfew was justified as people would otherwise stay inside pubs longer, and crowds of people leaving at the same time was not as high risk. "We all know that outside is safer," he said.
Professor Paul Elliott, director of the React study – the largest research of its kind in England – said the most recent data suggests the rate of infection is slowing. But in an interview with BBC Radio 4′s Today programme he said the country remains in "a very critical period".