Robbie says he "always knew something wasn't right about Savile"

'Cracker' star supports celebrity suspects being named in historic allegation cases, despite Cliff Richard and Paul Gambaccini's protests
Robbie Coltrane reveals he "wouldn't have let Jimmy Savile in the house" because of his nasty feeling about the presenter, even at the height of his success in the 1970s and 1980s, long before his litany of crimes was revealed.
Robbie is starring in 'National Treasure', a Channel 4 drama exploring the family fall-out when a much-loved star is accused of a historic rape. At a screening last week, the 'Cracker' star was asked about the veteran DJ.
"I never liked him, I always thought he was creepy wee shitebag. You could tell, couldn't you?" he pondered.
"I wouldn't have let him in the house. So many people felt like that, and the whole big question is what was going on in our culture that he was able to get away with it as long as he did? A real toxic culture."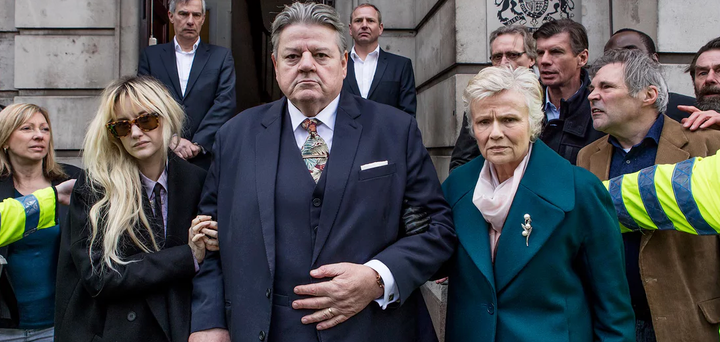 More positively, Robbie is convinced that, due to technology with everyone's access to cameras and social media, those days are forever behind us.
"Hopefully it won't happen again, you could not get away with it these days."
The drama, which airs on Channel 4 later this month, stars Robbie Coltrane as much-loved veteran presenter Paul Finchley, whose life is turned upside when the police come knocking on his door. Julie Walters plays his loyal but perplexed wife, with Andrea Riseborough as their suffering daughter. The drama concentrates on the fall-out for the family, whose lives, as Robbie puts it, "fall off a cliff, whether he did it or not".
The story also explores the debate about the current policy of naming suspects in historical abuse investigations - so-called "fishing expeditions", which cleared suspects Cliff Richard and Paul Gambaccini have both campaigned to bring to an end.
Robbie seems all too aware of the human costs involved on both sides of the debate, when he says:
"That's the big question (anonymity for suspects) - the fishing expedition as they call it.
"If you publish the guy's name, other people will come forward, the bravest person will come forward, as will several other people. In our drama, some are just going to the tabloids, some are delusional, but some inevitably might be true, and it's up to the cops and psychologists to work out who's telling the truth.
"Who do you want to protect here? The people who've been falsely accused, or the people who've been be-spoilt? At some point along the line, you have to choose between the two.
"They can't both be true. Of course, innocent people whose lives have fallen off a cliff should be protected, but more importantly, so should people whose lives, sex lives, self-esteem have been ruined, they must be protected more, that's what I would say."
For the drama's writer Jack Thorne, who previously penned 'The Last Panthers' and the 'This is England' series, tackling this blot on our cultural landscape was a massive responsibility.
He says: "The idea that we might get it wrong felt very dangerous, because so many people have been damaged by this stuff.
"But the idea of telling a story about it, particularly where our country is now, the fact that we let an evil man, a monster, on to our television sets for that amount of time and then discovered what he was so late on, and there were all these rumours about him, seem to have affected us all.
"At least, it's partially responsible for the cynicism with which we look at the world now, so the opportunity to examine these cases felt important."
"It's happening everywhere, every day a stone gets lifted, somebody in the judiciary, or parliament, and it appalls of us.
"At the risk of sounding pious, the power of drama is that you can deal with these things, in a way that the judiciary or parliament can't, so it felt an important thing to do."
'National Treasure' airs later this month on Channel 4.
Popular in the Community