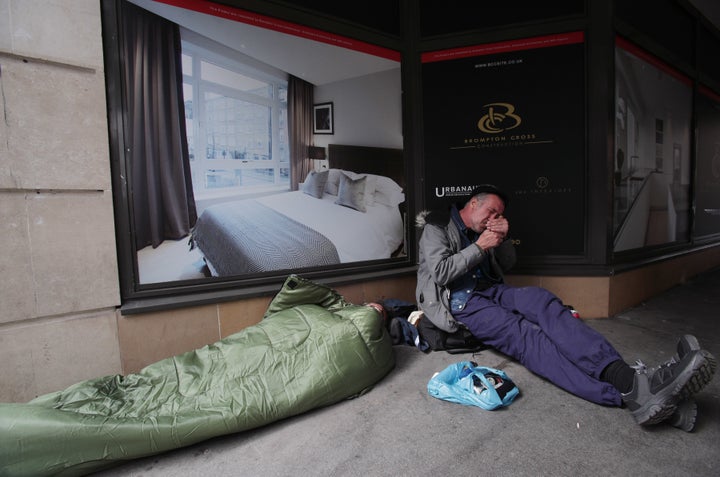 Coronavirus has changed everything. Make sense of it all with the Waugh Zone, our evening politics briefing. Sign up now.
The government has been accused of a "woeful lack of understanding" of rough sleepers, after the housing minister suggested people be asked to move in with friends or family.
Luke Hall has written to local councils asking them to put in place plans to support rough sleepers as the lockdown restrictions are eased.
Thousands of rough sleepers were offered emergency accommodation as the coronavirus outbreak spread through the UK.
In the letter, first reported by Inside Housing, Hall calls on them to now "seek to encourage people, where appropriate and possible, to return to friends and family".
Thangam Debbonaire, the shadow housing secretary, said on Wednesday the "half-baked" suggestion showed the government was "rowing back" on its pledge to end rough sleeping, which Labour had offered to support.
"These comments smack of incompetence – Luke Hall has shown a woeful lack of understanding about the complex reasons why so many people sleep rough in this country," she said.
"If rough sleepers were able to return to their friends and family, they would not be sleeping rough.
"They need somewhere safe to live and the support to make a go of it.

"The government should be working with councils to fulfil its commitment to end rough sleeping, not washing its hands of the responsibility to house the homeless.
In the letter sent last week, seen by HuffPost UK, Hall asks councils that "where sustainable move-on options aren't available" they "put in place short term accommodation to ensure that people do not have to return to the streets whilst you work to find longer term options for them".
"It remains important to continue to help and support vulnerable people as the virus continues to pose a risk," he said.
"As the risk reduces and we look towards easing the lockdown restrictions, we begin to enter the next phase of this endeavour and need to make plans for the future.
"We must continue to focus on ensuring accommodation and support arrangements can be managed safely to protect the most vulnerable, including those with complex needs.
"At the same time we need now to start planning the next steps for accommodating and supporting people to move on from emergency accommodation.
"We are doing so, and that is why we announced £433m of funding for accommodation for rough sleepers last weekend."
The government has said over 90% of known rough sleepers have been offered accommodation since the coronavirus crisis started.
According to the Ministry of Housing, Communities and Local Government, a total of 14,600 people have been rehoused, including 5,000 to 7,000 people who had been sleeping rough and 2,000 who were in communal night shelters.

Louise Casey, who leads the government's rough sleeping Covid-19 response taskforce, has said she wants to do "everything possible" to ensure people who were sleeping rough "do not go back to the streets".