The front of the Royal Clarence Hotel in Exeter collapsed in the early hours of Saturday, more than 24 hours after the "oldest hotel in England" caught fire amid fears the building may completely fall down.
Pictures show the hotel, which has stood for 300 years and survived a pounding by German bombers during the Blitz in 1942, is now just a shell and the public are being advised to stay away from the city centre for fears the remains of the building could fall down.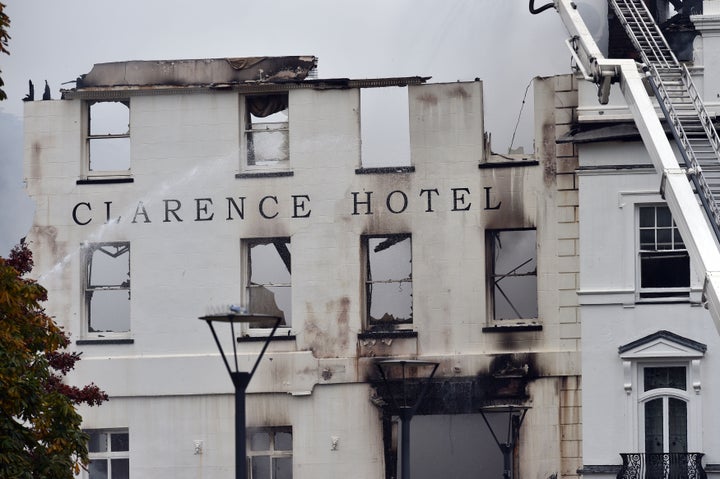 All of the floors of the hotel have collapsed and only the front of the hotel, baring its signage, remains.
A gas main underneath the hotel ruptured early today, but engineers are said to have cut off the supply.
The Mirror quoted an onlooker as saying the hotel could "collapse within half an hour".
Firefighters initially thought they had the blaze under control, but then it spread to other venues on the Cathedral Green - including the historic Royal Clarence.
Devon and Cornwall Police have issued a statement confirming there were no injuries from the incident.
Deputy Chief Constable Bill Skelly said: "We are very grateful to members of the public and businesses who have listened to our advice to stay away from the area which assists the fire fighting operation.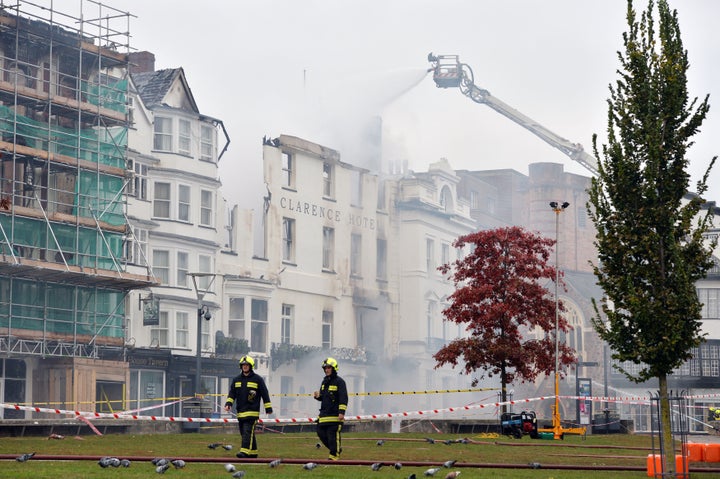 "We are very happy that there have been no injuries resulting from this incident."
On Friday there were fears Exeter might be "changed forever" by the fire which was ripping through buildings historian Dr Todd Gray called "hugely significant".
Gray told the BBC: "It's the building where they first declared themselves as a hotel, before that we had inns, but they took the new French word and applied it to their building. This was the place to stay
"All these buildings have medieval origins and the buildings in between are very fine 17th century buildings of Exeter at its height. So whatever you see from the outside, it's got a deeper, more interesting past just behind the plasterwork.
"It's hugely significant for Exeter."
BBC presenter Richard Green summed up the emotion of those at the scene, tweeting: "I feel like crying seeing Exeter changing forever."
Popular in the Community