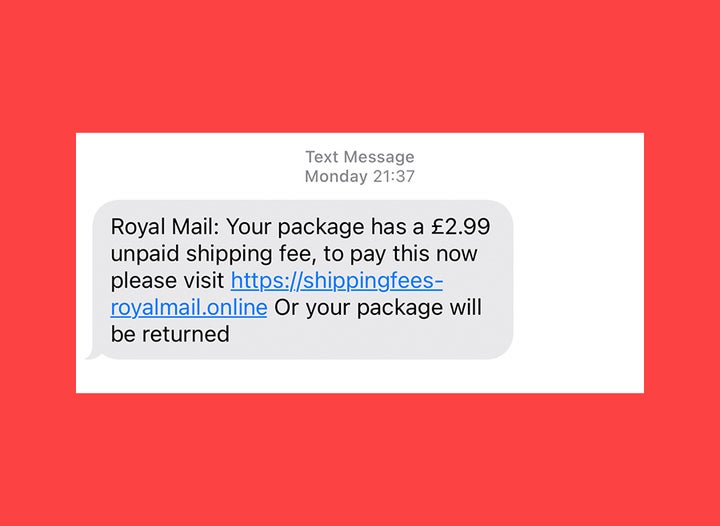 Expecting a delivery? Watch out for phishing attempts warning of held packages and bogus shipping fees. A Royal Mail delivery scam is making its rounds, tricking victims into giving out payment details.
One woman said she was "scammed out of every penny I had" after receiving a fake Royal Mail text asking for a £2.99 postage fee. "Given it was my birthday, I knew a couple of packages were on their way," wrote Emmeline Hartley on Twitter. "I've had to pay additional postage fees before so thought nothing of it."
The next day, Hartley got a call from Barclay's telling her someone had tried to set up direct debits from her account, and attempted a £30 transaction at Argos. This, however, was also a scam call. "I was so embarrassed by my stupidity of falling for [it]," she wrote.
The Royal Mail scam text will state something along the lines of: "Your Royal Mail parcel is awaiting delivery. Please confirm the settlement of 1.99 on the following link". It links to a website that looks like the official site, then requests personal bank details.
Royal Mail has said they'll only send SMS notifications where the sender has requested this and uses a product that offers this service. If a fee is due on an item, they will leave a grey card. Any scams should be reported here.
Scams can be difficult to recognise – that's why they work. Here are some tips for staying protected, including advice from Santander, Nationwide and TransUnion's fraud teams:
1. Avoid clicking links in emails or messages unless you're sure you know the origin. Never open an attachment unless you're 100% sure of its contents.
2. Be vigilant if you receive a communication you aren't expecting. Be wary of unknown contacts and unexpected calls, emails, or messages. They should raise suspicion, especially if you're asked to give personal or payment details.
3. If an offer, deal, or giveaway seems too good to be true, then it usually is.
4. Check your credit report every now and then. It can help you monitor for fraudulent activity if someone tries to use your identity in a scam.
5. Never share your personal details with anyone if you can't confirm they are who they say they are. If you're unsure, contact one of Citizen Advice scams advisers. They'll give you advice about what to do next.
6. Watch out for poor grammar or dodgy spelling, they're a red flag indicating they're a scam giveaway. Legitimate organisations will rarely, if ever, make spelling or grammatical mistakes in their communications to you because they go through a rigorous process put together by professionals.
7. If someone calls up unexpectedly and tries to rush you into buying something, be suspicious. Don't get caught up in the panic. Hang up.
8. Keep your login details for online banking safe at all times. Avoid writing them down and don't share them with anyone. Likewise, never share your One Time Passcode (OTP) for online banking with anyone.